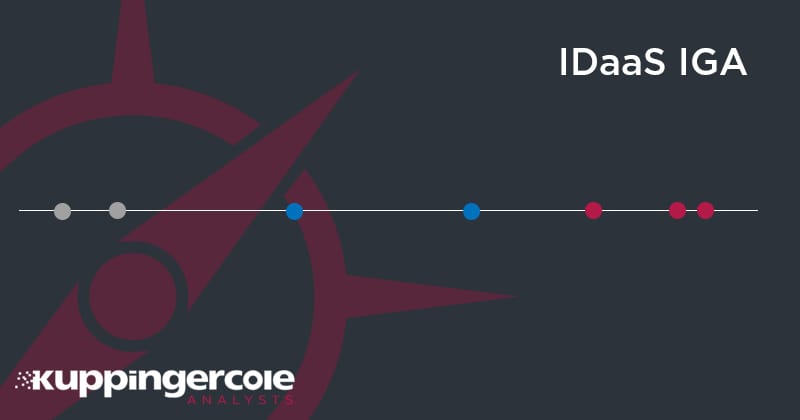 Recently, international analyst firm KuppingerCole released the latest iteration of their  Leadership Compass report for Identity as a Service (IDaaS) for Identity Governance and Administration (IGA) in 2019. In the IDaaS IGA Leadership Compass 2019, Martin Kuppinger evaluates the strengths and weaknesses of the 15 providers considered most significant in the market. 
The KuppingerCole IDaaS IGA Leadership Compass 2019 bases its evaluations on each solution's market position and product innovation. Additionally, analysts also incorporate advisory projects, customer feedback, technical forums, and a detailed questionnaire in their report ratings. 
The 15 Solution Providers KuppingerCole names in their KuppingerCole IDaaS IGA Leadership Compass include Accenture Security, Avatier, EmpowerID, E-Trust, Fischer International Identity, IBM, Ilantus Technologies, Micro Focus, Microsoft, Okta, SailPoint, SAP, Saviynt, Simeio Solutions, and Tools4ever.
The editors of Solutions Review read through the KuppingerCole IDaaS IGA Leadership Compass 2019. We share a few of what we consider the key takeaways from the report.
Key Capabilities in IDaaS IGA
First, KuppingerCole describes in detail what IDaaS IGA means for modern enterprises. In this report, it refers to cloud-based solutions delivering identity provisioning and access governance capabilities. Researchers stress that IDaaD IGA should function regardless of enterprise service delivery models or applications. 
Indeed, according to KuppingerCole, IDaaS now offers full-fledged delivery of IAM capabilities as enterprises demand greater time-to-value deployments. On-premises IAM just doesn't provide the speed necessary to modern enterprise demands.   
In the Leadership Compass for IDaaS IGA 2019, the IDaaS vendors focus on delivering IGA capabilities. Therefore, they deliver "identity provisioning, lifecycle management, and access governance across on-premises IT applications and systems." Additionally, IDaaS IGA must demonstrate a focus on managing users' permissions across increasingly complex enterprise IT environments and the cloud. 
KuppingerCole cites other critical capabilities for the market, including workflow capabilities, provisioning capabilities, user self-service, and access request management. Also, they obviously need to support IDaaS capabilities.  
KuppingerCole researchers note how foundational this technology can be for enterprises. "IDaaS IGA offers a springboard for organizations to start using foundational IAM elements delivered from the cloud and move the rest of the IAM functions as they find it appropriate and at a pace that matches the organizational security maturity and cloud strategy."
Overall Leaders in the KuppingerCole IDaaS IGA Leadership Compass 2019
In the report, KuppingerCole names six vendors as Overall Leaders in the Market: Okta, SailPoint, EmpowerID, IBM, Saviynt, and Microsoft.
Microsoft receives praise for its Azure Active Directory, while Saviynt offers a feature-rich solution. IBM, Empower, and SailPoint all offer solid IGA capabilities which KuppingerCole recognizes. Meanwhile, Okta features strong IDaaS features and out-of-the-box integrations. 
You can read the full KuppingerCole IDaaS IGA Leadership Compass 2019 here. Also, you can check out our own analysis of the identity governance and administration in the Solutions Review Identity Governance and Administration Buyer's Guide. We cover the top providers in the market, their place in that market, and their key features. 
In addition, we here at Solutions Review also offer the Identity Management Buyer's Guide. You can download it for free here. Be sure to stay connected to us through LinkedIn and Twitter.

Latest posts by Ben Canner
(see all)