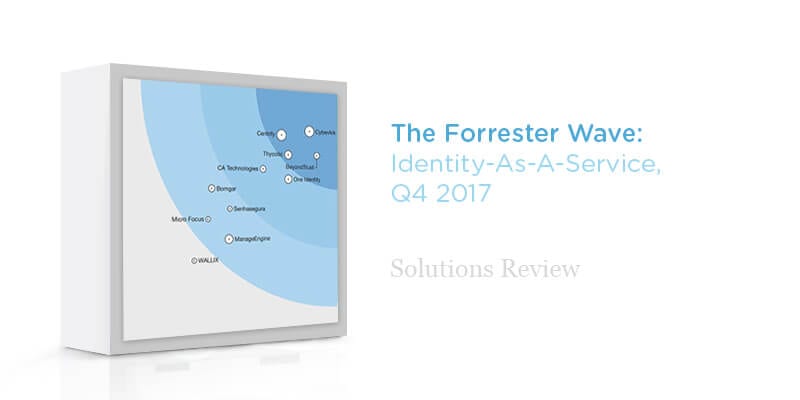 Cambridge-based analyst house Forrester Research released the latest iteration of its flagship Wave Report for Identity-As-A-Service (IDaaS).
What is IDaaS?
Identity-as-a-Service refers to the delivery of identity and access management solutions; IDaaS operates as a service via the cloud in a multitenant or dedicated model to customer systems. IDaaS components often include use single sign-on and access management to secure identity authentication. This proves especially important even as more devices and identities connect to your network.
Forrester's researchers identified seven Identity-as-a-Service solutions providers they consider most significant in the market category. Centrify, Gemalto, Microsoft, Okta, OneLogin, Oracle, and Ping Identity received this recognition. Forrester then researched, analyzed, and scored them.
Editor's Note: Since the publication of its 2017 IDaaS report, Centrify spun out its IDaaS division into a separate company called Idaptive.  
The Identity-as-a-Service Wave Report details their findings and examines how each vendor meets Forrester's evaluation criteria; it examines where vendors stand in relation to each other. Additionally, The Wave Report outlines the current state of the market and separates the top providers into Leaders, Strong Performers, and Contenders.
At Solutions Review, we read the report, available here, and pulled a few of the most important takeaways.
IDaaS Demands Continue to Grow
73% of global network security professionals surveyed for the report have implemented or are implementing an IDaaS solution. In fact, IDaaS purchases appear poised to double in the next year. On-premise IAM solutions become increasingly outdated and ineffective against modern identity thief tactics. Often, legacy solutions require experienced IAM employees to run properly.
Therefore, security professionals look to IDaaS solution to serve as strategic partners to help reduce labor costs (by as much as 35% in some places). Moreover, Identity-as-a-Service can broaden access control, mobile protection, and identity provisioning.
Okta, Centrify, and Microsoft Lead the Market
The IDaaS field remains quite small compared to other cybersecurity fields with a contradictorily large Leader field in the report. Indeed, three vendors received that distinction: Okta, Centrify, and Microsoft.
Forrester praised Okta for its comprehensive platform, featuring provisioning, easy-to-use schema mapping between its cloud directory and endpoints. The researchers recognized Centrify for its execution via integrated threat analytics, elegant risk dashboards, and flexible access policies. Microsoft's support of Office 365 and a strong user directory, mobile-device-based-portal application, and strong scalability elevated it to the Leaders section.
In the secondary "Strong Performers" category, OneLogin and Ping Identity both proved close competitors. The former's integration of directories,offering of single sign-on for on-premise applications, and complete attribute mapping earned it high marks. Meanwhile, the latter's partnership with Azure AD and extensive protocol support received praise.
The full Forrester Wave: Identity-as-a-Service Q4 2017 report is available for download here.

Latest posts by Ben Canner
(see all)