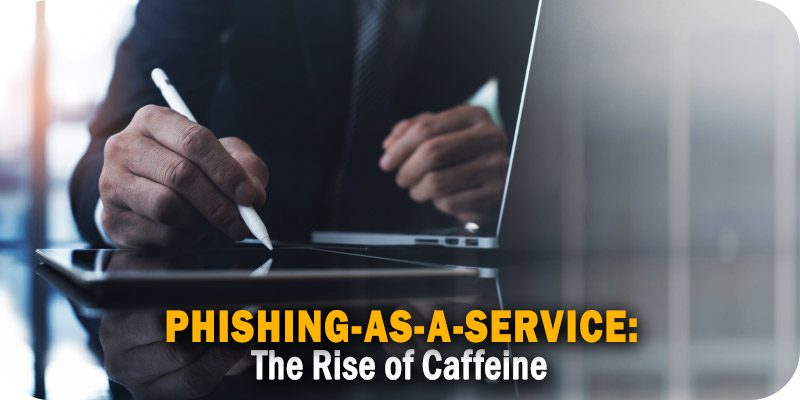 As part of Solutions Review's Premium Content Series—a collection of contributed columns written by industry experts in maturing software categories— Rakesh Soni of LoginRadius serves up a primer on Caffeine, a Phishing-as-a-Service platform, fresh and hot.

With the increasing cybersecurity threat vectors, businesses are now more concerned about their business's overall security hygiene. However, a recently unveiled phishing-as-a-service platform, Caffeine, has increased the stress among business owners since this platform facilitates phishing attacks at a massive scale.
Over the years, cyber-criminals have been globally renting resources from service providers to perform phishing or other cyber-attacks. But, Caffeine is unique since it minimizes the hassle for cyber-criminals and allows them to register for its services with just an email. Anyone could quickly register on the platform and begin phishing scams to target and exploit individuals or businesses like a pro.
Let's understand how the Caffeine platform for phishing works and what businesses need to know to mitigate the risks.
What is Phishing-as-a-Service?
Phishing-as-a-Service is an attack technique involving malicious software to send emails or messages to large groups of people. These messages often impersonate a company or service and contain links to fake login pages. For Phishing-as-a-Service to be successful, many servers need to send out these messages.
The most common way Phishing-as-a-Service is used is through email campaigns targeting specific organizations or individuals. The emails contain malicious attachments or links with fake login pages designed to steal login information such as passwords and credit card numbers. Phishing-as-a-Service can also involve phone or VoIP & IM-based campaigns that exploit user information or sensitive business data.
What is a Caffeine Platform? How is it Increasing Security Challenges for Businesses?
Caffeine is making it easy for criminals to create customized phishing kits, manage intermediary redirect pages and final-stage lure pages, dynamically generate URLs for hosted malicious payloads, and track campaign email activity. The platform has an intuitive interface and comes relatively low cost while providing many features and tools to its criminal clients to orchestrate and automate core elements of their phishing campaigns. These features include (but are not limited to) self-service mechanisms to craft customized phishing kits, manage intermediary redirect pages and final-stage lure pages, dynamically generate URLs for hosted malicious payloads, and track campaign email activity.
Besides this, many cybersecurity experts found that Caffeine offers a licensed model based on subscriptions with different service levels for individual users. And one can quickly register without disclosing its details, unlike typical platforms. Moreover, the platform offers frequent updates, including accepting cryptocurrencies and other feature updates, to attract more people to the dark web. Users can also customize configurations, including configurable HTML files that can further impact the severity of the attack.
Why Should Organizations Take Phishing-as-a-Service Platform Attacks Seriously?
Professionals with bad intentions constantly search for organizations' sensitive information or customer details. And one of the best ways to succeed is through phishing attacks to exploit data for financial benefits. However, introducing modern phishing platforms offering quick toolkits and procedures severely damages organizations with many employees and client bases. Organizations that aren't updating their staff regarding new phishing traps through regular cybersecurity training may face severe consequences in the form of reputational and financial damages.
On the other hand, if any organization compromises crucial customer information, it may lead to legal consequences and even hefty fines since global data privacy and security regulations, including GDPR and CCPA, are becoming more stringent. So, if an organization fails to comply with these regulations and compromises customer details, they are entitled to hefty fines. Hence, frequently spreading awareness regarding phishing attacks could be the best thing to mitigate the risks.
Importance of Employee Training in Avoiding Phishing Attempts
Employee training is the most effective way to deal with cybersecurity threats, including phishing attacks. While most businesses organize regular training sessions for their employees, many don't recognize the importance of frequent training sessions from a cybersecurity perspective. If employees are aware of the cybersecurity risks of getting trapped in phishing scams, they can remain more cautious, mitigating the chances of a data breach. Apart from this, the ones receiving regular training sessions on good cybersecurity hygiene could stay shielded from the latest threat vectors, including Phishing-as-a-Service oriented attacks.
In Conclusion
The Caffeine Phishing-as-a-Service platform is raising challenges among businesses working stringently to incorporate the highest level of data security. Whether we talk about a loophole in employee awareness or the severity of the phishing attack, organizations may compromise sensitive business data leading to financial and reputational losses. Hence, organizations must understand the importance of spreading awareness about the latest threat vectors to minimize the risks associated with phishing attacks since some negligence could be fatal for a business.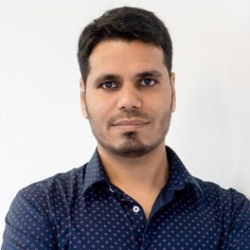 Latest posts by Rakesh Soni
(see all)