Top 4 Privileged Identity Access Management Vendors to Watch in 2018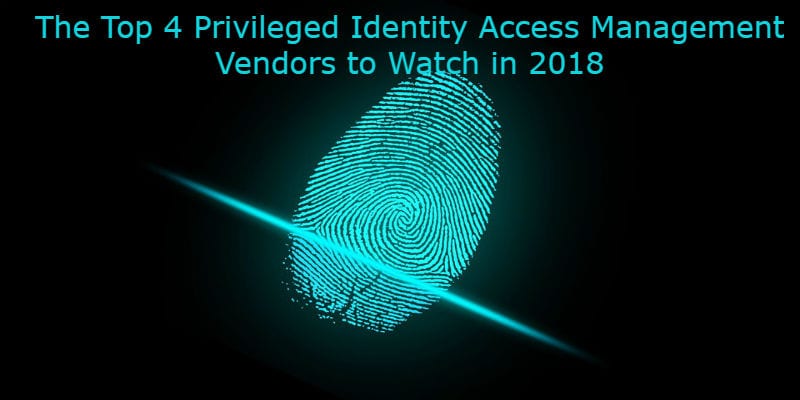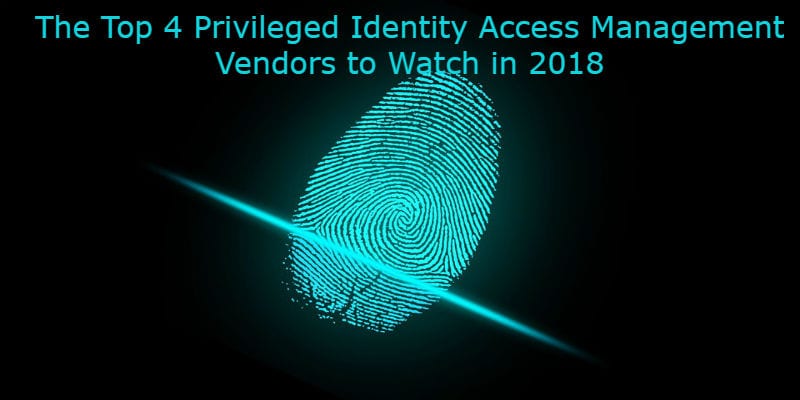 Once just a branch of Identity Access Management (IAM), Privileged Identity Access Management (PAM) is rapidly taking greater and greater precedence in the realm of Information Security. We've written before about how, with the right privileged credentials, hackers can have free reign of your company's networks, with unchecked access to proprietary or customer data; thus it has proven a consistent favorite target for hackers.
Furthermore, such threats need not necessarily come from outside the company. Insider threats such as disgruntled employees stealing valuable data or simple human neglect in sending out credentials via email continue to be a serious source of rightly-founded anxiety for corporations of all sizes.
The best practice for the enterprise concerned about threats to their privileged credentials is to implement a PAM solution that handles the management of privileged users' and connected device information as well as their authentication into external and internal applications, databases, or networks. These solutions can identify baseline behavior to recognize discrepancies and prevent breaches or data leaks before they occur.
As it continues to distinguish itself from IAM, PAM will continue to grow and mature as a field and a service, with plenty of room for innovation. With that in mind, here are the top 4 PAM vendors to watch in 2018, presented in alphabetical order.
Widget not in any sidebars
Centrify
2017 proved to be a year of innovation for Centrify, as it added Mac Password and App Management to its identity platform—Privileged Access Security—to control privileged access on Macs while at the same time simplifying management of Apple endpoints. It also updated their solution, which includes a SaaS password safe, cloud based privileged access, and broad integration capabilities, to better monitor privileged use and assign short windows of privilege for specified projects, enabling a tighter control of data in and out of clients' networks. These upgrades could make Centrify an even stronger contender in the market next year as they consolidate their platform's capabilities.   
Core Security (& SecureAuth Corp.)
Technically this counts as two PAM vendors, but perhaps not for much longer. September of this year marked the announcement of a pending merger between Core Security and SecureAuth Corp. The merger is still awaiting approval by the U.S. government. Core Security alone has a sterling reputation in the healthcare, banking, and natural resources industries and SecureAuth Corp is used by companies as large as EA and Southwest Airlines. The joining of their considerable resources could transform them into a colossus in the PAM field next year.
In addition, SecureAuth Corp announced that its multifactor authentication software could represent the end of password authentication, a hugely ambitious claim that has the potential for starting an arms race in privileged access management. Only time will tell.
ManageEngine
ManageEngine recently announced their new Privileged Identity Management Suite to help combat identity theft through privileged credentials. The Suite's design allows administrators to centrally manage privileged passwords and monitor for erroneous behavior. This may prove the first step to expanding MangeEngine's capabilities as a PAM solution provider, which held it back from being suitable for larger enterprises. 2018 might be the year where its takes its next step–whether that be backwards or forwards is anyone's guess.  

Xton Technologies
Sept. 2017 wasn't just about giant mergers. That same month Philadelphia-based Xton Technologies released their XT Access Platform, which they declared among the first completely agentless PAM platform to combine the features of a traditional enterprise grade solution—secure identity vault, session management with recording and automated password resets—at a competitive price point. The recently revealed solution also includes delegated script execution, discovery of privileged accounts and extensive reporting for network computers and IoT devices, the latter being a consistent source of vulnerability in the digital world. This could represent a play for a larger part of the enterprise privileged access market, and if so Xton might prove the dark horse in this young race of PAM solutions.
You can download The Forrester Wave: Privileged Identity Management Q3 2016 and the Gartner Best Practices for Privileged Access Management Report courtesy of Centrify. 
Widget not in any sidebars