Solutions Review presents the latest in Cybersecurity Titles and Books you need to add to your collection. 
Cybersecurity intelligence remains a key component of InfoSec policies and protocols. Gathering intelligence prior to an attack can help prevent a breach, and gathering intelligence during a breach can help mitigate an attack.
Sometimes to best know how to respond to future threats is to look to past mediums. Hence our list of the latest 11 cybersecurity titles featured on Amazon right now. These books are intended for beginners and experts alike and are written by authors with proficiency and/or recognition in the field of cybersecurity.
These titles were selected by having a 4 star or higher rating on Amazon and for providing unique perspectives on cybersecurity for both the beginner and more advanced researcher. Titles are arranged in no particular order. 
11 Cybersecurity Titles For Your Bookshelf
OUR TAKE:
The author, Tari Shreider, brings impeccable credentials with over 40 years in the fields of cybersecurity, risk management, and disaster recovery. This is a revised edition that covers the latest challenges.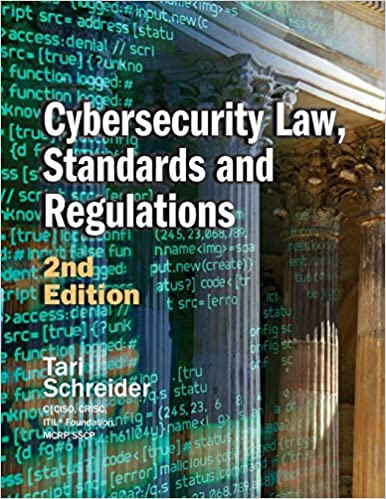 Description: Tari Schreider, a board-certified information security practitioner with a criminal justice administration background, has written a much-needed book that bridges the gap between cybersecurity programs and cybersecurity law…In a friendly style, offering real-world business examples from his own experience supported by a wealth of court cases, Schreider covers the range of practical information you will need as you explore – and prepare to apply – cybersecurity law…Schreider takes you beyond security standards and regulatory controls to ensure that your current or future cybersecurity program complies with all laws and legal jurisdictions. Hundreds of citations and references allow you to dig deeper as you explore specific topics relevant to your organization or your studies. This book needs to be required reading before your next discussion with your corporate legal department.
OUR TAKE:
Diana Kelley's security career spans over 30 years; she is Co-Founder and CTO of SecurityCurve. Ed Moyle is an information security officer, cybersecurity researcher, and Founding Partner at SecurityCurve.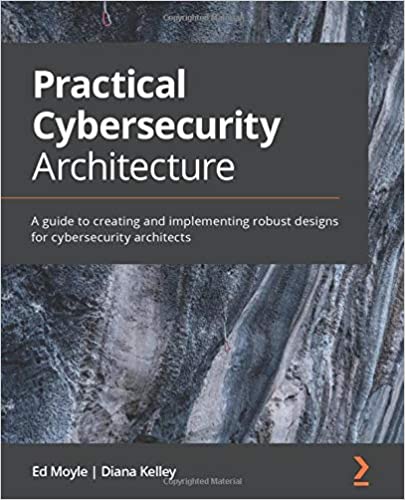 Description: Cybersecurity architects work with others to develop a comprehensive understanding of the business' requirements. They work with stakeholders to plan designs that are implementable, goal-based, and in keeping with the governance strategy of the organization. With this book, you'll explore the fundamentals of cybersecurity architecture: addressing and mitigating risks, designing secure solutions, and communicating with others about security designs. The book outlines strategies that will help you work with execution teams to make your vision a concrete reality, along with covering ways to keep designs relevant over time through ongoing monitoring, maintenance, and continuous improvement. As you progress, you'll also learn about recognized frameworks for building robust designs as well as strategies that you can adopt to create your own designs.
OUR TAKE: 
Yuri Diogenes works as Principal Program Manager at C+AI Security for Azure Security Center. Erdal Ozkaya is a Chief Cybersecurity Strategist and CISO.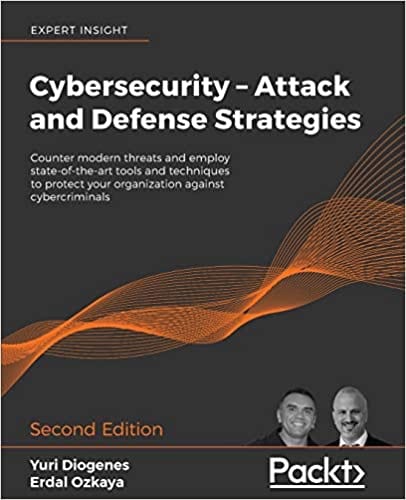 Description: Cybersecurity – Attack and Defense Strategies, Second Edition is a completely revised new edition of the bestselling book, covering the very latest security threats and defense mechanisms including a detailed overview of Cloud Security Posture Management (CSPM) and an assessment of the current threat landscape, with additional focus on new IoT threats and cryptomining. Cybersecurity starts with the basics that organizations need to know to maintain a secure posture against outside threats and design a robust cybersecurity program. It takes you into the mindset of a Threat Actor to help you better understand the motivation and the steps of performing an actual attack – the Cybersecurity kill chain. You will gain hands-on experience in implementing cybersecurity using new techniques in reconnaissance and chasing a user's identity that will enable you to discover how a system is compromised, and identify and then exploit the vulnerabilities in your own system.
OUR TAKE: 
Joseph Steinberg is a CyberSecurity and Emerging Technologies Advisor. He is the Founder, CEO, and CISO of SecureMySocial.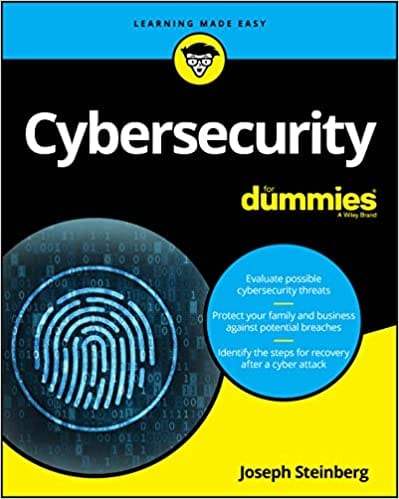 Description: Cybersecurity is the protection against the unauthorized or criminal use of electronic data and the practice of ensuring the integrity, confidentiality, and availability of information. Being "cyber-secure" means that a person or organization has both protected itself against attacks by cyber criminals and other online scoundrels, and ensured that it has the ability to recover if it is attacked. If keeping your business or your family safe from cybersecurity threats is on your to-do list, Cybersecurity For Dummies will introduce you to the basics of becoming cyber-secure! You'll learn what threats exist, and how to identify, protect against, detect, and respond to these threats, as well as how to recover if you have been breached!
OUR TAKE: 
The authors are all noted cybersecurity experts breaking down fundamental concepts of cybersecurity and displaying these concepts through the lens of everyday computing.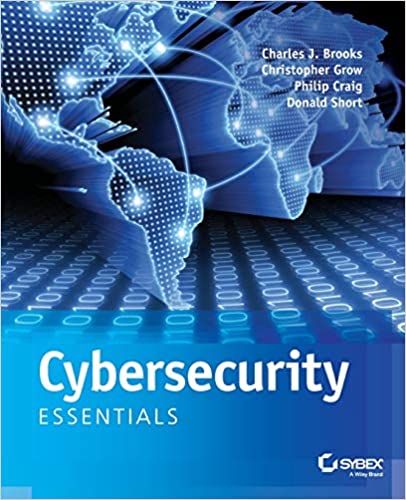 Description: Cybersecurity Essentials provides a comprehensive introduction to the field, with expert coverage of essential topics required for entry-level cybersecurity certifications. An effective defense consists of four distinct challenges: securing the infrastructure, securing devices, securing local networks, and securing the perimeter. Overcoming these challenges requires a detailed understanding of the concepts and practices within each realm. This book covers each challenge individually for greater depth of information, with real-world scenarios that show what vulnerabilities look like in everyday computing scenarios. Each part concludes with a summary of key concepts, review questions, and hands-on exercises, allowing you to test your understanding while exercising your new critical skills.
OUR TAKE: 
Erdal Ozkaya is a Chief Cybersecurity Strategist and CISO. He is a recognized voice in cybersecurity research and instruction. This book helps examine the beginner concepts in enterprise cybersecurity.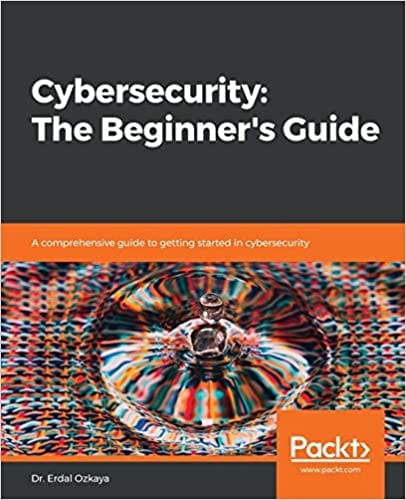 Description: This book put together all the possible information with regards to cybersecurity, why you should choose it, the need for cybersecurity and how can you be part of it and fill the cybersecurity talent gap bit by bit. Starting with the essential understanding of security and its needs, we will move to the security domain changes and how artificial intelligence and machine learning are helping to secure systems. Later, this book will walk you through all the skills and tools that everyone who wants to work as a security personel needs to be aware of. Then, this book will teach readers how to think like an attacker and explore some advanced security methodologies. Lastly, this book will dive deep into how to build practice labs, explore real-world use cases, and get acquainted with various security certifications. 
OUR TAKE: 
This book contains two different manuscripts, one providing a beginner's background in cybersecurity concepts, the other focused on cyber-crime. The combination can help demonstrate the essentials both in theory and practice.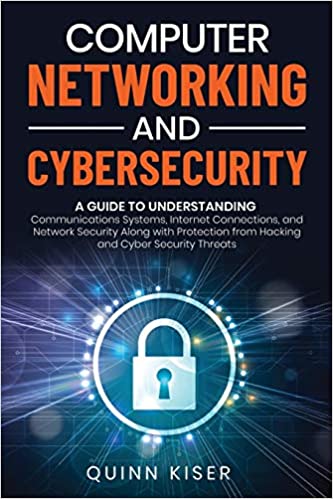 Description: This book delivers a variety of computer networking-related topics to be easily understood by beginners. It focuses on enabling you to create a strong foundation of concepts of some of the most popular topics in this area. We have provided the reader with a one-stop highway to learning about the fundamentals of computer networking, Internet connectivity, cybersecurity, and hacking…In part 2 of this book, you will take a journey into the world of cyber-crimes and cybersecurity. The information is designed to help you understand the different forms of hacking and what you can do to prevent being hacked. By the end of this part, you may decide to pursue a career in the domain of information security.
OUR TAKE: 
Christian Espinosa is the Founder and CEO of Alpine Security and a cybersecurity engineer. His book provides a unique way at looking cybersecurity talent and expertise.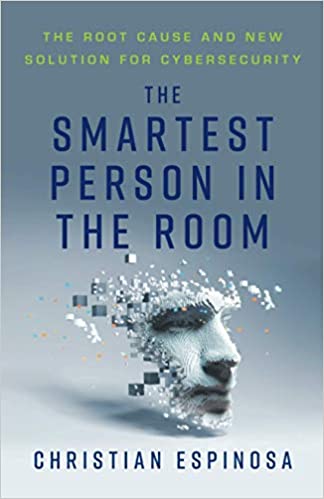 Description: In The Smartest Person in the Room, Christian Espinosa shows you how to leverage your company's smartest minds to your benefit and theirs. Learn from Christian's own journey from cybersecurity engineer to company CEO. He describes why a high IQ is a lost superpower when effective communication, true intelligence, and self-confidence are not embraced. With his seven-step methodology and stories from the field, Christian helps you develop your team's technical minds so they become better humans and strong leaders who excel in every role. This book provides you with an enlightening perspective of how to turn your biggest unknown weakness into your strongest defense.
OUR TAKE: 

Axel Wirth is the chief security strategist at MedCrypt with over 30 years of experience. Christopher Gates is a principal system security architect at Velentium.

 
Description: Cybersecurity for medical devices is no longer optional. We must not allow sensationalism or headlines to drive the discussion Nevertheless, we must proceed with urgency. In the end, this is about preventing patient harm and preserving patient trust. A comprehensive guide to medical device secure lifecycle management, this is a book for engineers, managers, and regulatory specialists. Readers gain insight into the security aspects of every phase of the product lifecycle, including concept, design, implementation, supply chain, manufacturing, postmarket surveillance, maintenance, updates, and end of life. Learn how to mitigate or completely avoid common cybersecurity vulnerabilities introduced during development and production.
OUR TAKE:
Erdal Ozkaya is a Chief Cybersecurity Strategist and CISO. This book is highly regarded as insightful in its knowledge of incident response. 
Description: Cybercriminals are always in search of new methods and ways to infiltrate systems. Quickly responding to an incident should help an organization minimize its losses, decrease vulnerabilities, and rebuild services and processes. In the wake of the COVID-19 pandemic, with most organizations gravitating towards remote working and cloud computing, this book provides updated IR processes to address the associated security risks. The book begins by introducing you to the cybersecurity landscape and explaining why IR matters. You will understand the evolution of IR, current challenges, key metrics, and the composition of an IR team, along with an array of methods and tools used in an effective IR process. You will then learn how to apply this conceptual toolkit, with discussions on incident alerting, handling, investigation, recovery, and reporting.
OUR TAKE: 
Paul Troncone has over 15 years of experience in the cybersecurity and information technology fields. Carl Albing is a software engineer and teacher. Both have served as Distinguished Visiting Professors in the Department of Computer Science at the US Naval Academy.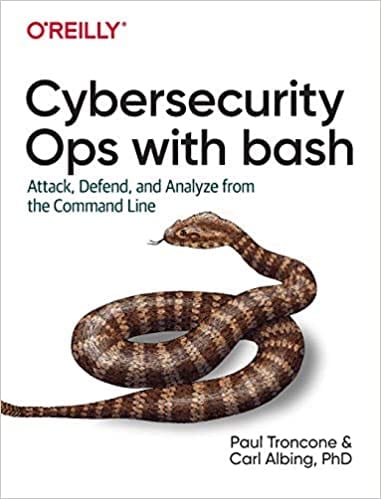 Description: If you hope to outmaneuver threat actors, speed and efficiency need to be key components of your cybersecurity operations. Mastery of the standard command-line interface (CLI) is an invaluable skill in times of crisis because no other software application can match the CLI's availability, flexibility, and agility. This practical guide shows you how to use the CLI with the bash shell to perform tasks such as data collection and analysis, intrusion detection, reverse engineering, and administration. Authors Paul Troncone, founder of Digadel Corporation, and Carl Albing, coauthor of bash Cookbook (O'Reilly), provide insight into command-line tools and techniques to help defensive operators collect data, analyze logs, and monitor networks. Penetration testers will learn how to leverage the enormous amount of functionality built into nearly every version of Linux to enable offensive operations.
Those were our picks for 11 cybersecurity titles you need to add to your reading list. For more cybersecurity information, check out our Identity Management Buyer's Guide or the Solutions Suggestion Engine.
Solutions Review participates in affiliate programs. We may make a small commission from products  purchased through this resource.

Latest posts by Ben Canner
(see all)