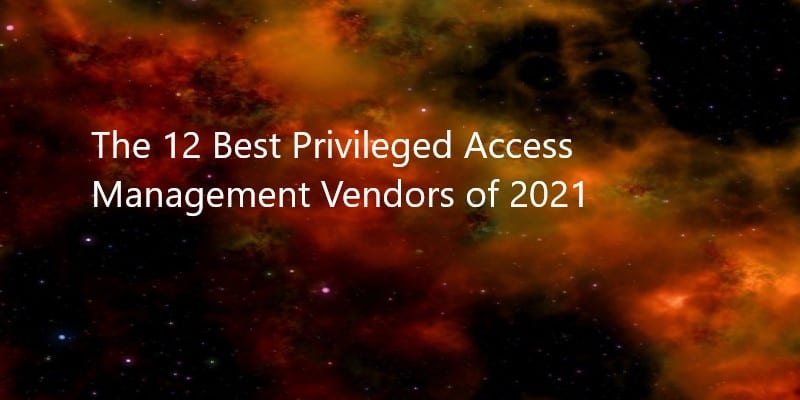 Solutions Review's listing of the best privileged access management vendors of 2021 is an annual mashup of products that best represent current market conditions, according to the crowd. Our editors selected the listed products based on each solution's Authority Score, a meta-analysis of real user sentiment through the web's most trusted business software review sites, and our own proprietary five-point inclusion criteria.
Solutions Review presents the 12 best privileged access management vendors of 2021.
Privileged access remains one of the most critical attack vectors in any enterprise's IT environment. In fact, it's easy to see why; privileged users possess powers beyond that of most users and the access they provide opens new doors to malicious actors. Why target a low-ranking member of the financial office when the Chief Financial Officer can possibly provide routing numbers and bank accounts in one go?
Additionally, enterprises now need to contend with hackers entering the network on a compromised account and raising their permissions level to meet their goals. This privilege escalation attack can circumvent many legacy monitoring capabilities and could wreak serious damage to your organization.
So enterprises need to emphasize privileged access management capabilities to close vulnerabilities and protect users. Thus we present the 12 best privileged access management vendors of 2021, present in alphabetical order.
The 12 Best Privileged Access Management Vendors of 2021
BeyondTrust focuses on eliminating insider privilege abuse and increasing application visibility. Its  Least Privilege Management and Server Privilege Management solutions offer app-to-app password management capabilities and broad support for PIV-based authentication. Additionally, BeyondTrust was named a Leader in the 2020 Gartner Magic Quadrant for Privileged Access Management. 
Broadcom's solution works through granular authorization of users to systems and accounts. Also, it constantly monitors privileged activity to assess for risk and trigger automated mitigations when high risk is detected. Other key features privileged account vaulting and rotation and key or token-based authentication. Its capabilities and portfolio appeared as a Visionary in the 2019 Gartner Magic Quadrant for Access Management
Centrify offers its Privileged Access Security solution through a cloud architecture. Centrify's capabilities include Single Sign-On, user provisioning, and multi-factor authentication (MFA). It appeared as a Leader in the Gartner 2020 Privileged Access Management Magic Quadrant, and received an award for "Cutting Edge Privileged Account Security" from Cyber Defense Magazine.
CyberArk's Privileged Account Security Solutions offer enterprise-grade, policy-based solutions that secure, manage, and log privileged accounts and activities for both protection and evaluation. In 2020, CyberArk acquired IDaaS provider Idaptive and was named a Leader in the 2020 KuppingerCole Leadership Compass for Privileged Access Management. It was again named a Leader in the Gartner PAM 2020 Magic Quadrant. 
Devolutions positions itself as a privileged access management provider specifically geared for SMBs. As such, it offers companion features and tools to meet organizations' specific use cases for its Devolutions Password Server. The Password Server itself is a full-featured shared account and password management solution. Devolutions announced the Devolutions Password Server for SMB privileged access management earlier in 2020. 
Ekran System is an insider threat protection platform that provides proper security control over enterprises' privileged accounts. It offers lightweight software agents for all kinds of endpoints, supporting any access scheme and network architecture, including hybrid. Ekran System delivers powerful activity monitoring and session recording capabilities, allowing supervisors to control security after access is granted. It also integrates well with other SIEM and ticketing systems.
ManageEngine's privileged identity management solution incorporates their Password Manager Pro product, which can discover, store, control, audit, and monitor privileged accounts. Also, ManageEngine offers ease of use with an intuitive user interface for their PAM solutions which supports approval workflows and real-time alerts on password access ManageEngine appeared in the Privileged Access Management Magic Quadrant for 2020. 
Micro Focus owns the NetIQ identity and access management suite, a highly scalable set of solutions. These allow for the streamlined privileged access management in the hybrid enterprise and simplify delegated administration of Microsoft Active Directory. Recently, it appeared in the 2019 and 2020 KuppingerCole Leadership Compass for Privileged Access Management and the 2018 Gartner Privileged Access Management Magic Quadrant. 
One Identity's Privileged Password Manager solution lets enterprises enable secure automated control and auditing on their privileged accounts. The Privileged Password Manager offers session management features, as well as active directory bridge between different operating systems across the enterprise network. One Identity appears in the KuppingerCole PAM Leadership Compass 2019 as a Leader and as a Visionary in the Privileged Access Management Magic Quadrant for 2020.
As a PAM provider, Remediant specializes in Just-in-Time (JIT) access and Privilege Discovery. As such, it offers the Remediant SecureONE solution for Just-in-Time Privileged Access Management. Remediant received praise in the KuppingerCole Leadership Compass for Privileged Access Management 2020.
Thycotic offers its Secret Server and Privilege Manager products as enterprise-level privileged access management tools. Its solutions include Enterprise Password Management, High Speed DevOps Secrets Management, Least Privilege Policy Enforcement, and endpoint protection. Thycotic was named a Leader in Privileged Identity by Forrester Research and in the KuppingerCole Leadership Compass. It rose from the Visionary to the Leader Quadrant in the 2020 Gartner report. 
Xton Technologies' XT Access Manager Solution offers multifactor authentication controls, can store and share security keys with users and superusers, delegate the execution of privileged commands, and lockdown privileged accounts with suspicious activity. Xton continues to upgrade its solution and foster its customization options; it innovates heavily in the managed services provider marketplace, offering privileged access management to sais managed services providers. 
Thanks for taking a look at our list of the 12 best privileged access management vendors of 2021. For more on these vendors, check out our Privileged Access Management Buyer's Guide or the Solutions Suggestion Engine.

Latest posts by Ben Canner
(see all)