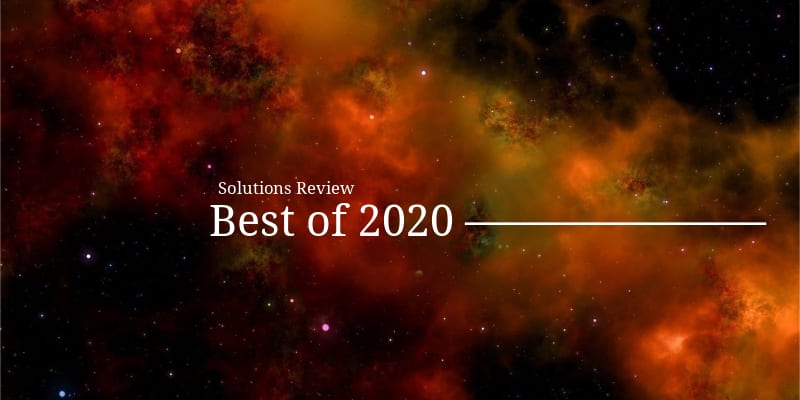 Solutions Review's listing of the top Identity Governance vendors is an annual mashup of products that best represent current market conditions, according to the crowd. Our editors selected the top Identity Governance products based on each solution's Authority Score, a meta-analysis of real user sentiment through the web's most trusted business software review sites and our own proprietary five-point inclusion criteria.
The editors at Solutions Review have developed this resource to assist buyers in search of the best identity governance tools to fit the needs of their organization. Choosing the right vendor and solution can be a complicated process — one that requires in-depth research and often comes down to more than just the solution and its technical capabilities. To make your search a little easier, we've profiled the best identity governance tools all in one place. 
Note: Companies are listed in largely alphabetical order, with recent name changes taken into consideration. 
The 16 Best Identity Governance Tools for Enterprises
Broadcom
Product:
The Symantec Identity Governance and Administration
Description: From Broadcom, the Symantec Identity Governance and Administration (formerly CA Identity Suite) provides comprehensive identity management and governance capabilities; additionally, it performs risk analysis and certification and enables remediation actions in real-time during the access provisioning steps. Further, it offers broad provisioning support for on-premise and cloud apps.
Fischer Identity 
Product:
Fischer Identity's Access Governance
Description: Fischer Identity offers its Access Governance solution; this features dynamic authorization and automatic enforcement of privileges and permissions. Moreover, Fischer Identity provides a granular ABAC-driven governance model that controls which resources identities are allowed to request access. Its granular analytics auditing and reporting can help in maintaining compliance. 
HID Global
Product:
HID Global Identity Lifecycle Management
Description: HID Global offers the Identity Lifecycle Management solution. Among the identity governance tools, HID Global provides enterprise-grade, large-scale solutions to automate the identity lifecycle of users for data and workplace access, high-assurance credentials, and PKI-based IoT device security. Its solution simplifies the issuance and management of authenticators and digital certificates and implements policy-based management of access rights. 
IBM
Product:
IBM Security Identity Governance & Intelligence (IGI)
Description: IBM IGI focuses on collecting and analyzing identity data to support enterprise IT and regulatory compliance. IGI improves visibility into how access is being utilized, prioritizes compliance actions with risk-based insights, and facilitates better decisions with clear actionable intelligence. Also, it eliminates manual efforts on IT audits and allows for risk/compliance managers to quickly identify violations with Separation of Duty (SoD) controls.
Identity Automation
Product:
Rapididentity 
Description: RapidIdentity, from Identity Automation, offers policy-driven configurations allowing your organization to easily manage and enforce current business policies. All configurations are centrally implemented and managed in one tool, ensuring they are consistently enforced across the entire enterprise. RapidIdentity automatically places users into the appropriate roles by adding and removing access rights according to each user's specific attributes or role.
Micro Focus
Product:
NetIQ Identity Governance
Description: Micro Focus' entry into the realm of identity governance tools is NetIQ Identity Governance. It provides an overarching view of identities, applications, and access rights to support a comprehensive identity governance program. Also, it helps users make the right decisions with risk scoring, peer group analysis, role mining, and anomaly detection.
Omada
Product: 
Omada Identity Suite 
Description: The Omada Identity Suite delivers an end-to-end identity and access management solution on-premises or as-a-service that delivers essential identity governance functionality for secure, compliant, and efficient administration. The end-to-end IAM solution allows organizations to manage and govern all identity types (privileged users, employees, contractors, business partners, customers, devices, and machine identities) and manage access to all resources.
One Identity
Product:
Identity Governance Solution
Description: The One Identity Identity Governance Solution works to govern identities and access for all users whether in on-prem, hybrid and cloud environments. Additionally, it allows your solution to grant access rights by defined roles, rules, and policies. One Identity can standardize on-boarding and off-boarding processes for employees and contractors and extend governance to privileged accounts and administrator access with unified policies.
Oracle 
Product:
Oracle Identity Governance 
Description: Oracle's offers identity governance tools via its Oracle Identity Governance solution. Thus, its solution provides actionable identity intelligence through automated controls, rich dashboards, and risk-based analytics that controls enterprise risk and enables rapid compliance. Role-based identity administration automates user provisioning for both on-premise and cloud applications. Also, it provides 360-degree views of user access for complete identity governance.
Ping Identity 
Product:
PingDataGovernance
Description: From Ping Identity, PingDataGovernance provides policy-based, fine-grained access controls for attribute-by-attribute data protection and filtering for regulatory compliance and consent management. It has a graphical user interface for business users to collaboratively build, test, and enforce access control policies to data across user directories and APIs. It provides a centralized solution to authorize and filter API calls in real-time.
PlainID
Product:
Role & Entitlement Manager 
Description: PlainID's Role & Entitlement Manager brings visibility into access decisions; therefore, IT Professionals and Application Owners can get a clear view of who is authorized to do what across all their organization assets. It brings comprehensive lifecycle management for all access entitlements including roles, security groups, and applications. PlainID's policy-based access controls reduce the amounts of decisions to govern and provides a focused view of the access decision. 
RSA 
Product:
RSA Identity Governance and Lifecycle
Description: RSA Identity Governance and Lifecycle transforms and simplifies governance of user access and automates the user provisioning lifecycle to mitigate digital identity risk. Additionally, it helps maintain a continuous state of compliance and enforce user access policies. RSA fully automates the monitoring, reporting, certification, and remediation of user entitlements to simplify access delivery and meet ongoing compliance demands.
SailPoint
Product:
SailPoint IdentityNow
Description: SailPoint offers two distinct identity governance tools. Of the two, SailPoint IdentityNow serves as a SaaS identity governance solution; it allows businesses to easily control user access to all systems and applications, enhance audit responses, and increase operational efficiency. Further, it can offer governance deep into apps like ServiceNow, Workday, and Salesforce using specific controls for various roles to ensure that users can only see and touch what they need.
Saviynt
Product:
Cloud Access Governance and Intelligence (CAGI)
Description: Through its IGA solution, Saviynt can integrate with any on-premise or cloud application. Also, Saviynt provides out-of-box integration with key Cloud Applications and Enterprise Applications to provide comprehensive Access Governance, Access Management, and Access Intelligence capabilities. In addition, Saviynt provides the ability to mine or design Functional Roles and Attribute-Based Rules based on user data, attributes, and usage.
Simeio
Product:
Simeio Access Governance 
Description: Simeio's IGA-as-a-Service provides a comprehensive way to monitor entitlements and access granted, thus giving you greater visibility into who has access to what within your organization. It offers easy-to-understand dashboards and positively impacts the certification process by reducing certification and recertification requirements. Users can even be certified on an ad-hoc basis, as required, at any point in time.
Tools4ever
Product:
Identity & Access Manager 
Description: Tools4ever's Identity & Access Manager (IAM) is a complete IGA Solution. In fact, IAM provides a standardized user account management and provisioning system that handles automated account onboarding and offboarding, rights management, delegation, and more. Tools4ever's IAM User Provisioning software creates a connection between the HR system, directory services (Active Directory, G Suite, etc.), and downstream software, automating the entire process.
That concludes our list of the best enterprise identity governance tools for 2020. To learn more, check out our Identity Governance and Administration Buyer's Guide.