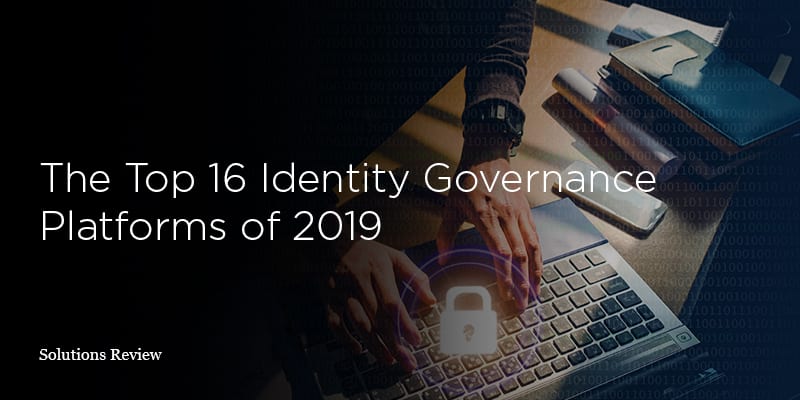 Identity governance and administration remains highly neglected by enterprises and businesses. Yet it fulfills essential identity security requirements in your overall cybersecurity platform.
Here's why: even non-privileged accounts can acquire unnecessary permissions way beyond their everyday job duties. Thus, if you allow them to accumulate these permissions unchecked, ordinary identities could become infected with access creep; as such, this makes them ideal targets for both hackers and insider threats. 
Therefore, identity governance steps in and helps offer the necessary role management, centralized access, and lifecycle management necessary for modern networks. In short, your enterprise needs identity governance now more than ever. But where can you begin?    
To answer that question, we offer our list of the top 16 Identity Governance Platforms of 2019, arranged alphabetically. 
The Top 16 Identity Governance Platforms of 2019
CA Technologies
CA Technologies' IGA solution, as part of their Identity Suite, delivers a unified solution for compliance reporting and user management. Thus it is ideal for enterprises looking for a scalable solution for large, consumer-facing deployments. Reportedly, their platform is easy to deploy and CA does offer a global footprint and support infrastructure.
Crossmatch
Overall, Crossmatch continues its path of innovation in its identity governance and administration by driving new options through context and policies. Specialized solutions for government, defense, and law enforcement make Crossmatch an attractive solution for public sector users and mid-sized enterprises. Also, customers report relief from password fatigue.
Fischer International
Fischer Identity's full auditing and compliance capabilities match the needs of most enterprises; in particular, Fischer serves those concerned with keeping detailed records of their identity management activity for compliance. Fischer's architecture should eliminate the need for customization, ideal for those looking to set their access governance policies without hassle. 
IBM
IBM's Identity Governance and Administration solution proves ideal for large organizations with global footprints. Indeed, as one of the top identity governance platforms of 2019, IBM accommodates complex deployments or needs; they have made the Gartner Leaders Quadrant for Identity Governance and Administration multiple years in a row, including in 2018. 
Identity Automation
Identity Automation offers a smart choice for enterprises looking to replace legacy tools with a new, next-generation IGA system. In fact, their Rapid Identity solution can be deployed in weeks, as opposed to the typical months or years. Additionally, they offer a broad set of out-of-the-box and configurable capabilities for customization. 
NetIQ
A Micro Focus solution, NetIQ presents a robust yet affordable IGA-focused solution with a large network of channel partners, ideal for small to mid-sized businesses. In fact, Gartner placed them into the Identity Governance Magic Quadrant for 2018. NetIQ offers features such as automated revocation and a centralized viewpoint for correlating user entitlements.  
Omada
Omada's highly vertical-specific solutions make them an interesting vendor for enterprises in Banking and Finance, Life-Sciences, Public, Utilities, and Retail marketplaces. Due to its noted strength in reporting capabilities, Omada's OIS can help organizations with high compliance needs; moreover, the UI is intuitive and complex deployments prove fairly straightforward. 
One Identity 
As one of the top identity governance platforms of 2019, One Identity's strong out-of-box governance capabilities make it a strong candidate for businesses. Additionally, it offers a solution with good SAP integration and DAG integration. The company focuses on identity and their IGA capabilities have received high marks in the Gartner and Forrester reports. 
Oracle
Oracle's modular Identity Governance solution suits large organizations with complex IGA needs. As a result, it can support a wide range of web applications and cloud architecture, has a large installed base in the market, and can handle enterprise-level demands. Also, Oracle has been named to the KuppingerCole Leadership Compass and the Gartner Magic Quadrant. 
Ping Identity 
Ping Identity's focuses on supporting large enterprises, and they have the services and support staff to make good on their particular interests. Therefore, Ping Identity offers scalable single sign-on features and can support multiple workforce, third party, and consumer identity use cases. Reportedly, their implementation and adaptation prove straightforward and effective.
PlainID
With its centralized and automated managed access control model, PlainID offers a viable solution for enterprises seeking to replace their legacy access control models such as role-based or attribute-based with a modern sophisticated model. Also, they've invested time and resources into their UX, thus making the tool easy for policy creation. 
RSA
As one of the top identity governance platforms of 2019, RSA's suite of independently licensed governance modules makes the company a good fit for companies of all sizes. Additionally, they have been named a Leader in the KuppingerCole Access Governance Leadership Compass report and a Strong Performer in the Forrester Wave report.
SailPoint 
SailPoint's background as an innovator in IGA makes the company an ideal fit for large organizations and businesses. Their product scales well for complex deployments. SailPoint has been named a Leader by the KuppingerCole Access Governance Leadership Compass, The Forrester Wave Identity Governance Report, and the Magic Quadrant IGA Report for 2018. 
Saviynt
Customers praise the capability and the prowess of the Saviynt solution and remark on its ease of deployment. Their IGA solution, one of the top identity governance platforms of 2019, receives support from a capable and responsive operations team. Also, Saviynt received recognition as a Leader for its IGA solution by the Gartner Magic Quadrant, among others.
Simeio
Simeio's managed service offerings suit enterprises looking to shift the heavy Identity Governance workload burden from their IT departments. Their managed IGA services are competitively priced and offer a single point of contact for deployment and support. Simeio specializes in cloud and hybrid environments, a boon for digital transformations. 
Tools4ever
Tools4ever's quick deployment and consultant-assisted implementation offer fast results and ROI; the solution provider's tools can suit companies small and large looking to invest in IGA without hassles. Additionally, their as-a-service offerings are also ideal for enterprises suffering from the cybersecurity staffing crisis or from human talent being stretched too thin. 
That wraps up our list of the top 16 Identity Governance Platforms of 2019! If you would like to learn more about them, you can check out our 2019 Identity Governance and Administration Buyer's Guide! Also, be sure to also check out our Identity Management Buyer's Guide for even more information on this vital cybersecurity branch!

Latest posts by Ben Canner
(see all)