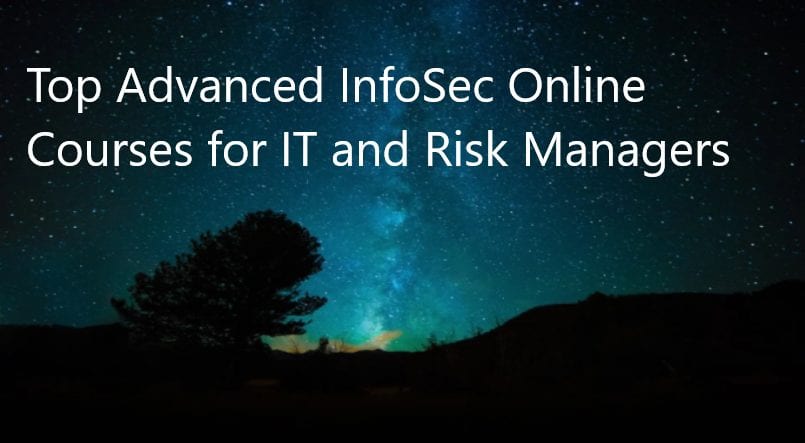 Solutions Review lists the top 10 advanced InfoSec online courses you can take right now that every IT and risk manager should consider.
We listed several articles across the Solutions Review security sites listing the top cybersecurity courses cybersecurity professionals should take. However, those lists mix both classes for beginners and classes for more advanced learners. What if you are an IT manager looking to supplement your skills and knowledge? What advanced InfoSec online courses should risk managers seek out? Where can they go to learn what they need to pass certification?
Below, we've listed 10 advanced InfoSec online courses you can take on right now that are great resources for experienced cybersecurity professionals. We've also included links to the courses. 
*Note: Prices of courses may vary among advanced InfoSec online courses.
Top Advanced InfoSec Online Courses for IT and Risk Managers 
Created By: Jason Dion and the Dion Training Solutions
Length: 3 Hours
Price: $13.99
This course allows students to understand the foundations of risk management in cybersecurity. It provides insights into the terms used by executives and managers in discussing risk management. Additionally, the course teaches how to apply the concepts to networks, systems, and projects. This course can serve as a refresher for cybersecurity managers and a critical course for aspiring managers.
Created By: ClayDesk E-learning, Syed Raza, Syed Ali, Myra Gul, Oasim Shah. 
Length: 5.5 hours
Price: $10.99
This course offers the opportunity to learn how to become a cybersecurity architect. This includes learning the ins and outs of the NIST framework, COBIT, and Kali Linux. Also, it allows students to learn the concepts required to recognize and potentially mitigate attacks against enterprise networks. Finally, learners gain skills in implementing preventative security, monitoring, and setting alerts. Ethical hackers, security analysts, and IT professionals can all learn something from this class.   
Created By: Cristi Zot
Length: 2.5 hours
Price: $10.99
Designed for researchers and bounty hunters, this course teaches skills applicable to cybersecurity research bug bounty hunting, and penetration testing. The course provides insights into manual and automated recon tactics, subdomain discovery, and brute-forcing. Other skills taught in the class include bucket hunting and GitHub recon.
Created By: Mile2 Cyber Security Certifications
Length: 11 Hours
Price: $11.99
This certification training course teaches how to perform an audit, risk analysis, risk management, and the protection of information assets. The material covers the ISACA®'s exam as well as measurable certification that demonstrates proficiency in the IS Auditing Field. Information in the class includes skills and knowledge to assess vulnerabilities, report on compliance, and implement controls for private and public enterprises.
Created By: Stone River eLearning
Length: 8 Hours
Price: $12.99
This course prepares students to pass the exam CompTIA Advanced Security Practitioner (CASP). The exam covers the technical knowledge and skills required to conceptualize, design, and engineer secure solutions across complex enterprise environments. It involves applying critical thinking and judgment across a broad spectrum of security disciplines to propose and implement solutions that map to enterprise drivers while managing risk.
Created By: Cyber Security & Privacy Foundation pte Ltd
Length: 3 Hours
Price: $10.99
This course covers a diverse range of topics, including cyber-attacks, network web portal assessment, penetration testing, ethical hacking, and web-related vulnerabilities. Additionally, it teaches ethical hacking to help students think like hackers and discover loopholes in their networks. Therefore it teaches other challenges like Web Portal Testing and network testing. 
Created By: Cyber Security & Privacy Foundation pte Ltd
Length: 4 hours
Price: $10.99
Lessons in this course include advanced bypass techniques, ethical hacking of the web, and web portal application. Additionally, the course includes information on web application coding security, web application security testing, the ethical hacking of applications, web portal security testing. The lessons in this course were developed from certified white hat hackers.
Created By: Mile2 Cyber Security Certifications
Length: 5.5 hours
Price: $10.99
Here, IT and risk managers can learn how to identify and evaluate entity-specific risks. Further, it teaches how to design, implement, monitor, and maintain risk-based efficient and effective information systems. The course works to teach IT and IS professionals who are involved with risk identification, assessment & evaluation, risk response, risk monitoring, IS control design, and implementation. Also, it can help learners assess risks associated with business objectives.
Created By: Cyber Security & Privacy Foundation pte Ltd
Length: 4 hours
Price: $11.99 
Most certainly a course for the most advanced cybersecurity professionals, this class teaches how to hack and write secure PHP code. In other words, it teaches programmers how to exploit and defend using the same language. The course is built on OWASP Top10, a common standard in IT design, architecture, and the testing of web applications. It is ideal for design engineers and architects.
Created By: Emmanuel Tsukerman
Length: 3.5 hours
Price: $39.99
Finally, we conclude with a class for Red Team hackers. Thus, the course teaches how to perform and prevent adversarial attacks on machine learning, as well as how to create Deepfakes. Other lessons include how to evade machine learning malware classifiers, how to break CAPTCHAs, and how to backdoor, poison, and steal ML models.
Additionally, you can also check out our Buyer Guide for information on the top solution providers in Identity Management.   

Latest posts by Ben Canner
(see all)