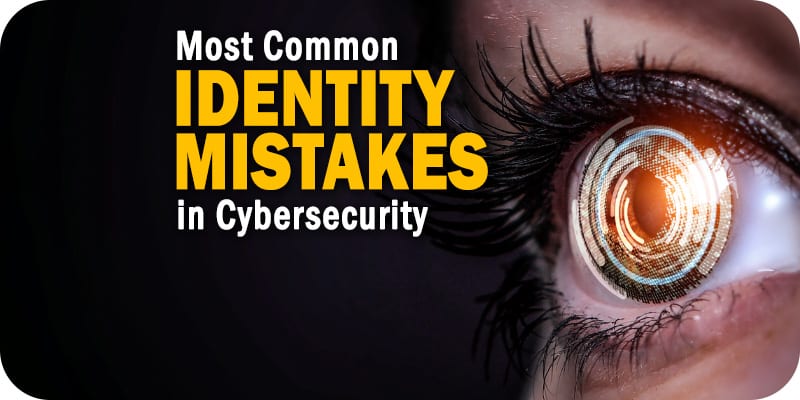 What are the most common identity mistakes in cybersecurity? We consulted the latest whitepaper from Auth0 to find out. 
Sometimes, recognizing a mistake before it engulfs more of your enterprise can prove challenging. However, finding a mistake in your identity management – in its surrounding architecture, buying or building a platform, and in leading app development teams – can take time, time which you can't afford in cybersecurity. 
To learn more, we read "Mistakes To Love: A Survey of Identity Mistakes" by Auth0, as part of its Identity White Paper Bundle. As the whitepaper indicates, the best advice (that is, the advice you're most likely to heed) isn't always from experts but from other people going through the same experiences. Here's what we learned. 
What are the Most Common Identity Mistakes in Cybersecurity? 
Buy or Build? 
Of course, identifying common mistakes requires understanding the individual use case of your business when it comes to cybersecurity. One of the most prevalent examples of this is in the difference between buying an identity management platform versus building one. 
In building an identity management platform, Auth0 notes that IT professionals often underestimate the scope, timing, resources required, and complexity of such a project. Additionally, building an identity management platform can result in poor execution and implementation mistakes. 
On the other hand, buying an identity management solution tends to alleviate those execution and implementation problems. Yet it can also become mired in integration issues, as the surrounding apps and architecture may or may not clash with the purchased solution. 
So the potential for common identity mistakes arises regardless of the path your business chooses to take. 
Other Mistakes
We don't want to spoil the full whitepaper "Mistakes To Love: A Survey of Identity Mistakes" by Auth0, as part of its Identity White Paper Bundle. We suggest you read it for yourself, alongside the other papers. You can also check out the Solutions Review Suggestion Engine and the Buyer's Guide. 

Latest posts by Ben Canner
(see all)