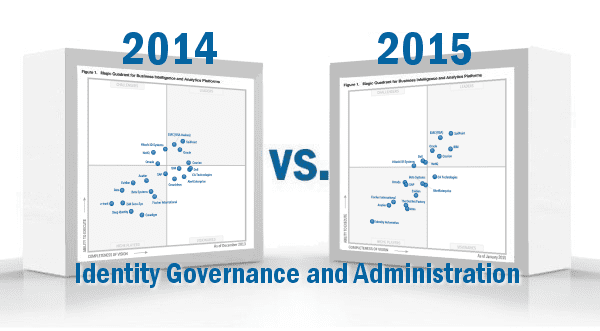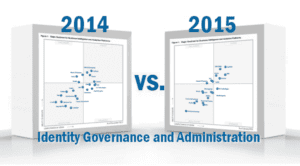 Editor's Note: The 2016 IGA Magic Quadrant is now out, check out our coverage here. 
Gartner has released the latest version of its Magic Quadrant for Identity Governance and Access for 2014, a category which includes Identity and Access Management as a core component. There has been some movement for a few companies since 2013, the last time a magic quadrant bearing this name was released, which I will go over below. Also interesting to note is that this is only the second year that Gartner has used the term Identity Governance and Administration. This category is actually a fusion of 2 formerly separate magic quadrants, User Administration and Provisioning and Identity Access and Governance from 2012 (link goes to images of reports from an Oracle press release). Gartner's action points to the maturation of the IAM field.
First, the big shifts in company placement over the past year in IGA.
Caradigm, e-trust, Deep Identity and iSM Secu-Sys have been dropped, mostly for focusing too much on one industry or geographic region. Caradigm was too focused on only the healthcare market. Brazil-based e-trust is limited to its home-country market due to its focus on serving Brazil's Federal government. Singapore-based Deep Identity issue was similar, with Gartner saying  that "the products are popular in Asia, and the company is starting to expand its geographical reach through partnerships." Finally, Germany-based iSM Secu-Sys is too focused on German speaking places in Europe.
In their place, Identity Automation and The Dot Net Factory have been added.
Here's a quick blurb from the report about Identity Automation:
Identity Automation's customers typically buy an IGA system that is configured and/or customized by the vendor via an added cost professional services engagement. Most reference customers are in education and use automated provisioning of up to 10 target systems. The majority of its customers manage between 7,000 and 250,000 identities (the average is 75,000), although there is one notable customer with a significantly higher identity count.
And one on The Dot Net Factory:
Gartner estimates that about two-thirds of its customers are divided among healthcare, banking, securities and insurance, and government. The Dot Net Factory did not respond to requests for supplemental information, but it did review the draft contents of this document. Gartner's analysis is based on other credible sources, including information that The Dot Net Factory provided for last year's research, public information, and conversations with three users of its product. The majority of its customers manage between 1,000 and 25,000 identities. Some customers have significantly higher identity counts.

Widget not in any sidebars
Between the two, The Dot Net Factory seems to be the better add, as Identity Automation shares the same drawbacks as those companies who got dropped, namely too much of a regional and industry specific focus. Makes you wonder what they did to get added.
For those who stayed on from  2013, here are the major movements.
NetIQ has moved from challenger to leader. Gartner liked their scalability and high ratings for support and maintenance, and worries over issues surrounding acquisitions and alliances appear to have subsided.
Dell goes from visionary to challenger. Its solution was easy to use, functional, and provides good policy management, workflow rerouting capabilities, and "contextual information for approvers and certifiers." Dell has failed to launch beyond its success in Europe, though, and apparently no longer offers a solution that "offers an identity vision, strategy and portfolio that spans administration and governance without an undue focus on any single platform or software development environment," which was in the 2013 version.
Omada goes from challenger to niche. I believe Gartner explains exactly why when it placed the following caution right at the top of its caution list: "revenue growth from software has slowed down over the past two years, reflecting low investment in sales and marketing." Consider this Gartner's warning to Omada to pony up more cash next time if it wants a better place on the Quadrant. To be fair, Gartner also dinged them for a provisioning solution meant to replace Microsoft Forefront Identity Manager (FIM) synchronization for fulfillment and connectors that failed to live up to expectations, but the 3rd point, based on not focusing on "partner expansion" enough, kind of confirms my suspicions. Tongue-in-cheek aside, sales and marketing efforts are a key component in execution, so if those efforts aren't going well, then it makes sense Omada would get dinged for it.
AlertEnterprise goes from Visionary to niche. The issue here stems from below average customer ratings, a road map for the future that does not align with "IGA trends," and once again a stern warning about not needing to grow its partner network if it wants sales. Maybe they didn't pay Gartner enough either?
Hitachi ID improves significantly within Challengers quadrant. In 2013, Hitachi was flirting with becoming another niche player, but is now flirting with moving into the leaders quadrant. That move boiled down to getting great customer recommendation reviews, as well as kudos for not playing pricing and update games with its customers. Issues that dropped off the radar in 2014 are problems in functionality and usability, while Hitachi still faces trouble expanding outside of North America
IBM from visionary to leader. Basically, Gartner likes IBM's acquisition of CrossIdeas platform, now renamed IBM Security Identity Governance: "The CrossIdeas acquisition has reinvigorated IBM's Governance and Administration product line, adding some of the most advanced governance capabilities." Gartner also notes that IBM's extensive network VAR and Channel partners are very satisfied with their business relationship.
Overall, the shape of the distribution of placements has tightened up, forming a much more obvious linear relationship between vision and execution. Basically, that means that if a company is good at one, it will be good at the other too, and if not so good in one area, then not so good in the other either. That makes sense for a technology driven solution that must adapt rapidly in order to keep up with the bad guys looking to steal your data and shut down your servers. Vision and execution correlate.
There are five leaders total for 2014: Sailpoint, IBM, EMC, Courion and Oracle. Gartner positions Sailpoint at the very top of the pack in both categories.
Finally, about the consolidation. If you search for Magic Quadrant IGA 2012 or before, you won't find one. That's because it doesn't exist. Previously, the space was represented by two separate categories, Identity and Access Governance and User Provisioning/User Administration and Provisioning. Thomas van Vooren, a Senior Manager at the consultancy firm Everett said the following last year in his company blog after the first IGA Magic Quadrant was released:
Traditional identity management solutions started appearing from 2000 and onwards, supporting management of the identity life cycle (commonly known as the joiner-mover-leaver process) and automation of its fulfillment (provisioning). With the need for better governance around identity management and a business centric view doing so, new products arrived in a solution space soon referred to as "Identity & Access Governance" (IAG). With IAG products now having reached a certain level of maturity and provisioning being a commodity today with vendors tacking on provisioning to their IAG products, convergence is a fact. No longer did it make sense to have seperate magic quadrants.
Misspelling of separate aside, I think Vooren sheds some light here on Gartner's thinking, and I expect this convergence to continue as customers look for both security and business efficiencies from IAM solution providers.
If you're looking for a solution in this space, Gartner isn't the only place you should go. Also check out our free 2015 Buyers Guide for Identity and Access Management solutions here.

And watch this video for the Top 10 Resources for Evaluating IAM solutions:

Latest posts by Doug Atkinson
(see all)