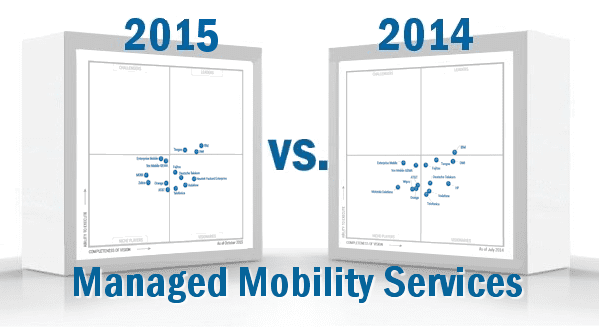 Gartner has just released their latest magic quadrant for enterprise mobile, the 2015 Gartner Magic Quadrant for Managed Mobility Services. As always, Gartner provides detailed outlines of each vendor allowing you to compare them via their strengths and cautions. The quadrant itself gives you a nice, quick and easy way to see how your current or future solution stacks up to the rest.
Managed Mobile Services is a company that remotely manages their client's end-user systems and their IT infrastructure. Gartner includes smartphones, tablets and purpose-built field service equipment with embedded connectivity for their evaluation in this quadrant. This also includes corporate-liable devices and individual-liable, like BYOD devices.
As always,Gartner has separates these top MMS solutions into four categories, Leaders, Challengers, Visionaries and Niche Players. These solutions were all evaluated by their completeness of vision and their ability to execute. In 2014, all MMS solutions were clustered near the center of the Magic Quadrant, and in 2015 it is even more so. The vendors are packed even closer together, however they have all move a bit higher, pushing two additional solutions into the leaders category to join IBM who was the lone leader in 2014.
Leaders- IBM, Tangoe and DMI
Challengers- N/A
Visionaries- Fujitsu, Deutsche Telekom, Hewlett Packard Enterprise, Vodafone and Telefonica.
Niche Players- Enterprise Mobile, Vox Mobile-GEMA, MOBI, Zebra, Orange, AT&T.
DMI slides into the exact spot occupied by IBM last year in the leaders category, while IBM rises just above them. Tangoe makes their move into the leaders bracket as well. These three solutions maintain the same relativity to each other, but as a group have moved up, further separating themselves from the pack.
While the challengers category remains empty this year, the visionary category is still in full swing with five vendors settling there. This number is down from the seven featured visionaries last year since both Tangoe and DMI have graduated to the leaders category. Fujitsu is a little closer to the top this year and takes over as the leader of the visionaries. Deutsche Telekom has moved a good distance to the right just below Fujitsu. HP, Vodafone and Telefonica have risen a small amount, bit remain close to the positions they were in last year.
Six vendors make up the Niche Players category just like last year, but there are a few changes. Wipro has been dropped in favor of MOBI and Motorola has been acquired by Zebra. Enterprise Mobile remains at the top, with Vox Mobile- GEMA closing in a bit. MOBI introduces itself just above Zebra, who hasnt moved from Motorola's spot from the previous year and Orange, who has managed to place itself just above AT&T.
Vendors Added: MOBI
Vendors Dropped: Wipro
Want a free companion resource for the EMM Magic Quadrant? 
Complete and comprehensive rundowns of the top EMM vendors and what their solutions include
Bottom line descriptions of each solution and their strengths
Important questions to ask yourself and potential vendors when considering a solution
Market overview of the current mobility management space
Complete glossary of mobility management terms
Download Now