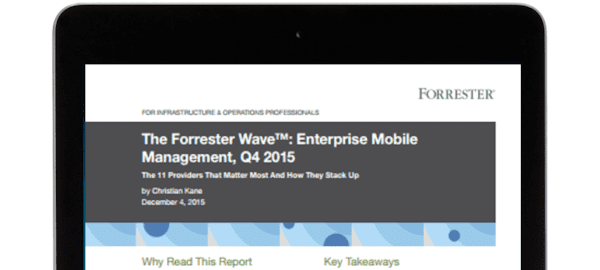 Forrester has just released their Q4 2015 Forrester Wave report for Enterprise Mobility Management. Like the Gartner Magic Quadrant or the Gartner Critical Capabilities Report, The Forrester Wave Report outlines the current state of the enterprise mobile market and separates the top EMM providers into Leaders, Strong performers and Contenders. These three resources combined with our enterprise mobile buyer's guide that gives profiles for each solution being compared is a great way to make your own shortlist of EMM solutions that will best suite your company, large or small.
Forrester explains their ordering by comparing the strengths and weaknesses of each of their top 11 solutions through charts and graphics. Much like the Gartner Magic Quadrant, the Forrester chart lays the solutions on an easy to follow chart, but instead of splitting them into four vague quadrants, the Forrester chart arranges them with Strategy on the X-Axis and Current Offering on the Y-Axis. Each vendor is then outfitted with a different sized circle which represents their market presence.
IBM, AirWatch, MobileIron, Citrix, and BlackBerry are all featured in the Leaders category because they performed best out of the criteria Forrester provided for evaluation. The have strengths and weaknesses as pointed out further down the document, but they proved to be the most well rounded solutions of the ones evaluated.
Soti, Good Technology, Microsoft, SAP and Sophos were all put in the competitor's category. They demonstrated more focus on specific strengths and niche groups and had just a few more weak spots than the leaders had. Good Technology is left in a bit of a limbo this quarter with it's acquisition by BlackBerry, which pushed BlackBerry into the leaders category and Microsoft is in the middle of a transition to Windows 10 and it's not so clear at the moment exactly how that shift is going to be reflected on enterprise mobility, although our hopes are high.
Landesk is listed as the only contender, and they are true to that label. Forrester has high hopes for Landesk because they have recently acquired a lot of new technology that is about to be combined and implemented with their enterprise mobile solution. Globo was also due to be included in this category, but due to recent revenue reports, they were not able to be accurately represented.
The Forrester Wave Report also includes a grid chart with ratings on different components including Implementation and operation, OS support, containerization, data management and many more. This chart give an actual comparison rating that goes beyond what is offered on the Gartner chart.
With these resources, you can build yourself a foolproof kit on comparing the top enterprise mobility solutions and see how they will be received and implemented in your business.