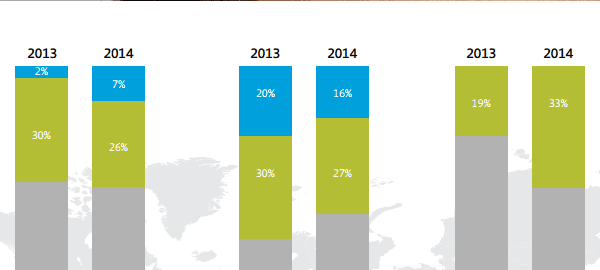 Citrix has just released a Mobile Analytics Report for February 2015. This report actually takes a look into two different aspects of mobility which are helping the market continue to grow.  First they took a look at trends from the consumer perspective and how numbers through 2014 and into 2015 indicate how users are utilizing end devices and how those actions did and will impact mobile network operator's offerings.
These trends and impacts are based on personal preferences of the end users. As our devices continue to become such an integral part of our lives, mobile network operators can no longer set the agenda for what is being offered. Aspect of the user experience that Citrix touches upon in report range from mobile video, device look, mobile apps to mobile data services and how all of these areas are changing based up how the user uses their device for both personal and corporate activity.
The second aspect of mobility and the one of most interest to us that Citrix highlights through the trends they uncovered in the report is mobility's impact on the enterprise. First and foremost it is clear to say that enterprise mobility is not showing any signs of slowing down. The Citrix report shows that global device enrollment in the enterprise rose 72% from 2013. And who has the grasp on such an increase in device usage in the enterprise? Your safe guess would be iOS.
Across every industry polled and every region which participated in the report, iOS held no less than 50% of the market share. These include the Americas, EMEA and APAC with industries ranging from Education, Financial, Government, Healthcare, Legal, Insurance, Services and a handful more. Citrix does highlight the financial industry specifically saying that "The financial industry requires the highest levels of security to protect sensitive corporate and customer data, and to support regulatory compliance. Effective security is a critical requirement for mobility. iOS devices offered superior security, helping them gain a dominant share (71%) in the sector."
As mobility continues to expand within the enterprise and as mobile strategies become more sophisticated there will be a heavy focus on enterprise mobility policy enforcement. With that being said Citrix points out that organizations are beginning to transition away from device-level policies like GPS restriction to more of the app-level policy enforcement. This policy approach allows for a more granular level of device management while avoiding the heavy handed all or nothing approach that comes with device level policies. According to the report Passcode enforcement was the biggest policy concern with 90% deploying.
Click here to read the full report from Citrix and also download our free 2015 Solutions Review Buyers Guide for Mobile Device Management (MDM) for another view on the mobility market.