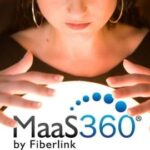 In a recent blog post, Fiberlink offers some advice for organizations looking into BYOD programs as they head into 2013. They talk about the increase that we saw in 2012 around enterprise mobility and how this increase is impacting the way organizations operate and utilize mobile devices. With the benefits that organizations realized from this increase also came new challenges that Fiberlink says some executive decision makers found out the hard way.
With hindsight being 20/20, Fiberlink's first piece of advice is to look into the past and not let history repeat itself. Decision makers need to take what they learned from the growth of enterprise mobility in 2012 and apply it moving forward. One piece of advice Fiberlink is giving to IT decision makers is to accept the importance and necessity of Mobile Device Management (MDM) and Mobile Application Management solutions (MAM). The growth of mobility will, at the very least, maintain if not increase and if IT is not preparing solutions to manage and secure this growth they will be digging out of a very large hole.
Fiberlink also suggests that setting up an MDM solutions prior to implementing a BYOD program will be very important. By being prepared for the growth in mobility IT departments will more likely be able to maintain policy, control and governance over their network and devices. Click here to read more from Fiberlink and to learn more about what they can offer.