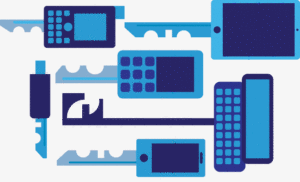 When it comes to BYOD, simplicity and security don't have to be mutually exclusive. Employees work best when they choose their own tools and whether they are allowed to by the company or not, most will end up using their personal devices so it's best to head off the problem by implementing a BYOD or a CYOD policy.
It's easy to hesitate in adopting a BYOD strategy mostly because regulated BYOD is a relatively new concept. People have been consistently bringing their own devices to work for over a decade now and they will continue to do so whether your policy allows it or not. Since it's unavoidable the only option you have is to implement a policy that is simple for your employees and secure for your IT department.
Simplifying management may seem like the wrong step to make when thinking about security; the more the better right? But that's not the case with BYOD and CYOD. The more layers of madness you add to the security measures, the more likely your IT team is going to miss something. Simplifying management through self-service provisioning and automated management and monitoring will not only give your IT department more control, but it will also reduce costs.
The more you know about BYOD, CYOD and COPE the better. What do you need to eliminate from your bloated BYOD routine and what do you need to avoid getting tangled up with in the future? This Free White Paper breaks down how simplicity can equal better mobile security.
Some companies also make the mistake of trying to implement more than one mobile solution. Having a different solution for MDM, EMM and BYOD can get tangled and cause security issues to slip through the gaps. Most solutions now include all aspects of mobile security so if you're still using multiple, it's time to start thinking about a new one. Streamlining mobile operations into one easy to manage solution allows IT to clearly see what's going on with all the mobile devices and not be distracted by trying to handle more than one.
Virtualization is a good way to secure file sharing with IT remaining in complete control of security while giving employees optimal freedom with their devices. Everyone gains single click access to all of their apps across the cloud and have the ease of single sign-on. This single point of control allows IT to provision and de-provision apps quickly to either instantly allow or disallow something on an end-user device.  Business information is safe in the datacenter and is never stored on the device making hacking the mobile device useless because the information isn't stored there.
Mobile solutions with mobile application management (MAM) and mobile content management (MCM) allow IT to take an app by app approach to security instead of having to worry about the device itself. As you can imagine, this makes it more secure because they are monitoring the app for everyone, not just a single device, and simple because not only does it not matter what kind of devices the end-user is carrying, but the corporate apps are there right alongside the rest of the apps for convenience.