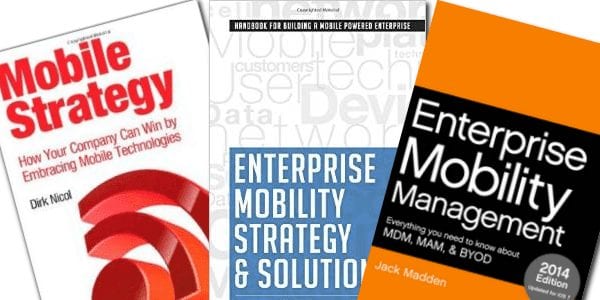 We have brought together some of the top book written by some of the leading professionals who both cover and are directly involved in the enterprise mobility space. With this aggregation we wanted to focus specifically on the topic of enterprise mobility strategy. Sometimes and organizations mobile strategy can be dumbed down into think all you need to do is get the hardware and then onboard software for the security and management aspects of both the hardware and data.
Well, it is most certainly not that simple and organizations really do need to wrap their heads around strategy and think critically about how they will roll out enterprise mobility. Your strategy needs to include policy development and enforcement plans, continuous education for employees, hardware, software expense management capabilities and much more. Not thinking critically about all of these aspects of enterprise mobility can leave these new endpoints open to outside threats and complete counter productivity in any mobile strategy put into place. The following books available on Amazon can help you get started in implementing a proper enterprise mobile strategy and understand the importance of thinking critically about it.
Mobile Strategy: How Your Company Can Win by Embracing Mobile Technologies – by Dirk Nicol (2013)
"Mobile Strategy gives IT leaders the ability to transform their business by offering all the guidance they need to navigate this complex landscape, leverage its opportunities, and protect their investments along the way. IBM's Dirk Nicol clearly explains key trends and issues across the entire mobile project lifecycle. He offers insights critical to evaluating mobile technologies, supporting BYOD, and integrating mobile, cloud, social, and big data. Throughout, you'll find proven best practices based on real-world case studies from his extensive experience with IBM's enterprise customers."
Enterprise Mobility Strategy & Solutions – by Rakesh Patel (2014)
"Do you know that organizations and IT departments scramble to devise a good strategy for enterprise mobility? Surprisingly, only half of them have well-defined mobile strategies, confirms a recent survey of over six hundred companies by IBM. Now this is where a handbook for enterprise mobility can be instrumental for CIOs, CTOs, and IT decision-makers who look for creating robust enterprise mobile strategies and solutions. This book shares some of the practical cases related with enterprise mobility, which will be relevant and resourceful for enterprises seeking to get through their own obstacles and setbacks. It is divided into four major sections comprised of following: 1. The Mobility Revolution 2. Enterprise Mobility in the Workplace 3. The Scope of Enterprise Mobility 4. Other Aspects of Enterprise Mobility These sections further unfold into thirteen chapters. This book should also help you explore and understand the key aspects like mobile device management (MDM), BYOD, and mobile security. Precisely, it could be no less than a handbook for CIOs, CTOs, and organizations who want to enable enterprise mobility effectively."
Enterprise Mobility Management: Everything you need to know about MDM, MAM, and BYOD – by Brian Madden (2014)
Over the past few years, more and more employees have been demanding to do work from mobile devices like iPhones, iPads, and Android phones and tablets. Back in days when BlackBerry dominated the market, dealing with mobility was easy for companies. But today's Android and iOS devices aren't so easy to manage, and the tasks that employees want to do with them far more advanced than what they did in the BlackBerry days. The enterprise mobility management (EMM) industry has responded with technologies like mobile device management (MDM), mobile app management (MAM), mobile virtualization, app wrapping, "containerization," and mobile file syncing. All this technology is new, and it's evolving rapidly. The stakes are high: Thanks to the consumerization of IT, if a company doesn't figure out how to deal with mobility, users will bring in their own phones and tablets and do whatever they want anyway.