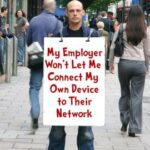 Enterprise mobility, Bring Your Own Device (BYOD) programs and Mobile Device Management (MDM) are changing the way that enterprises operate today. The levels of connectivity, communication and access to information are changing the way employees get their day to day responsibilities done. Within every enterprise there will be an intersection between enablement and the security risks that come with enterprise mobility. Serious consideration need to be taken when developing mobile strategies to ensure that you are not putting the organization or the employee at risk while also not putting the clamps on employees and not allowing them to realize the full potential that enterprise mobility can bring to the table.
A recent article in CIO Insight highlights 5 ways that organization can do just that. The article is all about maximizing enterprise mobility and the author, Samuel Greengard, poses the question, "How should a business design mobile systems for maximum gains for both the enterprise and those using these tools, including consumers and employees?" Greengard suggests looking at these 5 steps in attempting to answer that question.
Tear down the walls and barriers.
Think agile and focus on usability and design.
Put the technology in mobile devices to work.
Build responsive and secure systems.
Be creative and deliver a wow factor.
While we wont go into full detail around each suggestions, you can find the full link here, we did want to point out one theme we found consistent throughout the entire piece. That theme is all about the end user and how your mobile strategy can empower and enable your workforce. Employees need to have the ability to access information they need, utilize application that allow to smooth and real time access and they need to feel that their personal information is just as secure as enterprise data.
Too often the security features that are implemented around mobile strategies overshadow and block potential benefits that could be realized if a true end user approach was taken. In writing about tearing down wall and barriers Greengard quotes Satya Ramaswamy, vice president and global head of the Digital Enterprise Unit at Tata Consultancy Services (TCS), as saying "it's vital to understand users' needs." CIOs must work with other business leaders to ensure that people get the desired data." Agility and usability as all about creating systems and applications that reduce complexity and process for the end user. He writes that clunky and complex apps and tools are a "turn off" that can actually hinder productivity. The list goes on as to how each of these steps can offer a better user experience that will result in a realization of all the benefits that enterprise mobility can offer.
The same approach should be taken when looking into MDM solution to help manage and secure your mobile strategies. Keep the end user in mind and think about how the unique features of a specific MDM solution can either enable your employees to optimize mobility or how they might hand cuff those employees making mobility a hassle rather than a productive tool. Consider issues like containerization and you are separating corporate and private data. Privacy will continue to be a key concern for employees as BYOD programs continue to grow. Think about application stores offered through an MDM solution and how seamless the process is for employees to access additional tool they need to get their jobs done.
Click here to download our free Solutions Review Guide for MDM. It outlines the top MDM solutions available and provides a breakdown of each solution's keep features that you need to consider that can enable your workforce to optimize your enterprise mobility strategies and programs.