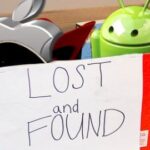 According to a Harris Interactive survey commissioned by Fiberlink, only 16% of adults who use mobile devices for work-related purposes have data professionally removed from their old devices when they get a new one.  An even smaller percentage, 5%, had their old mobile device properly destroyed.
58% of survey respondents said they kept their old device.  13% returned their devices to service providers without removing their data.  11% indicated that they donated their old device, gave the device away, or put them in the trash.
Fiberlink offers suggestions about the right steps to follow for swapping out mobile devices:
Notify the IT Department. When you receive a new device and want to use it for your company's BYOD program, let the IT department know you will be swapping devices.
Transfer Corporate Data to Your New Device. Have your IT department configure the device to access your corporate data. This will be easier for those working for companies with mobile device management (MDM) solutions, which can automatically push down corporate email, applications and documents.
Extract Personal Data from Your Device. After corporate data has been transferred to the new device, save all personal files from your old device. This can be accomplished using the native tools and back-up services of the operative system or the manufacturer (examples: Apple's iCloud and Google Drive).
Erase Remaining Personal and Corporate Data. After transferring files you want to save, remove all personal and corporate data. Make sure to delete all data.
Go Ahead and Wipe, if Necessary. The "factory data reset" function on an Android or the "reset" function on an iPhone or iPad are good ways to wipe all data before retiring a mobile device or passing it on to a family member or someone else. Remember to check with your IT department prior to performing a reset if you are enrolled in a BYOD program.
Don't Forget the SD Card. Some mobile devices are configured to save data on a SD Card, which can contain sensitive information. When you deactivate a phone, remove any SD cards.
Protect Your New Mobile Device. Keep personal and professional data separated, and always password protect your information.
https://www.esecurityplanet.com/mobile-security/unwiped-mobile-devices-a-byod-risk.html