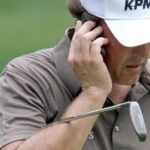 A recent mobile device management (MDM) solution release has gone surprisingly unnoticed, and here is our warning that it might rock the MDM space…FORE!!! The PGA (Professional Golf Association) recently implemented a solution at the PGA Championship in August in order to handle the onslaught of mobile devices being brought onto and used by spectators walking the course. This solution is a little different from the other managed services or cloud based MDM solutions we are seeing out there. Instead of true technology the PGA is going with good old fashioned man power to handle their MDM issues.
Donned in lime green bibs and shorts a small army policed the course with the words "Mobile Device Policy Enforcement" plastered on their backs. Their mission: to enforce the mobile device policies and usage that the PGA Tour has set for ticket holders. Sounds like a MDM solution to me. A two strikes and your phone is out policy was put into place for those patrons trying to take pictures or uses their phones outside of dedicated "phone zones" on the course. The Mobile Device Policy Enforcement crew would mark one's ticket for a first offence and then confiscate the "jail broken" or "rouge" devices to be picked up after the round for a second offence.
We know this is a bit of a stretch. The Mobile Device Policy Enforcement crew probably is not going to rock the MDM space, but in an article from Yahoo Sports one common issue is presented between proper MDM solutions and the PGA's very hands on "MDM" approach. While these policies were put into place to help uphold some of the "finer points" in golf the Yahoo Sports article presents the question, "How is anyone going to remember the rules, and how are the rules going to be enforced?" Apparently the trouble being that mobile device rules change course to course and tournament to tournament. This idea of communication and understanding of policy is a major part of an enterprise's MDM strategy and something we hear and see some concern over.
An employee bringing their own device into the work place or operating a corporate issued device needs to understand from the get go what the device is allowed to do, what they are signing up for when opting-in to a MDM solution and to full scope and capability of the solution. We reported on a recent survey from Fiberlink and Harris that outlined employee privacy concerns with BYOD partly because they were unaware of some of these issues. Anger and frustration over possible data whips can be avoided if the employee understands and knows the MDM policies. If an employee is unaware of, or disregards policies set forth doesn't that devalue and hamper a MDM solution? Be sure to involve your end users, educate them and make MDM a two way street in order to truly secure and take full advantage of these new and immerging technologies. As on the golf course we believe employees should be able to bring and use their mobile devices into the work place, you just need to work together to make that possible.