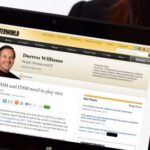 Last week we highlighted an article from ComputerWorld that talked about the notion of simply saying NO to Bring Your Own Device (BYOD) programs. Well with today's tech savvy work force that is easier said then done. The consumerization of IT has placed smart phone and tablets into a large majority of employees across the globe which has led to what seems to be a futile battle against BYOD. As the old saying does "if you can't beat them then join then", and you might as well be prepared.
In a recent ComputerWorld article, Dr. Darren Williams, GM & VP of Absolute Software's Service Management, offers some advice for IT to better prepare for increase enterprise mobility and BYOD program. Williams main point in the article is highlighting the need for Mobile Device Management (MDM) solutions to align well with current and evolving IT service management systems (ITSM).
As BYOD emerges and MDM solutions are brought on to handle security service management systems will need to adjust in order to make sure business processes still work properly. He writes, "Each ITSM process may need to be adapted to incorporate the unique requirements of MDM. This can include issues such as separate protocols for employee-owned devices, different services added to the service catalog, new update workflows, and mobile-based service offerings."
When addressing security needs that inevitably increase due to BYOD and enterprise mobility Williams suggests not overlooking your current ITSM and the security that it offer. "Organizations will often overlook the enhanced security capabilities that can be achieved using their existing ITSM infrastructure. By developing systems and processes at the service level that mitigate risk, IT can become the champion of preferred devices. This can include adapting service strategies when on-boarding and off-boarding employees as well as decommissioning employee-owned devices."
By aligning these two processes, MDM and ITSM, not only will it allow for great security, maintenance and infrastructure integrity for IT but it will create efficiencies for the end users as well. "With ITSM backing MDM in support of employee choice and productivity, user satisfaction will increase, workflows will flow, and the company will benefit. Most importantly, when executed and supported correctly, MDM and ITSM can create efficiencies and cost savings that can be directly attributed to IT, converting it from a cost center to a solution center."
Click here to read the full article and for more on how to prepare for the BYOD onslaught from Dr. Darren Williams.