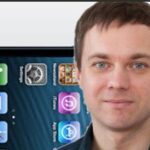 The following is contributed content from CyberVision Inc., a provider of business and technology software solutions. The piece is authored by Konstantin Babenko, EVP for Business Development and Technology at CyberVision Inc, who  holds a PHd in Artificial Intelligence and has 20+ years of experience in the IT industry. Here Babenko highlights some additional issues IT is faced with in the wake of a BYOD program and how best to approach some of these issues.
Enterprise mobility will be vastly improved in a few years. Here's how to squeeze the most out of today's technology
Once the novelty of Bring Your Own Device (BYOD) wears off, enterprises are left with a set of problems that must be resolved immediately and might be – eventually. And while BYOD is not necessarily a paradigm for replacing the desktop PC, it has already had a profound affect on how we communicate and access data. At the same time, companies cannot wait to resolve issues such as call disruptions, device battery life, and call accounting, and Gartner predicts that $500 million will be spent on managing enterprise mobility in 2013. Instead of waiting for new technologies to handle these issues, workarounds are needed now, and there is a will to spend money on them.
Handoffs, Tradeoffs
The need to deal with current conditions can be seen and heard clearly on a smartphone when crossing into or out of a corporate Wi-Fi zone. Changing networks requires calling again and both call quality and call features might diminish. On the other hand, staying strictly on the cell network can be a security and accounting quagmire and call quality can still be an issue. The problem is a hot topic across the industry. Ericsson, for example, has devoted several whitepapers to the promise of LTE Release 12 and beyond (LTE-B), especially in terms of integrating cellular and Wi-Fi at the Radio Access Network (RAN) level. Indeed, 3GPP's Release 12 in summer 2014 is slated to address more fully the need for devices to be able to handle this kind of handoff as well as dual simultaneous connectivity. But the problem exists today, and at present there is no standard for the conditions under which devices that can switch actually do so. Until a standard is rolled out and implemented in the manufacturers' hardware, enabling switching requires IT departments to configure corporate liable devices to essentially run in both Wi-Fi and cellular modes simultaneously for the same communication. There are consequences, not least shortened battery life.
Not So Quick Fixes
Deciding what configuration settings to emphasize can enable IT departments to lengthen battery life. This is an important aspect of enterprise communication that should not be overlooked. Unlike the ongoing paradigm shift involved in the new LTE standards, which is even on a schedule, battery technology is maturing, with Intertek expecting lithium-based batteries to remain dominant for the next 20 years. Change will be incremental, and battery manufacturers are exploring ways to eke out another 10-20% of capacity. Conserving current drain at the device is paramount. Again, this is best done by configuring the phone before it gets to the user.
Battery life serves as a good example of the range of problems that need to be addressed within one issue. In some cases the platform used determines the limits of what can be done. For example – typically Android based SIP clients use a POLL transport mechanism, which requires a constantly established IP connection. This is quite bad for battery life, so the perhaps a new SIP client as a part of this solution needs to be implemented and it should use a PUSH mechanism, which saves the battery a lot. Moreover, it has to be accepted that users, especially in tech companies, are likely to reconfigure whatever devices become available. In this event, results may best come down to educating users about the need to use smartphones smartly.
Bring Your Own Accountant
While dropped calls are usually an annoyance and charging batteries is a fact of life, being able to account accurately for services rendered is critical, especially for companies that bill for time spent on the phone with clients. In this case, switching modes and call forwarding play havoc on keeping tabs on calls. Implementing a call log manager for a BYOD environment is possible, but it is more practical with corporate liable or supported devices. This approach should become more prevalent, especially as manufacturers are introducing devices that can handle completely segregated business and personal profiles. Blackberry, for example, has created Blackberry Balance, which separates these profiles for users signed up to Blackberry Enterprise Server.
Billing and cost control are vital to any consideration of a device strategy, but a clear eye to total costs is important as well. With most companies reimbursing at least a part of employees' device purchases and operating expenses, BYOD's actual expenses are liable to become a football kicked from IT to HR to projects and the enterprise might not save as much as it might seem at first glance.
In terms of communications provision, device power and accounting, those responsible for enterprise mobility still cannot rely on off-the-shelf solutions. Perhaps the day is near when corporate liable or supported devices coupled with enterprise app stores will provide a seamless business communications experience. But given the rest of the picture, especially security and collaboration issues, we'll still be waiting tomorrow as well.
Find additional insight and resources from CyberVision Inc. here