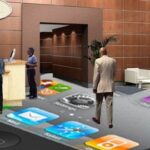 Have you heard? The iPhone 5 is out and it seems to be one of the hottest tickets going right now. Apparently Apple announce that 2 million were pre-ordered within the first 24 hours of the phone going on sale with predictions of 8 million units to be sold through the launch weekend. That's a lot of phones, and based on those number one can assume that the iPhone 5 will soon be entering the enterprise.
We can hear IT departments squirming now, "Great, a new device with a new operating system to manage and secure. We never should have done this BYOD thing." Yes, the iPhone 5 runs on Apple's new iOS 6 platform with new features, functions and possibly head aches for IT. But wait, it's not all that bad. eWeek points out in a recent article that one of those new features is, "Guided Access, while designed initially for the education market, is likely to be well suited for interfacing with MDM (mobile device management) software to make the iPhone significantly more secure than it is currently. He noted that iOS 6 includes code allows control of the behavior of the home button, the power button and even access to portions of the screen."
That's great, but which MDM solutions will it interface with? Do they all offer support for iOS 6? At this point the answer is no, and here is a small list of MDM providers that have announced their support for the popular iPhone 5 and iOS 6 platform.