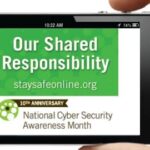 Emerging technologies offer exciting and economically viable opportunities.  However, there are threats that have emerged with new technologies.  The internet in particular has created tremendous opportunities to share information, keep people interconnected, and generate previously untapped revenue options for companies.
With these great opportunities there are challenges that arise.  The security of cyber networks is critical in creating a safe and fair environment on the internet.  This October marks the commemoration of the Tenth Annual National Cyber Security Awareness Month.  Since 2004, the U.S. Department of Homeland Security (DHS) has administered the awareness month to inform individuals, small businesses, and government entities about the security risks of internet usage.  Critical infrastructure, wireless networks, and personal email or banking information can all be placed at risk because of cyber crime.  During cyber security month the Department of Homeland Security's National Cyber Security Division partners with other agencies to increase awareness about cyber crimes and to promote methods that internet users can utilize to ensure their personal or professional information is not compromised.
With ever-increasing internet usage, online users have been placed at a greater risk of cyber bullying, hacking, identity theft, virus infections, and other malicious crimes.  In an October 17, 2013 Whitehouse.gov blog, J. Michael Daniel wrote about the importance of following safe online practices.  "Even though the internet feels like it's been around for a long time, we are still learning as a society about how to operate safely and securely online," wrote Daniel, who is a Special Assistant to the President and the Cybersecurity Coordinator.
The Department of Homeland Security and the Federal Bureau of Investigation maintain that cyber security is a job for everyone.  The DHS has developed the Stop.Think.Connect. Campaign.  This campaign is aimed at creating public awareness nationwide about cyber threats.  The campaign also seeks to empower Americans to choose safer and more secure online practices.  Here is a link to the FBI's news blog concerning online safety: https://www.fbi.gov/news/news_blog/national-cyber-security-awareness-month-2013
According to the Multi-State Information Sharing AnalysisCenter (MS-ISAC):
In 2012, cyber crime victims in the U.S. lost over $400 million dollars.
73% of Americans have been victims of cyber crime.
75 million scam emails are sent every day.
59% of employees who leave a company steal data on their way out.
Are you interested in learning more about protecting your personal and work-related information online?  The MS-ISAC is one place to locate more information.  The MS-ISAC has an online pledge where they are asking people to sign to make strides to promote safety online.  Here is the link for the MS-ISAC pledge: https://msisac.cisecurity.org/cyber-pledge/