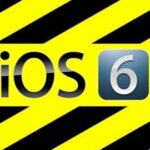 For those IT departments who have been working towards building and securing their enterprise mobile environments and think they may have a handle on things should not relax too much. With new technology come new capabilities which, for IT, lead to new security risks and challenges. The upcoming release of iOS 6 in the fall will undoubtedly lead to an increase in the number of iOS devices in the enterprise, an increasing to the extent they can be used in the enterprise and – for IT – an increase in security risks and challenges they present to the enterprise.
With apparently 200 new features, iOS 6 will bring mobility even more into users everyday lives, and accordingly into the workplace. While the increase in BYOD is enough to give IT a headache, InformationWeek points out one specific new feature that will cause great concern and worry with iOS 6. The iCloud has been around since 2011 with the iPhone 4s which was used as a backup, storage, and data syncing platform. iOS 6 will allow users to share personal photos and information more easily, but for the enterprise the biggest issue will be the new iCloud Storage APIs for developers. This will allow apps to store content in the cloud. We are to assume that enterprise apps being used on a corporate network, and containing corporate data and information can store said data on the cloud. Kind of the opposite approach for those who feel they are losing control of critical corporate data with the emergence of mobile device use and BYOD.
InformationWeek suggests that in order for organizations to prepare for this and other concerns that may arise with the adoption of iOS 6 devices, companies need to first deploying a Mobile Device Management (MDM) platform with strong security and management features. This MDM deployment would allow for IT to add a protective layer of security to their mobile apps by setting protocols and policies around apps and the cloud. The iOS 6 is not entirely a security risk for corporations, and if companies are able to address the security risks with the right MDM strategy InformationWeek points out a few new feature that will have practical application within the enterprise.
Find My Friends
Organizing e-mails and calls by urgency
Voice command for apps
Travel convenience
Shorter search times
Click here to read the full InformationWeek article and more on the risks and influential features that will come with the release of iOS 6.