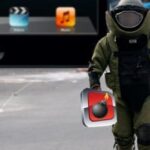 According to a new survey 51% of employees under 30 will ignore your BYOD policies. The 2013 Fortinet Internet Security Census was administered from October 7 – 13.  Fortinet is an international leader in high-performance network security.  Vision Critical, an independent market research company, administered the research exercise on behalf of Fortinet.  The survey interviewed 3,200 full-time employees ages 21–32 about internet and mobile device privacy regulations.  Each survey participant owns a laptop, smartphone, or tablet.  The survey takers were from 20 countries including Brazil, Canada, China, Colombia, Hong Kong, India, Italy, Mexico, and the US.  All participants in the survey are university level educated individuals.
John Maddison, Fortinet's vice president of marketing, spoke candidly about what the survey revealed.  "The study highlights the greater challenge IT managers face when it comes to knowing where corporate data resides and how it is being accessed. There is now more than ever a requirement for security intelligence to be implemented at the network level in order to enable control of user activity based on devices, applications being used and locations," Maddison says.
The new research presented insight into Generation Y employees growing interest in bringing their own devices (BYOD) into the workplace.  Here are four key findings of the study:
1. 51 percent of respondents said they would contravene any established company policy banning the usage of personal mobile devices at work or for work purposes.
2. 36 percent of respondents who use their own personal cloud storage (i.e. DropBox) accounts for work purposes said they would break any policy created to stop them.
3.  Over 55 percent of respondents indicated that they have had a cyber attack on personally owned PCs or laptops.  Approximately half of these attacks have caused losses of personal and/or corporate data.
4. 14 percent of respondents stated they would not inform their employer if a personal device they used for work purposes became compromised.
The Fortinet Internet survey shows that a number of Generation Y mobile device users will oppose company policies that restrict usage of personal mobile devices in workplace settings.  Policy contravention among Generation Y mobile users might be high; however, this user group acknowledges that ensuring mobile security is their responsibility as well.  "On the positive side, however, 88% of the respondents accept that they have an obligation to understand the security risks posed by using their own devices. Educating employees on the threat landscape and its possible impact is another key aspect for ensuring an organization's IT security," Maddison says.
To see the press release regarding the Fortinet global survey click on this link: https://www.fortinet.com/press_releases/2013/fortinet-global-survey-shows-employees-against-byod-policies.html