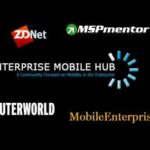 In our attempt to bring you all the latest news, updates and trends surrounding Mobile Device Management (MDM) and enterprise mobility we thought we might share some other great sources of information that will help you stay on top of this evolving space. We have compiled a list of 10 of our favorite sources for information on enterprise mobility with coverage ranging from Mobile Applications Management (MAM), Telecomm Expense Management (TEM), MDM and to the end devices themselves. In no particular order here are our Top 10 Sources for Enterprise Mobility News and Opinions. If you've got other sources of information not on our list we would love for you to share what they are.
The Enterprise Mobile Hub is an online global forum by and for CIOs and IT leaders in the world's largest multinational companies. The forum is directed by editorial professionals at IDG Enterprise's Custom Solutions Group. IDG is the preeminent information source for IT leaders, and sponsored by BlackBerry. Your visit here signals your focus on mobility trends in the enterprise. Here, you have the opportunity to discuss issues, exchange ideas and collaborate with like-minded peers, experts and market leaders.
CITEworld is IDG Enterprise's resource for IT pros, business leaders, technology providers, and investors who want to ride the tidal wave of consumer technologies reshaping the business IT landscape. CITEworld will cover the mobile revolution reshaping the workplace, including BYOD policies and best practices, mobile device management, mobile enterprise apps, consumer apps in the workplace, and other information about smartphones and tablets at work.
The Enterprise Mobility Forum:
Founded in 2010, the Enterprise Mobility Foundation's mission is to be the global community builder and evangelist for showcasing the value of successfully deploying and managing mobility solutions within organizations in the public and private sector. The Enterprise Mobility Foundation is supported by organizations including its founding supporters: Tangoe and Zenprise.
Mobile Enterprise Magazine (online):
The Mobile Enterprise franchise is engaging readers like never before, through print, online and electronic publications, Web seminars, podcasts, White Papers and live events. Everything done is designed to feed the mobile decision-maker's need for real-world information about the strategies, processes and solutions that are working today.
Founded by mobile industry veteran Kevin Benedict Enterprise Mobile Strategies is dedicated to the discussion of enterprise mobility and mobile strategies. This site publishes mobile analyst reports, daily mobility newsletters, mobile ROI reports, daily articles, and interviews with mobility experts.
Bringing frequent insight and knowledge about the MDM space from the MSP perspective MSPmentor, produced by Nine Lives Media, is the ultimate guide to managed services and the leading global destination for managed service providers.
The MDM Topic Center located on computerworld.com is a great source for product updates and industry happenings. They have taken their vast experience and put a focus on this emerging enterprise mobility topic bringing readers the knowledge and updates needed to wrap their heads around MDM and other enterprise mobility issues.
ZDNet brings together the reach of global and the depth of local, delivering 24/7 news coverage and analysis on the trends, technologies and opportunities that matter to IT professionals and decision makers. This comprehensive coverage includes enterprise mobility and how new technologies are constantly impacting the enterprise. From management solutions to the latest end devices entering the work place ZDNet is a great sources of information for the IT professional.
CMSWire is a popular web magazine published by Simpler Media Group. We focus on intelligent information management, digital customer experience management, and the emergence of social business tools and practices. With the huge impact mobility is having on the enterprise it is no wonder this publication is offering great coverage on enterprise mobility. Topics ranging from BYOD, mobile initiatives, device features and management processes are all covered for the IT professional interested in enterprise mobility.
Of course this is one of our favorite sources of information surrounding MDM and enterprise mobility trends. Covering product updates, best practices and the latest trends we bring unbiased information to our readers. Targeted at those who looking to get a handle on their mobility initiatives we offer in-depth outlines and buyers guides on the top solutions providers across interrelated solutions categories.