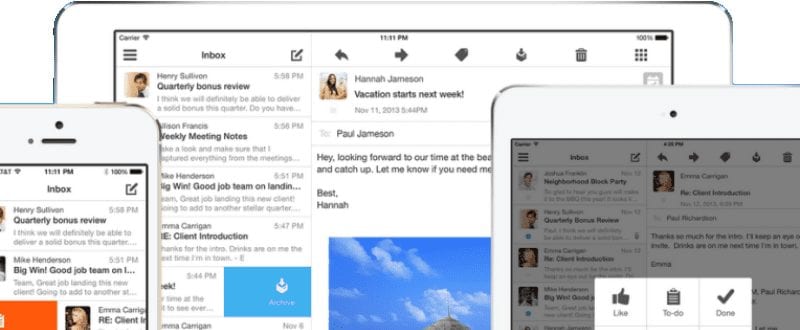 Last year, VMware acquired the mobile email app, Boxer and they have just re-released it for the enterprise by combining the popular and easy functions with the enterprise mobile security of VMware. Boxer integrates all corporate communication from emails and contacts to calendars, in one place to make it easy to share your availability with your team and organize emails. Boxer is currently only available for iOS users.
Andrew Eye, the founder of Boxer, writes in his blog:
"The shared vision between VMware and Boxer is one of a consumer simple experience existing within the confines of corporate-mandated security. IT departments shouldn't have to choose between great user experience or enterprise grade security and management. Boxer eliminates that decision by providing both: an intuitive experience with a host of advanced mail, calendar and contacts features inside of one app that gives the IT admin the ability to configure and manage security policies at a granular level."
The updated version now includes:
Bulk actions: Users can select multiple emails with just a tap and perform one function (such as delete, archive or flag) on all selected emails at once.
Calendar availability: Compose an email and send times you're available with just a few taps. No more switching between email and calendar apps.
Predictive folders: Boxer learns from you and surfaces suggested folders where you frequently move emails, meaning users no longer need to scroll through dozens of folders to find just the right spot to file a message.
Customizable settings: Boxer gives users the ability to customize multiple settings, including notifications and swipe gestures, all the way down to configuring the amount of time available to "undo" an action.
The release of Boxer brings to light the advantages of third party email apps. According to Jack Madden of brianmadden.com, there is a need for these apps. Enterprises need to have the option of a third party email app to securely communicate with unmanaged devices. Even though they won't integrate as smoothly with an EMM or MDM solution, they offer employees a better and more productive mobile environment to work from, and can still be managed by you MAM solution.
For more information, check out the VMware Boxer Technical Whitepaper