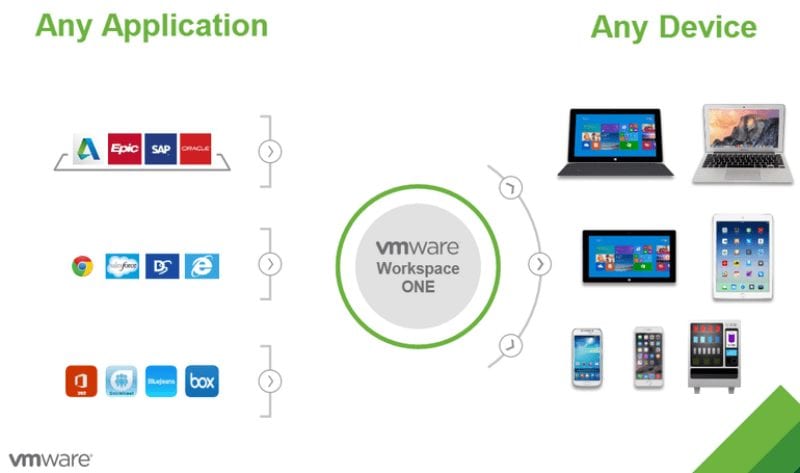 Yesterday, VMware announced Workspace One, the next generation of their Workspace Suite expected to become available in March. VMware's aim for a while now has been a completely virtual work space that is compatible with all devices. What Workspace One does, is set up an app catalog that can mix and match tools on any device as seen in the image above.
Workspace One is made up of VMware Identity Manager, AirWatch and Horizon 7, which was also announced yesterday. AirWatch has one of the top enterprise mobility solutions on it's own, but what Workspace One does for mobility is not only secure it, but change and enhance the over all fluidity and organization of the daily work environment. Horizon allows IT administrators to deliver desktops and applications to devices like smartphones and tablets.
Updates to VMware Identity Manager are significant as we continue to see Identity and Access Management and Enterprise Mobility become more connected. According to Jack Madden:
"This means that conditional access policies for mobile devices can be more robust. Instead of just looking for a certificate on a device (that would indicate that the device is enrolled in MDM), now Identity Manager can talk directly to AirWatch and check the device's compliance status.The integration between AirWatch and Identity Manager also means that they can share a single Active Directory connector. (Previously, both components would have needed their own AD connectors.)"
While a lot of these updates have to do with Virtual Desktop Infrastructure (VDI) and remoting desktops, there is a very significant impact on the enterprise mobile world that this technology and future technology like it are making. Back at the end of last year I wrote about what I thought 2016 would look like for enterprise mobility and what I hoped it would bring. I talked a little about Virtual Mobile Infrastructure (VMI) and how this cloud based work space that remotes mobile OSes to mobile devices was going to gain more momentum. While this isn't VMI per se, the concept at it's root is present here and it's only February.
Kevin Strohmeyer, senior director, product marketing, End-User Computing, VMware states in his blog that the ingenuity behind the creation,development and continued growth of the Workspace technology is because the workplace is changing; remote employees are common, people want to move outside of the traditional physical network and are expected to be accommodated to that. If employees are not in an engaging environment where they can think outside the box and not be limited to what they can achieve in a grey cube, they will go to a place with a more favorable work environment. The progression of mobile technology is reflecting that need and will continue to do so.
It's not just about securing an endpoint device anymore and it hasn't been for a while now; It's about control of your workers environment and the sleekest, most convenient way to go about tasks without having to rely on anyone except your IT administrators. Mobile can be terrifying to executives who don't fully embrace the concept and understand that they don't have to rely on endpoint protection anymore, and that using virtual machines and cloud storage is a good thing.