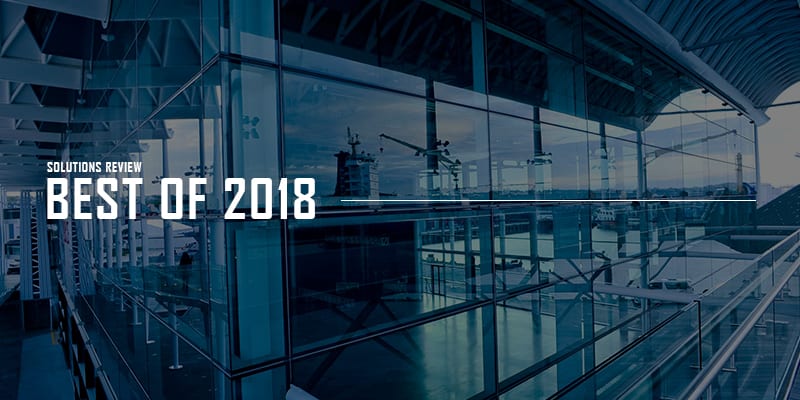 Enterprises are more reliant on network consistency than ever before. Downtime can cost around $300,000 according to an IHS market survey in 2016. This number could easily be higher today. Network monitoring solutions work to make networks consistent and easy to adjust. Teams will gain the ability to find the root cause of issues and look at analytical trends to find the best methods for network improvement.
Some network monitoring solutions come with a variety of add-ons, while others are a larger standalone product. Each enterprise will have different expectations of their network performance monitoring tool, so understanding the vendors is crucial. To assist you with the daunting task of selecting the right product, we've put together the top-28 network performance monitoring tool.

AppNeta presents an SaaS-based network monitoring tool that provides IT teams with the ability to monitor end-user experience across their organization's cloud, network, or applications. AppNeta contains four modular tools – TraceView, AppView, FlowView, and PathView, that work together to monitor and analyze usage and performance across networks and applications. 

CA Technologies' Performance Management is a converged network operations monitoring solution that discovers traditional, physical inventories in addition to dynamic inventories in virtual and logical overlays. The solution includes a full suite of diagnostic capabilities including device metrics, faults, flow, topologies, and controller analysis. 

Cisco's Prime Performance Manager is a single performance management application that pulls actionable information for the entire network. This easy to install product features an intuitive web-based interface providing fast access to performance reports featuring flexible options. 

Unlike some of its competitors, Corvil Network Performance Monitoring solutions come as one tool, rather than a collection of acquired technologies. Corvil NPM allows users to make network data analytics available to the entire organization so the data can be combined with other data sources and systems in real-time.

Dynatrace offers a solution that includes both highly capable application and network monitoring functionality. These tools can be correlated with advanced application performance metrics to deliver insights on how network performance is affecting end-user experience. The solution offers advanced visibility that allows IT teams to quickly identify the services and processes experiencing network connectivity issues. 

Extrahop gives organizations full visibility into their network. With their network monitoring tools, IT teams can maintain a comprehensive view of the entire ecosystem with auto-discovery and auto-classification. ExtraHop gives users the ability to notice performance issues immediately with continuous and real-time end-user monitoring. 

Flowmon is a network monitoring solution that provides IT teams with a whole host of tools for greater network visibility and control. It probes and collectors help organizations gather, analyze, and store critical network information. The solution features a number of modules that can extend the functionality of the Connector and Probes to allow for more advanced analysis of flow statistics. 

GenieATM is a flow-based NPM solution that supports all major flow exporting protocols. The solution delivers a real-time, network-wide view on traffic flows and network behaviors for both service providers and large enterprises. It provides an intelligent network flow solution that performs data collection, classification, analysis, and anomaly detection.

HPE is actually one of the very first vendors to offer enterprise-grade network monitoring tools. HPE's network monitoring tool has a significant portfolio and customer base with thousands of installations worldwide. The tool is comprised of the Network Node Manager and Real User Monitoring. 

Infovista's network monitoring product, 5View, includes 5View Application, 5View Mediation, and 5View Netfl ow. With this host of tools, users are given full visibility over their network activity. Last year, InfoVista added new support for cloud and SSL based applications, VXLAN, and a number of other features. 

Ipswitch offers a comprehensive NPM solution, WhatsUp, which covers infrastructure, application performance management, and network monitoring. In terms of virtualization, Ipswitch offers notable support for VMware virtual machines but lacks the same level of information for other offerings. With WhatsUp, Ipswitch has ensured that product installation and deployment is as quick and easy as possible. 

LiveAction is a privately owned company, offering LiveNX, a network visualization and analytics tool that eases network monitoring and configuration. The LiveNX interface allows for impressive insight into a network's topology, with in-depth views of devices, interfaces, and network flows.

LogicMonitor is an agentless SaaS-based network monitoring solution that gives organizations the ability to discover all network devices and interfaces. Through alerts and interface metrics, users are given greater visibility into error rates, network usage, and throughput. With support for over 1000 technologies, IT teams can easily collect and analyze network performance data from all of their networking gear. 

LogRhythm NetMon provides the visibility and security analytics your team needs to monitor your organization's entire network—either as an independent network forensics solution or as a component of the LogRhythm Threat Lifecycle Management platform. 

ManageEngine offers opManager, an integrated network monitoring tool that allows for full visibility into networks, applications, and infrastructures. OpManager is written in Java and uses a local installation of Tomcat to offer a web interface. A local database stores all collected information and provides a communication path between the main OpManager application and plug-ins. 

Montis offers a network monitoring tool that allows businesses to take full control of their IT system no matter their location. With this monitoring solution, all server, sites, networks, and applications can be accessed through one simple dashboard interface. Montis provides users with alerts and reports 24/7 through emails, SMS, calls, and mobile applications, even when the network is down.

NetScout offers IT teams full visibility into all applications, infrastructure, and interdependencies. Using adaptive service intelligence technology, NetScout's network monitoring tool allows for continuous monitoring and analysis of network traffic data. NetScout combines network and application performance management to give IT teams macro-level insights into performance, allowing for the identification of capacities, network short falls, and more. 

Niksun is a network performance monitoring suite that includes NetVCR, IntelliNetVCR, NetVoice, Virtual NetVCR, NetBlackBox, and NetTradeWatch. With this set of NPM tools users are given comprehensive service and application performance analytics with full visibility into tradition, virtual, or hybrid environments. 

Paessler is a Nuremburg based company with a focus on infrastructure monitoring with its PRTG network monitor tool. This NPM solution offers fault and flow analysis, packet sniffing, and more. Paessler has continued to release a consistent stream of new network sensors at regular intervals. 

Performance Vision offers an NPM solution that helps IT avoid and solve performance degradations by offering proactive end-user response time monitoring. Metrics are shared across IT teams allow for quick and easy optimization of application delivery. This NPM tool provides agentless transaction and real-user monitoring with an ability to support up 40 Gbps environments and distributed environments.

Plixer offers Scrutinizer, one of the leading network flow products on the market. Scrutinizer is designed to work as a network forensics and security tool as well. The tool can alert network teams to traffic patterns, offers DNS integration, and provides full visibility into network information that typically stays hidden. 

Riverbed's SteelCentral NPM tool offers full network visibility, analytics, troubleshooting and user monitoring. The solution is divided into two platforms, one for SMBs and the other for larger enterprises. Riverbed provides customers with four levels of support depending on how quickly a customer needs replacement equipment shipped in the event of a network failure. 

Boston's SevOne uses its cluster architecture to provide a fast and scalable network performance monitoring platform. This vendor focuses on infrastructure monitoring, paired with flow and log monitoring. Recently, SevOne updated its offering with live maps, and support for infrastructure orchestration solutions, SD-WAN, hybrid cloud, and carrier network virtualization.

This Texas-based NPM vendor has achieved significant name recognition and an established base over the years. This easy-to-use network monitoring solution is fully scalable and fully customizable which should be a good fit for businesses with changing needs. With SolarWinds' NPM solution users can identify dead zones and improve their wireless network's coverage.

Statseeker offers a monitoring tool that monitors every physical, virtual, and logical interface across an organization. This NPM tool has a major focus on rapid deployment and lowcost scalability. Statseeker features three different licensing options, Statseeker, Statseeker Professional, and Statseeker Enterprise. 

ThousandEyes is an SaaS-based network monitoring solution that allows IT teams to quickly and easily diagnose performance issues with both network infrastructure and applications. Their solution is able to identify network problems across an organization by collecting topology information and using it to depict the paths taken by the network traffic from the source to the destination. 

Viavi is a California based vendor with a long history in network performance monitoring. Their NPM solution consists of the Observer Performance Management Platform, including Observer Apex, Observer Analyzer, Management Server, GigStor, and Probes. Viavi's deployment methods have improved recently with the arrival of a virtual appliance of GigaStor Software Edition capable of supporting 8 terabytes of storage and offering visibility into network traffic. 

Zabbix is an open-source, real-time, network performance monitoring solution available as
a software and virtual appliance download. The configuration and setup of the tool is fairly easy and ensures a low learning curve. Zabbix is designed to be scaled from small business environments to large enterprises with ease.
Latest posts by Doug Atkinson
(see all)