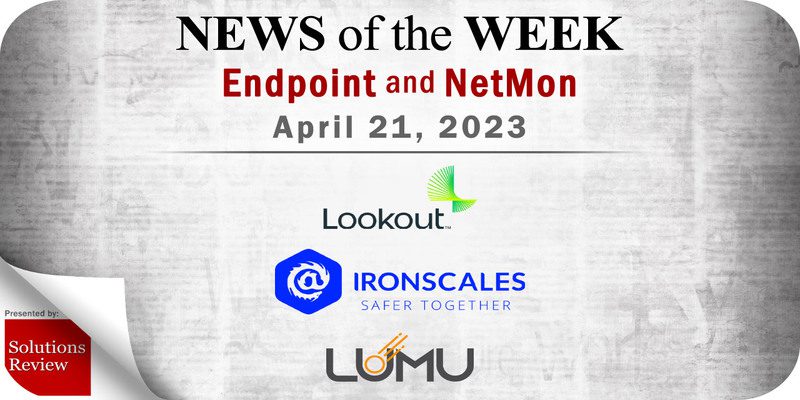 The editors at Solutions Review have curated this list of the most noteworthy endpoint security and network monitoring news for the week of April 21. This curated list features endpoint security and network monitoring vendors such as Lookout, IRONSCALES, Lumu, and more.
Keeping tabs on all the most relevant endpoint security and network monitoring news can be a time-consuming task. As a result, our editorial team aims to provide a summary of the top headlines from the last month in this space. Solutions Review editors will curate vendor product news, mergers and acquisitions, venture capital funding, talent acquisition, and other noteworthy endpoint security and network monitoring news items.
Endpoint Security and Network Monitoring News for the Week of April 21
---
Lookout Launches Mobile Endpoint Detection and Response for MSSPs
Lookout, Inc., an endpoint security solutions provider, this week announced the availability of Lookout Mobile Endpoint Security, the industry's most advanced mobile endpoint detection and response (EDR) offering for managed security service providers (MSSPs). This solution enables MSSPs to deliver a complete turn-key program for identifying risk, protecting sensitive data and securing their customers' mobile devices. With Lookout's Mobile EDR, MSSPs can help organizations reduce the risk of a data breach through mobile phishing, ransomware and exploitation of device and app vulnerabilities.
Corelight to Expand AI Usage Across Portfolio, Including GPT-Driven Integrations
Corelight, a network detection and response (NDR) solutions provider, this week announced a broad expansion in the integration of artificial intelligence (AI) technologies across its portfolio. AI is now used to detect a wider range of sophisticated attacks, to enrich security data with contextual insight, and to provide SOC analysts with new capabilities for understanding and reacting to security alerts. Corelight now offers a full range of advanced machine learning (ML) models across all form factors, from SaaS, to the network edge, to the datacenter. In addition to Corelight's existing coverage across a wide range of TTPs, organizations can now leverage both supervised and deep learning techniques for identifying and responding to malicious URLs and domains, as well as targeted phishing attacks. These models play a critical role in detection and analytics within Corelight's Open NDR platform. The platform also allows SOC analysts to view and understand ML determinations, providing critical explainability and visibility.
IRONSCALES Unveils New E-Mail Security Capabilities to Platform
IRONSCALES, an email security platform, announced this week a collection of new capabilities to aid in the fight against business email compromise (BEC). The new capabilities build upon IRONSCALES' approach of combining artificial intelligence (AI) and human insights (HI) to deliver enterprise-level protection against BEC and other forms of advanced phishing attacks. These new capabilities will be on display at the IRONSCALES booth (#5215) at this year's RSA Conference, from April 24-27.
Akamai Technologies To Acquire API Security Company Neosec
Akamai Technologies, Inc., a cybersecurity solutions provider, this week announced that it has entered into a definitive agreement to acquire Neosec, an API detection and response platform based on data and behavioral analytics. Neosec's API security solution will complement Akamai's  application and API security portfolio by dramatically extending Akamai's visibility into the rapidly growing API threat landscape. The combination is designed to make it easy for customers to secure their API's by helping them discover all of their APIs, assess their risk, and respond to vulnerabilities and attacks.
Noname Security Partners with Wiz; Combine Efforts on Cloud API Security
Noname Security, a provider API security solutions, this week announced its partnership with Wiz, a cloud security platform. Noname's API Security Platform ties together all the critical capabilities in API security in one platform. Wiz's cloud security platform connects in minutes to scan the full cloud environment without agents, finds combinations of exposure that represent real risk and delivers accurate risk prioritization. Noname Security collects and processes findings from Wiz and displays them on the Noname platform to provide customers with a comprehensive view of an organization's APIs. Together, Noname Security and Wiz enable complete visibility, context, and control of infrastructure hosting mission-critical and highly sensitive APIs to minimize and remediate risk.
Lumu Technologies Announces SecOps Platform
Lumu Technologies, a cybersecurity solutions provider, will debut Lumu for SecOps, at the RSA Conference 2023. Lumu for SecOps is built to enable security teams to efficiently operate cybersecurity by dynamically identifying and responding to threats in the network. Attack surfaces are growing exponentially and the number of alerts and logs that cybersecurity teams need to respond to is heightened. Lumu for SecOps will help strapped cybersecurity teams implement a solution that responds to threats faster and more efficiently.
---
Expert Insights Section
Watch this space each week as Solutions Review editors will use it to share new Expert Insights Series articles, Contributed Shorts videos, Expert Roundtable and event replays, and other curated content to help you gain a forward-thinking analysis and remain on-trend. All to meet the demand for what its editors do best: bring industry experts together to publish the web's leading insights for enterprise technology practitioners.
4 Key Cybersecurity Courses Available on Udacity in 2023
The growing importance of cybersecurity best practices and techniques for protecting against hackers is becoming paramount in the enterprise. The cybersecurity landscape is evolving in real-time, which has organizations scrambling to fortify their IT architectures soundly. Coupled with this, security engineering and analysis are becoming priorities no company can ignore, as they complement the threat hunting and threat intelligence gathering initiatives. With this in mind, the editors at Solutions Review have compiled this list of cybersecurity courses on Udacity to consider. Udacity is perfect for those looking to take multiple courses or acquire skills in multiple different areas, or for those who want the most in-depth experience possible through access to entire course libraries or learning paths. In sum, Udacity is home to more than 160,000 students in more than 190 countries.
AI In Cybersecurity: The Villain and the Hero
The recent rise in popularity of artificial intelligence (AI) large language models (LLMs), including OpenAI's ChatGPT and Google's Bard, has sparked feelings ranging from shock and excitement to fear across multiple industries. Some sectors, including education, have condemned these types of software due to their ability to enable users to easily and accurately generate fraudulent content. In the cybersecurity world, industry professionals fear that hackers can leverage these models in the same way. In this case, enhancing human-centric cyber-attack methods against employees, including social engineering-based techniques like phishing, scareware, and baiting. However, AI isn't solely a villain. For cybersecurity, it contains beneficial abilities capable of bolstering security leaders' cyber defense strategies. In fact, AI has the potential to assist security leaders with strengthening various tactics, such as enhancing access control and authentication measures across an organization's digital landscape. To further understand AI's potential within the cybersecurity world, let's dive into its capacity to act both as the villain and the hero.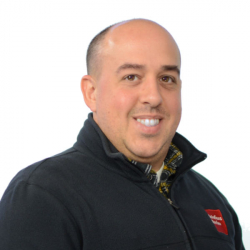 Latest posts by Mike Costello
(see all)