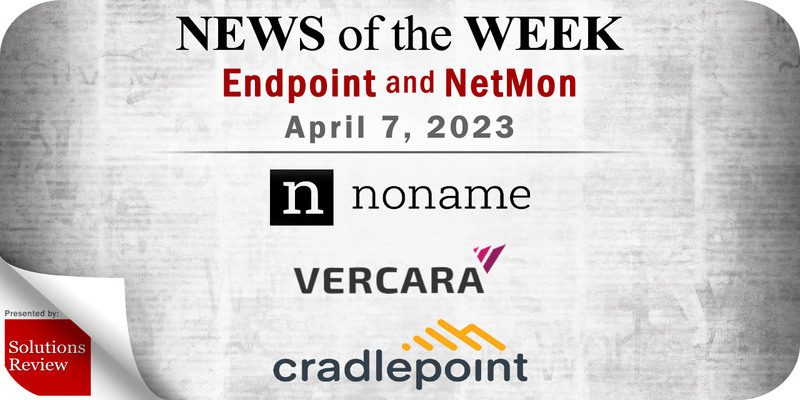 The editors at Solutions Review have curated this list of the most noteworthy endpoint security and network monitoring news for the week of April 7. This curated list features endpoint security and network monitoring vendors such as Noname Security, Vercara, Cradlepoint, and more.
Keeping tabs on all the most relevant endpoint security and network monitoring news can be a time-consuming task. As a result, our editorial team aims to provide a summary of the top headlines from the last month in this space. Solutions Review editors will curate vendor product news, mergers and acquisitions, venture capital funding, talent acquisition, and other noteworthy endpoint security and network monitoring news items.
Endpoint Security and Network Monitoring News for the Week of April 7
---
Noname Announces All-New API Security Platform
Noname Security, a provider of API security, this week announced Noname Public Sector's Hardened Virtual Appliance making the API security platform available to the U.S. Federal Government, highly regulated industry customers, and FedRAMP-authorized vendors. The appliance is the first of its kind in the comprehensive API security space and is designed to deliver a drop-in, secure, and scalable system for discovering, monitoring, and protecting mission-critical APIs and data.
HoJin Kim Joins WatchGuard as New SVP and Chief Revenue Officer
WatchGuard Technologies, a cybersecurity solutions provider, announced this week it has hired HoJin Kim as the company's new senior vice president and chief revenue officer. In this role, HoJin will lead WatchGuard's worldwide sales organization and be responsible for driving revenue growth, scaling and expanding the global sales organization, and driving the adoption of WatchGuard's Unified Security Platform framework within the MSP community. With over 25 years of experience leading and growing IT channel organizations, HoJin has led global and regional partner teams in developing and implementing channel strategies that build sustained competitive advantage for those companies.
Viakoo Welcomes Joe Lea as New Strategic Board Member
This week, Viakoo, an IoT security solutions provider, announced that Joe Lea is joining as a new Board Member.  Lea brings over 20 years of product, security and business experience to the Viakoo Board. He has held numerous technical and executive leadership positions, most recently serving as President and Board Member at Shift5, a fleet cybersecurity and operational intelligence provider. At Shift5, Lea drove growth and delivered value for Shift5's customers, employees and stakeholders. Previously, Lea was VP of Product at Armis, Inc., an IoT security company, where he led the company to its multi-billion dollar valuation.
Neustar Security Services is now Vercara
Neustar Security Services is now operating as Vercara, a new brand with the same focus on securing the online experience for many of the world's largest enterprises. The new identity, part of the company's evolution to a standalone entity, centers around Vercara's purpose-built, global cloud security platform. The new name is a fusion of "verit" and "cara," Latin for truth and beloved, respectively. A sharp, distinctive "V" icon, created by combining dynamic angled planes, forms the new logo.
Wiz Research: "Simple Developer Mistake Could Have Led to Bing.com Takeover"
Wiz Research has identified a new attack vector in Azure Active Directory (AAD) that compromised Microsoft's Bing.com. The attack vector is based on a common AAD misconfiguration, exposing misconfigured apps to unauthorized access. The researchers found several Microsoft applications vulnerable to this attack, one of which was a Content Management System (CMS) that powers Bing.com. This allowed them to take over Bing.com functionality, modify search results, and potentially enable the Office 365 credential theft of millions of Bing users. These credentials in turn granted access to users' private emails and documents. Wiz Research named this attack "#BingBang." The exploitation of the vulnerability was simple and didn't require a single line of code.
Cradlepoint Acquires Ericom and its Cloud-Based Enterprise Security Solution
Cradlepoint, part of Ericsson, announced this week that it has acquired Ericom Software and their enterprise cloud security platform to solidify Cradlepoint's SASE and zero trust offerings for hybrid 5G and wireline environments. The Ericom acquisition is a key part of Cradlepoint's strategy of building a full-stack enterprise security service optimized for 5G. Ericom's zero trust and cloud-based security solutions will form the basis of the new Cradlepoint NetCloud Threat Defense cloud service, expanding the company's mobile-capable and router-integrated SASE and zero trust portfolio of solutions for fixed-site, remote worker, in-vehicle and IoT use cases.
---
Expert Insights Section
Watch this space each week as Solutions Review editors will use it to share new Expert Insights Series articles, Contributed Shorts videos, Expert Roundtable and event replays, and other curated content to help you gain a forward-thinking analysis and remain on-trend. All to meet the demand for what its editors do best: bring industry experts together to publish the web's leading insights for enterprise technology practitioners.
Three Reasons Cybersecurity is Struggling with Network Visibility
For the better half of a decade, SecOps has been focused on the SOC visibility triad, the ideal of obtaining visibility into logs, endpoints, and the network with a variety of specialized solutions. Unfortunately, traditional network security solutions, such as network detection and response (NDR), have been unable to keep pace with digital transformation trends, such as cloud migration. The slow and steady adoption of the cloud, combined with the sudden and irrevocable shift to enable work from anywhere, has atomized the network.
Cybersecurity Training: From Money Pit to Modernity
When it comes to making informed, evidence-based decisions, proof should be a non-negotiable element. From court cases to professional sports teams to governing policies, to scientific studies, the proof is the grounding force that dictates the reality of our modern world. In business settings, in particular, professionals' efficiency and productivity has to be proven. Given this acceptance of proof as a necessary indicator of capability and an explicit jumping-off point to inspire drastic organizational change, it is strange that there is a notable lack of a consistent, enforced element of proof in the cybersecurity industry. With the costs of cyber-attacks rising exponentially, on average exceeding well over a million dollars, organizations can no longer ignore this lack of provability regarding workforce cyber resilience. Often, if you ask cyber leaders how to prove that their staff is ready to deal with a cyber-attack, many will say they've done their cyber training. But it's worth considering if simply clicking through a video and/or sitting through a days-long traditional training session is really evidence of preparedness for the next attack.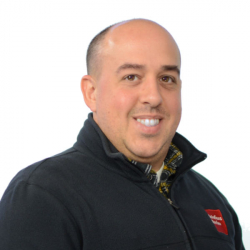 Latest posts by Mike Costello
(see all)