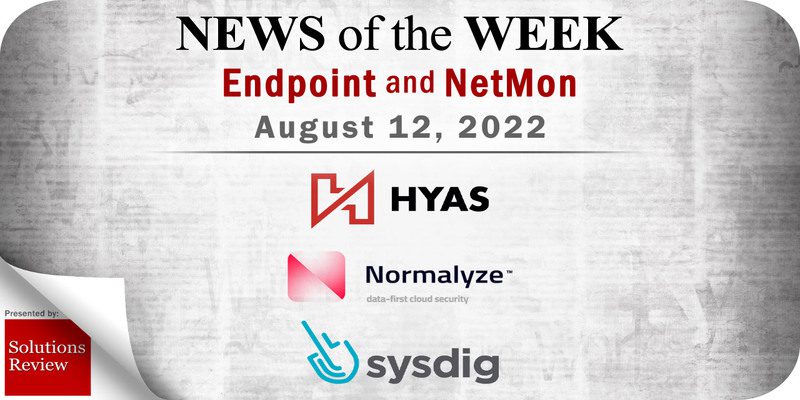 The editors at Solutions Review have curated this list of the most noteworthy endpoint security and network monitoring news items for the week of August 12. This curated list features endpoint security and network monitoring vendors such as HYAS, Normalyze, Sysdig, and more.
Keeping tabs on all the most relevant endpoint security and network monitoring news can be a time-consuming task. As a result, our editorial team aims to provide a summary of the top headlines from the last month in this space. Solutions Review editors will curate vendor product news, mergers and acquisitions, venture capital funding, talent acquisition, and other noteworthy endpoint security and network monitoring news items.
Endpoint Security and Network Monitoring News for the Week of August 12
---
HYAS Announces General Availability of Cybersecurity Solution for Production Environments
Security technology firm HYAS Infosec announced the general release of its newest product, HYAS Confront, a cybersecurity solution offering complete visibility into every corner of a production environment. Production environments are increasingly becoming a target for bad actors, as they want their attacks to cause as much disruption as possible. HYAS Confront addresses this growing issue by giving DevSecOps teams complete visibility into their production environment. HYAS Confront also automatically identifies communication to known command and control servers as well as other risks and threats.
Cybersecurity and Technology Industry Leaders Launch Open-Source Project to Help Organizations
A coalition of cybersecurity and technology leaders announced an open-source effort to break down data silos that impede security teams. The Open Cybersecurity Schema Framework (OCSF) project, revealed at Black Hat USA 2022, will help organizations detect, investigate and stop cyber-attacks faster and more effectively. The OCSF is an open standard that can be adopted in any environment, application, or solution provider and fits with existing security standards and processes. As cybersecurity solution providers incorporate OCSF standards into their products, security data normalization will become more straightforward and less burdensome for security teams. OCSF adoption will enable security teams to increase focus on analyzing data, identifying threats, and defending their organizations from cyber-attacks.
Normalyze Announces General Availability of Its Freemium Offering
Normalyze, a data-first cloud security platform, announced General Availability for its Freemium offering, a self-serve, free platform that democratizes data discovery and classification in all three public clouds, Amazon Web Services (AWS), Microsoft Azure, and Google Cloud Platform (GCP). Normalyze Freemium is optimal for users to gain complete visibility into their cloud accounts and help discover and secure sensitive data while operating continuous integration and continuous delivery (CICD) cycles.
Lacework Strengthens Threat Detection To Uncover More Malicious Activity and Speed Investigation at Scale
Lacework, a cloud security company, announced new capabilities that enable organizations to uncover critical infrastructure threats and empower teams to collaborate more efficiently in alert investigation and response. Lacework has added fully automated time series modeling to the existing anomaly detection capabilities of the Polygraph Data Platform. Using automated learning and behavioral analytics, the time series model builds a baseline of the volume and frequency of activity within a customer's environment and actively monitors for spikes that deviate from that unique baseline to detect potential threats such as cryptominer attacks and compromised accounts with accuracy. Organizations can also proactively discover increased cloud usage due to misconfigurations — gaining a better understanding of their environment to help control costs. Lacework does this without the need for constant tuning of thresholds, significantly reducing both manual work and false positive alerts. Lacework has also upgraded its alerting experience with features that empower teams to collaborate more efficiently in alert investigation and response.
Forbes Announces Cloud 100 List for 2022
Forbes released its seventh annual Cloud 100, recognizing standouts in tech's hottest category, from small startups to private-equity-backed giants. With larger cloud startups remaining private longer, this year's top companies were bigger than ever before. The 2022 list features eight women CEOs, up from six one year ago. It also features the list's first Canada and Finland-based companies. Ranging from Helsinki to Hong Kong, the companies on the list are selected for growth, sales, valuation, and culture, plus a reputation score derived in consultation with 26 CEO judges and executives from their public-cloud-company peers.
bladestack.io and emagine-it Announce Strategic Partnership Between Industry-Leading FedRAMP Experts
Cybersecurity experts bladestack.io and emagine-it announced their partnership to bring their combined skills to the marketplace to enable affordable and expedited FedRAMP expertise. The partnership will enable organizations with little to no experience or knowledge of FedRAMP to have industry experts who have been supporting FedRAMP for the past ten years guide and support them from the very beginning, providing engineering, architecture, and documentation support all the way through the FedRAMP assessment to achieve their FedRAMP ATO without spending millions of dollars and thousands of internal man hours over multiple years.
Darktrace and HackerOne Partner to Add AI to Attack Resistance
Darktrace, a provider of cybersecurity artificial intelligence (AI), and HackerOne, an Attack Resistance Management platform, have partnered to combine Darktrace PREVENT/Attack Surface Management technology with the continuous security assessment capabilities of the HackerOne platform. The partnership expands HackerOne's OpenASM initiative and delivers on a shared vision with Darktrace to help organizations secure their digital estate through leading technology and a community of ethical hackers.
Veracode Enhances Frictionless Experience for Developers
Veracode, a global provider of application security testing solutions, today announced the enhancement of its Continuous Software Security Platform with substantial improvements to its integrated developer experience. New features include extended integrations to support software composition analysis (SCA), a software bill of materials (SBOM) Application Programming Interface (API), and additional language and framework support for static analysis, further enhancing developers' ability to secure software in the environments where they work. Veracode's platform supports 100+ languages and frameworks, including those for cloud-native application development and older languages used with legacy assets, like COBOL. Large enterprises have applications across myriad languages, and being able to deploy a continuous security testing solution across them simplifies the process while providing consistent results.
Sysdig Combats Cryptojacking in the Cloud Using Machine Learning
Sysdig, a unified container and cloud security platform, announced machine learning-powered cloud detection and response (CDR) to combat cryptojacking. The company's threat engine and detection algorithms block cryptojacking in the cloud with 99 percent precision. Cryptojacking is the unauthorized use of someone else's computing resources to mine cryptocurrency. According to the Google Cloud Threat Horizons Report, 86 percent of compromised Google Cloud instances were used for cryptocurrency mining. Cryptojackers use low-and-slow attack techniques to mask what they are doing, so those impacted do not realize it until they receive their cloud bill. The longer cryptojacking goes undetected, the more significant the financial impact. While the average increase in a monthly bill varies by the report, it is not uncommon for cryptojackers to run up a $100,000 – $500,000 bill in a single month.
For consideration in future news round-ups, send your announcements to mcostello@solutionsreview.com.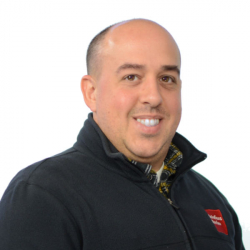 Latest posts by Mike Costello
(see all)