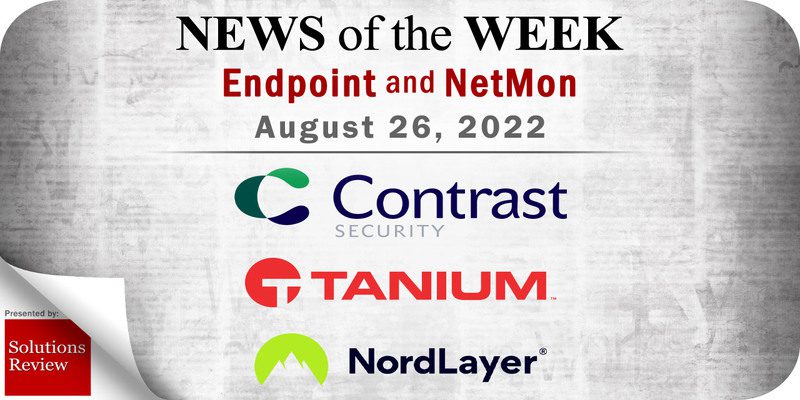 The editors at Solutions Review have curated this list of the most noteworthy endpoint security and network monitoring news items for the week of August 26. This curated list features endpoint security and network monitoring vendors such as Contrast Security, Tanium, NordLayer, and more.
Keeping tabs on all the most relevant endpoint security and network monitoring news can be a time-consuming task. As a result, our editorial team aims to provide a summary of the top headlines from the last month in this space. Solutions Review editors will curate vendor product news, mergers and acquisitions, venture capital funding, talent acquisition, and other noteworthy endpoint security and network monitoring news items.
Endpoint Security and Network Monitoring News for the Week of August 26
---
Tom Kellermann Joins Contrast Security as Senior Vice President of Cyber Strategy
Contrast Security, a cybersecurity solutions provider, announced the appointment of Tom Kellermann, who will serve as the company's Senior Vice President of Cyber Strategy. As a Contrast leader, Kellermann will be responsible for developing and overseeing the company's government and financial sector strategy, which will include advising government agencies, standard bodies, financial institutions, insurers, and regulators. In addition, Kellermann will facilitate a new, industrywide approach to sharing strategic, software-layer cyber-intelligence. Kellermann has more than 23 years of experience, which will be critical as Contrast expands its work with the government and financial sectors. Prior to joining Contrast, he held the positions of Head of Cybersecurity Strategy for VMware and Chief Cybersecurity Officer for Carbon Black Inc. In 2020, he was appointed to the Cyber Investigations Advisory Board for the United States Secret Service. He was appointed a commissioner on the Commission on Cyber Security in 2008 by the 44th president of the United States.
Corelight Selects Normalyze As Its Primary Cloud and Data Security Platform
Normalyze, a data-first cloud security platform, announced that Corelight, a network detection and response (NDR) vendor, has adopted the Normalyze data-first cloud security platform to automate data discovery and classification across all of its cloud data. Corelight provides security teams with network evidence so they can protect the world's most critical organizations and companies. Corelight's customers include Fortune 500 companies, major government agencies, and large research universities.
Ex-Twitter Exec Blows the Whistle, Alleging Reckless and Negligent Cybersecurity Policies
According to an explosive whistleblower disclosure obtained exclusively by CNN and The Washington Post, Twitter has major security problems that pose a threat to its users' personal information, to company shareholders, to national security, and to democracy. The disclosure, sent last month to Congress and federal agencies, paints a picture of a chaotic and reckless environment at a mismanaged company that allows too many of its staff access to the platform's central controls and most sensitive information without adequate oversight. It also alleges that some of the company's senior-most executives have been trying to cover up Twitter's serious vulnerabilities, and that one or more current employees may be working for a foreign intelligence service. The whistleblower alleges Twitter does not reliably delete users' data after they cancel their accounts, in some cases because the company has lost track of the information, and that it has misled regulators about whether it deletes the data as it is required to do. The whistleblower also says Twitter executives don't have the resources to fully understand the true number of bots on the platform, and were not motivated to.
Lloyd's to Exclude Catastrophic Nation-Backed Cyberattacks From Insurance Coverage
Lloyd's of London Ltd. will require its insurer groups globally to exclude catastrophic state-backed hacks from stand-alone cyber insurance policies starting next year. The move is designed to make sure insurers are clearly stating what they will and won't cover, as the ability of state-backed hacks to spread and cause damage could cause systemic risk in the insurance market, the notice said. Insurers have been exploring ways to tighten the language in their policies, particularly after a New Jersey judge last year ruled in favor of Merck & Co., deciding it was entitled to payouts from its insurers after a 2017 cyber-attack. Merck had been affected by the NotPetya virus, which it said ultimately cost $1.4 billion to recover from. The company's property and casualty insurers initially denied the claims based on war exclusions. In that case, the judge said Merck couldn't reasonably be expected to know that war exclusions would apply to such an event, essentially declaring that a common acts-of-war exclusion doesn't cover cyber-attacks.
NHS Informatics Merseyside Selects Tanium to Boost Cyber Hygiene Across Its IT Estate
Tanium, an endpoint security platform, announced that National Health Service (NHS) Informatics Merseyside has chosen the Tanium platform to protect its IT estate through improved cyber hygiene and increased patch management capabilities. Older endpoint information, coupled with retired versions of operating systems on many machines, made it virtually impossible for NHS to discover and update assets that were insufficiently patched, installed, or configured. The Tanium XEM platform not only delivered real-time endpoint data to identify potential threats, it also provided information to allow service desk technicians to resolve staff IT issues quickly and create reports that relayed an accurate view of the IT estate to other NHS teams.
Stratodesk Achieves VMware Ready Status for 12 Consecutive Years
Stratodesk, an endpoint security solutions provider, announced new secure endpoint software solutions certified for VMware Horizon 8 version 2206. The Stratodesk solutions certified "VMware Ready" for the twelfth consecutive year give IT teams great flexibility and confidence in deploying cloud-ready workspaces based on VMware and Stratodesk. Stratodesk NoTouch OS offers VMware Horizon customers an effortless yet highly secure route to the cloud by delivering centrally managed VMware Horizon endpoints in minutes to end-users located anywhere in the world. Stratodesk allows IT teams to quickly convert x86-64 and Raspberry Pi-based hardware into modern VMware Horizon VDI and app endpoint client machines with the latest software and security capabilities for end-users while giving IT complete control over the managed asset. Customers can manage tens of thousands of Stratodesk-enabled Horizon clients accessing Horizon virtual desktops and apps within VMware Cloud, Microsoft Azure, Amazon Web Services environments, or on-premises, all from a single Stratodesk console.
ICS Cybersecurity Leader TXOne Networks Raises $70 Million in Series B Funding
TXOne Networks, a global provider of industrial Internet of Things (IIoT) security, announced that it has entered into definitive agreements in connection with its Series B financing with total investment proceeds of $70 million. The latest capital injection will be used to expand TXOne Networks' global presence and defend industry verticals worldwide against complex and volatile cybersecurity threats to industrial control systems (ICS). According to MarketsandMarkets' latest report, the market for ICS cybersecurity will grow to $32.4 billion by 2027. Not only high-value manufacturing and semiconductor sectors but also governments and critical information infrastructure have become the target of hackers. ICS vulnerabilities are being targeted in more significant numbers, disrupting production, damaging assets worldwide, and, in some cases, threatening lives and national security.
NordLayer introduces NordLynx– A New Generation VPN Protocol Based on WireGuard
NordLayer, an adaptive network access security solution for businesses created by NordVPN, is introducing NordLynx — a new VPN protocol. It offers an improved connection, faster speeds, and better security measures than other VPN protocols. This new-generation protocol has its roots in the open-source WireGuard protocol — NordLynx was developed on top of this framework. Therefore, NordLynx has some differences from the standard WireGuard protocol, offering benefits exclusive to NordVPN and NordLayer users. NordLynx combines WireGuard's high speeds and Network Address Translation (NAT) system to protect users' privacy. This system allows users to establish a secure VPN connection without storing identifiable data on a server. Dynamic local IP addresses remain assigned only while the session is active. Meanwhile, user authentication is done with the help of a secure external database.
Over 80,000 Exploitable Hikvision Cameras Exposed Online
Security researchers have discovered over 80,000 Hikvision cameras vulnerable to a critical command injection flaw that's easily exploitable via specially crafted messages sent to the vulnerable web server. The flaw is tracked as CVE-2021-36260 and was addressed by Hikvision via a firmware update in September 2021. However, according to a whitepaper published by CYFIRMA, tens of thousands of systems used by 2,300 organizations across 100 countries have still not applied the security update. Of an analyzed sample of 285,000 internet-facing Hikvision web servers, the cybersecurity firm found roughly 80,000 still vulnerable to exploitation. Most of these are located in China and the United States, while Vietnam, the UK, Ukraine, Thailand, South Africa, France, the Netherlands, and Romania all count above 2,000 vulnerable endpoints.
For consideration in future news round-ups, send your announcements to mcostello@solutionsreview.com.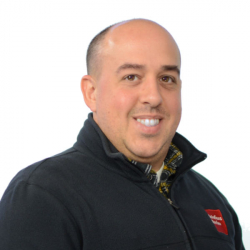 Latest posts by Mike Costello
(see all)