Endpoint Security and Network Monitoring News for the Week of August 4; Endor Labs, Guardsquare, Lineaje, and More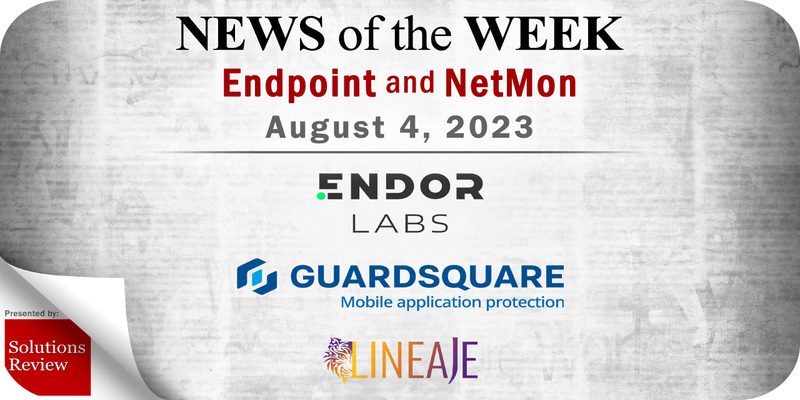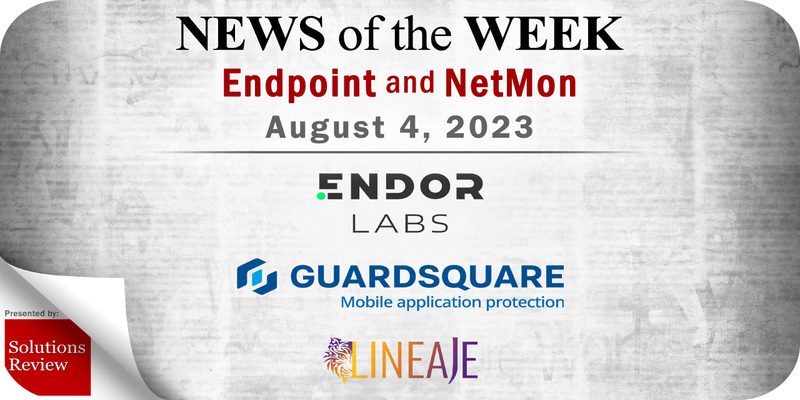 The editors at Solutions Review have curated this list of the most noteworthy endpoint security and network monitoring news for the week of August 4. This curated list features endpoint security and network monitoring vendors such as Endor Labs, Guardsquare, Lineaje, and more.
Keeping tabs on all the most relevant endpoint security and network monitoring news can be a time-consuming task. As a result, our editorial team aims to provide a summary of the top headlines from the last month in this space. Solutions Review editors will curate vendor product news, mergers and acquisitions, venture capital funding, talent acquisition, and other noteworthy endpoint security and network monitoring news items.
Endpoint Security and Network Monitoring News for the Week of August 4
---
Endor Labs Raises $70M in Series A Funding
Endor Labs, a code security solutions provider, announced $70M in oversubscribed Series A financing from Lightspeed Venture Partners (LSVP), Coatue, Dell Technologies Capital, Section 32, and over 30 industry-leading CEOs, CISOs, and CTOs. Arif Janmohamed of Lightspeed, Sri Viswanath of Coatue and former CTO of Atlassian; and Deepak Jeevankumar of Dell Technologies Capital will be joining the Endor Labs Board. The new round of funding, which includes $22M converted to equity from the previous round and comes only 10 months after the company's launch, will help Endor Labs create effective application security programs that don't impose a productivity tax on developers.
HYAS Unveils EyeSpy Proof of Concept for Fully Autonomous Malware
HYAS, a cybersecurity solutions provider, this week announced its EyeSpy proof-of-concept (PoC)– an entirely new type of polymorphic, fully autonomous malware. The malware uses artificial intelligence to make informed decisions and synthesize its capabilities as needed to conduct cyberattacks and continuously morph to avoid detection. The development of EyeSpy is part of HYAS Infosec's ongoing research and will ensure that the company's protection platform extends to the future of malware as well. As part of its continuing research, HYAS pioneered AI-synthesized, polymorphic malware with its recent BlackMamba PoC.
Tanium Selected by DHS CISA to Join the Joint Cyber Defense Collaborative
Tanium, an endpoint security solutions provider, announced this week it has been selected by the DHS Cybersecurity and Infrastructure Security Agency (CISA) to join the Joint Cyber Defense Collaboration (JCDC), a public-private cybersecurity collective established to unite the global cyber community and stay ahead of adversaries. As a member of JCDC, Tanium will work with organizations and operators from across the public and private sectors to exchange cyber threat intelligence and "rapidly disseminate threat indicators to the broader IT security community."
Xtract One Technologies Selected by VA to Secure Richmond VA Medical Center
Xtract One, a venue security solutions provider, announced it will deploy its SmartGateway patron screening solution to secure all entrances at selected hospitals within the Virginia region of the U.S. Department of Veteran Affairs network. Xtract One's system was chosen by the U.S. Department of Veteran Affairs for its ability to detect a broad range of weapons including small arms, long arms, and knives as small as two inches. This partnership demonstrates the focus and commitment to protecting veterans' well-being.
Guardsquare's Mobile Application Security Testing is Now Available for iOS
Guardsquare, a mobile application security provider, this week announced that their Mobile Application Security Testing (MAST) product, AppSweep, is now available for iOS. Built for developers and mobile application-specific, AppSweep allows users to scan Android and iOS apps to identify security risks. Security findings include actionable recommendations developers can leverage to fix the identified security issues ensuring AppSweep users quickly uncover and can solve security issues in mobile app code and dependencies. Free to use with no restrictions, AppSweep is now available for both iOS and Android.
Lineaje Announces AI-Based SBOMs Analysis Solution, BOMBots
Lineaje, a software supply chain security solutions provider, this week unveiled BOMbots. These AI-based automation bots analyze deep software bill of materials (SBOMs) to deliver optimized recommendations and remediations across the entire supply chain. Using BOMbots, organizations can potentially reduce software maintenance investments and achieve a better security posture. BOMbots leverage Lineaje AI to create "intelligent recommendations," enabling developers and security analysts to make better decisions– resulting in software that is "more secure and delivered with efficiency." With these recommendations, software producers can potentially reduce effort spent on software maintenance by up to 40 percent and cut software upgrade costs by the same amount.
Expert Insights Section
Watch this space each week as Solutions Review editors will use it to share new Contributed Content Series articles, Contributed Shorts videos, Expert Roundtable and event replays, and other curated content to help you gain a forward-thinking analysis and remain on-trend. All to meet the demand for what its editors do best: bring industry experts together to publish the web's leading insights for enterprise technology practitioners.
The Critical Aspects of Applying AI to Your Networks
Bob Friday of Juniper Networks takes a deep dive into the critical ins and outs of applying AI to your networks.
Artificial intelligence (AI) is everywhere these days. You can't skim LinkedIn or read an industry trade publication without being bombarded with news about the latest company to wrap itself in an AI blanket. We are reaching the point where organizations need to learn how to cut through the noise and understand what the technology truly is about– and whether it can be applied to their critical business processes in a way that makes a difference, increasing efficiency and productivity. The networking industry is no different– there has been a great deal of buzz. Expanded use of AI technology in the future will likely change how networks are set up, managed, and optimized. In fact, approaches such as AIOps are already moving networking from a paradigm of managing network elements to one of managing the user experience. But for companies looking to incorporate AI into their current operations, the main questions remain: where should it be applied, and can it truly help me?
Modern Threat Detection: It All Comes Down to Visibility
Matt Wilson of Netography examines how increased visibility should be the focal point in improving NDR solutions and threat detection.
As threat actors continue to target networks at their weakest points, the cost of resulting data breaches can be crippling, but it doesn't have to be that way. We can do better, saving money and time, by understanding where legacy solutions could use additional support, and where they often leave organizations vulnerable. This article looks at what shifts need to be made to provide today's necessary network visibility level to ensure organizations receive proper threat detection.
Latest posts by Mike Costello
(see all)