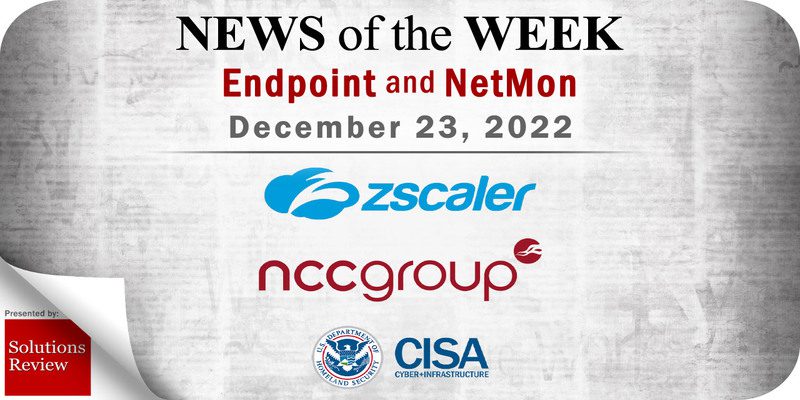 The editors at Solutions Review have curated this list of the most noteworthy endpoint security and network monitoring news for the week of December 23. This curated list features endpoint security and network monitoring vendors such as Zscaler, NCC Group, CISA, and more.
Keeping tabs on all the most relevant endpoint security and network monitoring news can be a time-consuming task. As a result, our editorial team aims to provide a summary of the top headlines from the last month in this space. Solutions Review editors will curate vendor product news, mergers and acquisitions, venture capital funding, talent acquisition, and other noteworthy endpoint security and network monitoring news items.
Endpoint Security and Network Monitoring News for the Week of December 23
---
Zscaler Joins JCDC to Enhance Collective Cybersecurity Posture of U.S.
Zscaler, a cloud security solutions provider, announced its membership in the Joint Cyber Defense Collaborative (JCDC), underscoring the company's commitment to improving the nation's cyber resiliency. JCDC, established by the Cybersecurity and Infrastructure Security Agency (CISA) in 2021, leads the development and implementation of joint cyber defense plans and operations through critical partnerships with the private sector, Federal government and state, local, tribal and territorial governments. Zscaler will work with JCDC to enhance the collective cybersecurity posture of the United States and strategic international partners.
NCC Group Releases Monthly Threat Pulse Report
Analysis from NCC Group's Global Threat Intelligence team has revealed a 41 percent increase in ransomware attacks this month as returning threat actor groups resurface. The 41 percent rise from 188 incidents to 265 makes November the most active month for ransomware attacks since April this year. Across the regions, North America suffered 151 ransomware attacks (45 percent), making it the most targeted region, ahead of Europe which experienced 65 (25 percent). Asia remained the third most targeted with 14 percent of attacks.
Hacked Ring Cams Used to Record Swatting Victims
Two U.S. men have been charged with hacking into the Ring home security cameras of a dozen random people and then "swatting" them— falsely reporting a violent incident at the target's address to trick local police into responding with force. Prosecutors say the duo used the compromised Ring devices to stream live video footage on social media of police raiding their targets' homes, and to taunt authorities when they arrived.
BackBox Named in 'ASTORS' Homeland Security Awards
BackBox, a network automation platform, announced it was named Best Network Automation Solution in the Centralized Multi Vendor Network Automation category of the 2022 'ASTORS' Homeland Security Awards. The 'ASTORS' are awarded by American Security Today. American Security Today's Annual 'ASTORS' Awards is the preeminent U.S. Homeland Security Awards Program. The awards recognize industry leaders in physical and border security, cybersecurity, emergency preparedness, as well as federal, state, and municipal government agencies in acknowledgment of their outstanding security efforts.
LogRhythm Partners with SentinelOne
LogRhythm, a cybersecurity solutions provider, announced its partnership with SentinelOne, an autonomous cybersecurity platform company. Together, LogRhythm and SentinelOne provide an integrated enterprise security solution to prevent, detect, and respond to threats in your environment. The combined solution streamlines security operations and improves response workflow, helping overwhelmed security teams cut through the noise and gain precise insights into cybersecurity threats.
CISA Researchers: "Russia's Fancy Bear Infiltrated US Satellite Network"
Researchers at the Cybersecurity and Infrastructure Security Agency (CISA) recently discovered suspected Russian hackers lurking inside a U.S. satellite network, raising fresh concerns about Moscow's intentions to infiltrate and disrupt the rapidly expanding space economy. While details of the attack are scant, researchers blamed the incident on the Russian military group known as Fancy Bear, or APT28. It involved a satellite communications provider with customers in U.S. critical infrastructure sectors.
---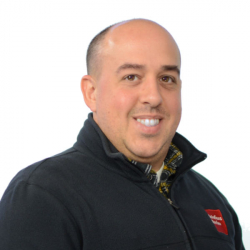 Latest posts by Mike Costello
(see all)