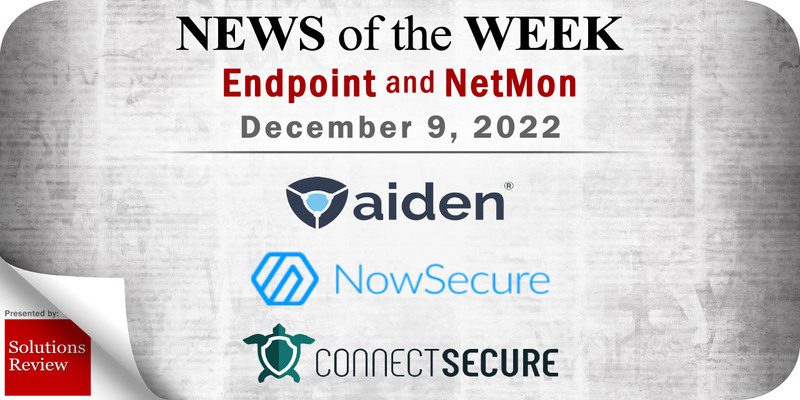 The editors at Solutions Review have curated this list of the most noteworthy endpoint security and network monitoring news for the week of December 9. This curated list features endpoint security and network monitoring vendors such as Aiden, NowSecure, ConnectSecure, and more.
Keeping tabs on all the most relevant endpoint security and network monitoring news can be a time-consuming task. As a result, our editorial team aims to provide a summary of the top headlines from the last month in this space. Solutions Review editors will curate vendor product news, mergers and acquisitions, venture capital funding, talent acquisition, and other noteworthy endpoint security and network monitoring news items.
Endpoint Security and Network Monitoring News for the Week of December 9
---
Aiden Expands Advisory Board with Five Luminaries
Aiden Technologies, the provider of intelligent software packaging and deployment for Microsoft Windows, announced the addition of five industry luminaries to its Board of Advisors. The new members bring expertise in a variety of fields including finance, risk mitigation, insurance, legal, cybersecurity, data privacy and management of high-growth companies. These new members join an advisory board that already features a long list of luminaries who are helping Aiden steer its go-to-market strategy.
Shift5 Opens Arlington Office, Further Fueling Growing Tech Community in DC Metro Area
Shift5, an operational technology (OT) data and cybersecurity company for "planes, trains, and tanks," officially opened the doors to its new office space in Rosslyn, Virginia, this week– expanding its office footprint by 67 percent as the company closes out a year featuring 54 percent growth in headcount. Arlington, Virginia, has become a hub for innovation; in the last year, the tech industry has injected a combined $2.4 billion into the area. Expanding Shift5's presence in Arlington enables the company to continue driving the pace of technology outside of Silicon Valley, while keeping an active pulse on the decisions being made at the Pentagon to improve and advance critical infrastructure.
Endor Labs Research: "Impact of Open Source Software on Supply Chain Security"
This week, Endor Labs, an open source software platform for supply chain security , released "The State Of Dependency Management," which offers an unprecedented view into the rampant but often unmonitored use of existing open source software in application development, and the dangers arising from this common practice. As just one example, the research reveals that a staggering 95 of all vulnerabilities are found in transitive dependencies– open source code packages that are not selected by developers, but indirectly pulled into projects. This is the first report from Station 9, a research capability developed by Endor Labs that brings together researchers, academics and thought leaders from around the world. Dedicated to identifying vulnerabilities in the software supply chain and identifying potential solutions, Station 9 includes Georgios Gousios, who oversees software analysis, and Henrik Plate, who leads security research.
NowSecure Launches Mobile Pen Testing as a Service Platform
NowSecure, a mobile app security solutions provider, launched its latest offering, NowSecure Mobile Pen Testing as a Service (PTaaS), to bridge the gap between automated and manual mobile security assessments for continuous security. Designed to provide mobile developers and security teams with a more cost-effective, efficient pen testing solution, NowSecure PTaaS combines periodic expert manual assessments with automated continuous testing to optimize for full coverage at a higher frequency rate. With this combination, the all-in-one portal and service can quickly identify issues earlier in the developer pipeline and provide consultative guidance to rapidly remediate security issues and speed deployment of high-quality software into production.
LogRhythm: "67 Percent of Companies Admit They Have Lost Deals Because of Low Confidence in Their Security Strategy"
LogRhythm, a leader in cybersecurity solutions, announced the release of its report, "The State of the Security Team 2022: Can Security Teams Meet Internal and External Stakeholders' Requirements?" based on research conducted by Dimensional Research. One of the most compelling findings was security's impact on a company's bottom-line revenue as the majority of respondents (67 percent) indicated their company had lost a business deal due to the customer's lack of confidence in their security strategy. Dimensional Research conducted a survey of 1,175 security professionals and executives across five continents representing a global view. The research investigated security solution capabilities, deployment strategies, gaps and the value of tool consolidation. The survey also looked to compare key data collected by LogRhythm and Dimensional Research in 2020 to identify and evaluate trends.
Palo Alto Networks Announces Medical IoT Security Platform
This week, Palo Alto Networks announced Medical IoT Security — a Zero Trust security solution for medical devices — enabling healthcare organizations to deploy and manage new connected technologies quickly and securely. Zero Trust is a strategic approach to cybersecurity that secures an organization by eliminating implicit trust by continuously verifying every user and device. Medical IoT Security provides  threat protection through seamless integration with Palo Alto Networks cloud-delivered security services, such as Advanced Threat Prevention and Advanced URL Filtering.
Solutions Review's 4th Annual InfoSec Insight Jam Kicks Off Monday, December 12
The InfoSec Insight Jam is a community web event that shares expert insights and proven best practices for evaluating, deploying, and using Identity Management, Endpoint Security, and InfoSec solutions. The Solutions Review editors are bringing the best and brightest minds in the InfoSec industry together for a one-day social media gathering. Participants will include industry analysts, experts, influencers, practitioners, and software solution providers under the hashtag #InfoSecInsightJam. The Jam's first Expert Panel kicks off at 11am EST.
Find out the full schedule and where to watch here.
Torq Users Hit 1,000,000+ Daily Security Automations
This week, Torq announced its users are executing more than 1,000,000 daily security automations using Torq's security automation platform– a major milestone that underlines the traction and importance of unifying today's complex security stacks. The exponentially-expanding usage of Torq also reflects the current macroeconomic climate, in which security leaders are being asked to maximize the value of their existing security infrastructure, as well as ensure staff are focused on higher-level management and critical incident response.
Vivaldi Integrates Mastodon in Its Desktop Browser
Vivaldi, a privacy browser, recently became the first browser to have its own Mastodon instance, Vivaldi Social. Now, the new version on the desktop is the first to integrate Mastodon into the browser itself, along with the ability to pin tab groups and other UI improvements. Available on Windows, macOS, and Linux, the new version – Vivaldi 5.6 – also allows users to pin tab stacks. Vivaldi has also added a new private search engine, You.com, for select countries.
CyberCNS Rebrands as ConnectSecure, Names Peter Bellini CEO
Managed service provider (MSP) vulnerability management technology firm CyberCNS is capping off 2022 with a new name and a new CEO. To better reflect its mission and serve its fast-growing user base, the company has rebranded as ConnectSecure and is establishing U.S. operations in Tampa, Florida. With new CEO Peter Bellini joining the executive team, ConnectSecure will continue to be an employee-owned company focused on organic, independent growth. Bellini joined ConnectSecure as vice president of operations earlier this year and recently made a significant investment in the company. As CEO, he will be spearheading the buildout of US-based customer support and education teams to provide more resources for MSP partners using the ConnectSecure Vulnerability Management platform. Since launching in 2021, the platform's user base has grown to more than 1,200 MSPs providing cybersecurity services to nearly 20,000 small-to-midsize businesses globally.
---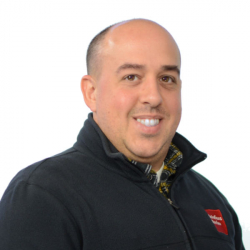 Latest posts by Mike Costello
(see all)