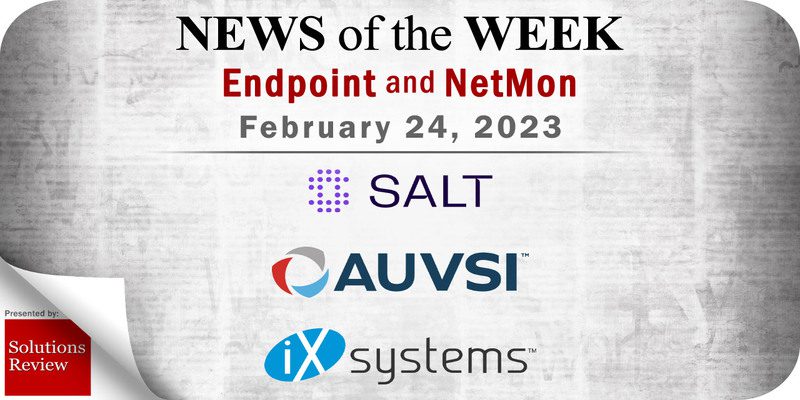 The editors at Solutions Review have curated this list of the most noteworthy endpoint security and network monitoring news for the week of February 24. This curated list features endpoint security and network monitoring vendors such as Salt Security, AUVSI, iXsystems, and more.
Keeping tabs on all the most relevant endpoint security and network monitoring news can be a time-consuming task. As a result, our editorial team aims to provide a summary of the top headlines from the last month in this space. Solutions Review editors will curate vendor product news, mergers and acquisitions, venture capital funding, talent acquisition, and other noteworthy endpoint security and network monitoring news items.
Endpoint Security and Network Monitoring News for the Week of February 24
---
Salt Security Named to Prestigious CRN Security 100 List
Salt Security, an API security company, this week announced that CRN, a brand of The Channel Company, has named the company to its annual Security 100 list. Recognizing leading IT channel security leaders, the Security 100 honors trailblazing companies who provide innovative technology to solution providers. Salt Security has been recognized as a leader in the Web, Email, and Application Security category. The 2023 Security 100 honorees were selected by esteemed CRN editors for their outstanding channel-focused security offerings across five categories: Identity Management and Data Protection; Endpoint and Managed Security; Network Security; Web, Email and Application Security; and Security Operations, Risk and Threat Intelligence. The list serves as a comprehensive guide for solution providers, helping them to identify the top security vendors to team with as they build innovative solutions for their customers.
Enea Report: "The Use of Mobile Networks in the War in Ukraine"
Mobile networks have been critical since Day 1 of the war in Ukraine, and as February 24 marks the one year anniversary of the invasion, Enea AdaptiveMobile Security CTO Cathal McDaid consolidates the key insights for the mobile industry, and the modern face of hybrid warfare. Enea AdaptiveMobile Security experts have analyzed and documented how Russia and Ukraine are leveraging nearly every aspect of mobile, from spectrum to roaming agreements to signaling core network interfaces to both attack and defend throughout the first year of the conflict . At Mobile World Congress 2023 in Barcelona, McDaid will present the latest findings from the pioneering analysis of the Ukraine war and look ahead to what we may expect next
OpenNMS releases OpenNMS Meridian 2023
The OpenNMS Group, Inc., a subsidiary of NantHealth, Inc., this week announced the release of OpenNMS Meridian 2023. With this major release, the fully open source Meridian product, which is the optimized and supported version of the OpenNMS platform curated by The OpenNMS Group, Inc. (OpenNMS) for production environments, now features cloud services, containerization benefits, and other advancements. Meridian is available through a subscription-based service that maximizes the platform with the most stable and secure features from OpenNMS Horizon, the community-driven distribution. The Meridian platform features inventory monitoring as well as performance, fault, and traffic management. Beyond that, Meridian offers business service monitoring, distributed data collection, support for BGP Monitoring Protocol (BMP), and application perspective monitoring.
AUVSI Launches Cybersecurity Certification Program for Drones
This week, AUVSI announced the launch of Green UAS, a new program to expand the number of commercial Uncrewed Aircraft Systems (UAS) that have been verified to meet the highest levels of cybersecurity and National Defense Authorization Act (NDAA) supply chain requirements. Green UAS mirrors the Defense Innovation Unit (DIU)'s Blue UAS certification program but is designed for customers who do not immediately require Department of Defense (DoD) authority to operate. Green UAS also offers a ​more streamlined ​pathway to the Blue UAS 2.0 cleared list. These users include federal government agencies, local law enforcement, first responders and state departments of transportation; and industrial enterprise users such as energy and utilities, telecoms, manufacturing, food and agriculture, and logistics and mapping/surveying companies.
NetSPI Appoints Scott Lundgren and John Spiliotis to its Board of Directors
NetSPI, a leader in enterprise penetration testing and offensive security, this week announced the appointment of Scott Lundgren and John Spiliotis to its Board of Directors. The two veteran security industry executives will help support the company's next stage of growth following a year of record momentum. With over two decades of technology and security industry experience, Lundgren currently serves as the Chief Technology Officer at VMware Carbon Black. Having taken the journey with Carbon Black as a founding member, through IPO in 2018, and the VMware acquisition in 2019, he brings a long history of balancing technology requirements under the pressure of rapid business growth. Lundgren has a foundational understanding of offensive security, beginning his cybersecurity career penetration testing for the U.S. Air Force. Spiliotis currently serves as a sales and go-to-market (GTM) advisor with NetSPI investor KKR. Prior to his advisory engagement with the global investment firm, he held several executive sales positions with high-growth technology companies, most recently serving as the Senior Vice President of Sales at Palo Alto Networks. Spiliotis also serves on the Board of Directors for ReliaQuest and is a GTM advisor for various other cybersecurity companies.
Verifone Selects Lacework to Help Secure its Cloud Infrastructure
Lacework, a cloud security company, announced that Verifone, a global FinTech and payment solutions provider, has selected the Lacework Polygraph Data Platform to help secure its cloud infrastructure as the company moves to a cloud-native DevSecOps model. Verifone's platform processes 12+ billion transactions annually, accounting for nearly 46 percent of the world's non-cash payments.
Xtract One Technologies Partners with Madison Square Garden
Xtract One Technologies Inc. and Madison Square Garden Sports Corp. announced that MSG Sports will invest up to C$13.4 million (US$10 million) in Xtract One, a leading security technology company that prioritizes the patron access experience by leveraging AI. The initial investment of C$8.4 million (US$6.3 million) is effective immediately, with the subsequent investment of C$5 million (US$3.7 million) being conditional on the approval of Xtract One's shareholders and all applicable regulatory approvals (together the "Investment"). The Investment is comprised of the sale of up to 31,925,595 units (each a "Unit") at a price of C$0.42 per Unit. Each Unit will be comprised of one common share of Xtract One (a "Common Share") and one Common Share purchase warrant (each a "Warrant") exercisable at a price of C$0.60 for a period of five years following the date of its issuance. The initial tranche of the Investment comprised the issuance of 20,000,000 Units for aggregate gross proceeds of C$8,400,000. The proposed second tranche of the Investment will be comprised of the issuance of 11,925,595 Units for aggregate gross proceeds of C$5,008,749.90. All securities issued under the Investment will be subject to Canadian resale restrictions of four months and one day, in addition to applicable US resale restrictions. No commission or fee is or will be paid in connection with the Investment.
iXsystems Introduces TrueNAS Mini R Appliance with Linux-based TrueNAS SCALE
This week, iXsystems announced TrueNAS SCALE "Bluefin" 22.12.1, the latest release of its Linux-based Open Storage platform, and the availability of the new TrueNAS Mini R storage appliance. Recognized as a Digital Public Good (DPG) by the Digital Public Goods Alliance (DPGA), TrueNAS open storage solves the limitations of traditional storage and offers the choice of greater data freedom to organizations of all types and sizes around the world. Powered by Linux, TrueNAS SCALE is an open, hyperconverged, unified scale-out storage platform ideal for demanding file, block, and object storage use cases. Linux, Kubernetes, and containers provide the key technologies for enabling embedded applications within TrueNAS SCALE, giving users the ability to consolidate platforms, reduce costs, simplify administration, and accelerate their application performance by eliminating protocol and networking layers. TrueNAS SCALE supports SMB and NFS File Sharing, iSCSI Block Storage, S3 Object storage, the iX-Storj service for Globally Distributed Storage, and Cloud Sync for interoperability with public cloud storage.
---
Expert Insights Section
Watch this space each week as Solutions Review editors will use it to share new Expert Insights Series articles, Contributed Shorts videos, Expert Roundtable and event replays, and other curated content to help you gain a forward-thinking analysis and remain on-trend. All to meet the demand for what its editors do best: bring industry experts together to publish the web's leading insights for enterprise technology practitioners.
Life in the Fast Lane: Reducing Vulnerabilities When Rushing to Scale
"You must move at the speed of business …" This oft-repeated mantra defines the modern workplace, with the relentless pressure to rapidly scale: Market demands seemingly shift by the day– or hour. If you fail to shift with them, you risk extinction. But how can organizations keep up with this accelerated pace?
Russian Hackers Hindering NATO Efforts to Help in Earthquake Aftermath
"Recent attacks by Killnet aimed at NATO are additional evidence that Russian cyber aggression is still on the rise. Pro-Russian hacktivist groups pose a real, tangible threat and the group's recent attack disrupting efforts to assist with earthquake relief efforts in Turkey and Syria show this aggression knows no bounds. Companies and government agencies alike should be on high alert and should have modern cyber-defenses in place in order to have their shields up."
-Paul Martini, CEO of iboss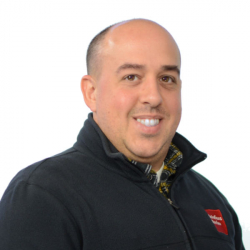 Latest posts by Mike Costello
(see all)