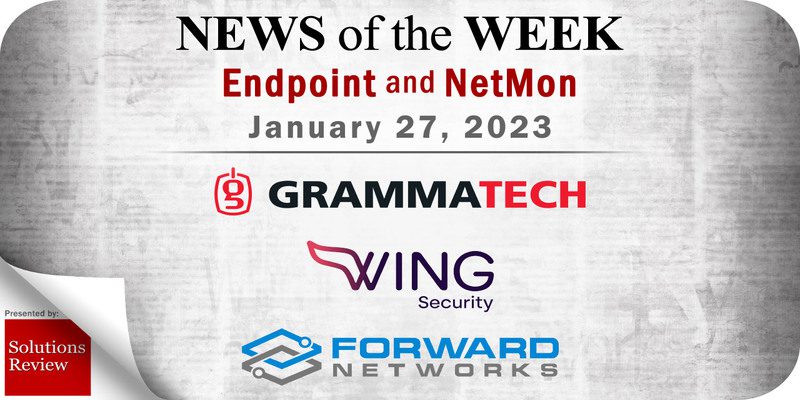 The editors at Solutions Review have curated this list of the most noteworthy endpoint security and network monitoring news for the week of January 27. This curated list features endpoint security and network monitoring vendors such as GrammaTech, Wing Security, Forward Networks, and more.
Keeping tabs on all the most relevant endpoint security and network monitoring news can be a time-consuming task. As a result, our editorial team aims to provide a summary of the top headlines from the last month in this space. Solutions Review editors will curate vendor product news, mergers and acquisitions, venture capital funding, talent acquisition, and other noteworthy endpoint security and network monitoring news items.
Endpoint Security and Network Monitoring News for the Week of January 27
---
GrammaTech Continues to Expand Footprint in AppSec Testing Market
GrammaTech, a provider of application security testing products and software research services, announced its continued growth in the application security testing (AST) market and DoD cyber security services. Market demand and adoption for the company's testing tools was fueled by several high profile software supply chain incidents, as well as the President's Executive Order on Improving the Nation's Cybersecurity, and the Office of Management and Budget's guidance for Federal agencies on software cybersecurity.
CISA Cybersecurity Advisory: "Legitimate RMM Software Used by Malicious Actors"
The Cybersecurity and Infrastructure Security Agency (CISA), National Security Agency (NSA), and Multi-State Information Sharing and Analysis Center (MS-ISAC) (hereafter referred to as the "authoring organizations") are releasing this joint Cybersecurity Advisory (CSA) to warn network defenders about malicious use of legitimate remote monitoring and management (RMM) software. In October 2022, CISA identified a widespread cyber campaign involving the malicious use of legitimate RMM software. Specifically, cyber criminal actors sent phishing emails that led to the download of legitimate RMM software—ScreenConnect (now ConnectWise Control) and AnyDesk—which the actors used in a refund scam to steal money from victim bank accounts.
NetSPI Achieves 58 Percent Organic Revenue Growth in 2022
NetSPI, an enterprise penetration testing and attack surface management solutions provider, this week announced a record fiscal year, achieving 58 percent organic revenue growth in 2022. The growth is attributed to the company's strategic expansion into Europe, Middle East, and Africa (EMEA), and an enhanced portfolio of offensive security offerings. In 2022, NetSPI launched its Attack Surface Management (ASM) platform and blockchain penetration testing solutions, and made significant updates to its Breach and Attack Simulation (BAS), further solidifying the company as a market leader. During the banner year, NetSPI added more than 300 new clients to its roster, which includes nine of the top 10 U.S. banks, three FAANG companies, top cloud providers, four of the five largest healthcare companies, and several Fortune 500 brands.
Malwarebytes Announces Mobile EPP Platform
Malwarebytes, a global leader in real-time cyber protection, announced the upcoming Malwarebytes Mobile Security for Business, extending its endpoint protection capabilities to professional mobile devices. Malwarebytes Mobile Security for Business extends the company's endpoint protection to mobile devices. Tailor-made for organizations with resource constraints, IT teams can conveniently manage protection across Chrome OS, Android and iOS devices from the same cloud-native console monitoring their servers, workstations, and laptops. With Malwarebytes Mobile Security for Business, organizations can scan for, investigate, and remediate mobile threats, prevent accidental access to harmful websites, block ads, and protect user privacy.
Infovista Unveils NLA Cloud Platform
Infovista, a network lifecycle automation solutions provider, unveiled the NLA Cloud Platform that unifies its network planning, testing, and automated assurance and operations products and solutions. Integrating data, workflows, and analytics across the network lifecycle and breaking the limitation of traditional siloed-solution approaches, the NLA Cloud Platform brings greater use case innovation, agility, and interoperability for CSPs' throughout and across their next-generation fixed and mobile networks. The NLA Cloud Platform provides common telco-specific functions such as automation, analytics, and data correlation engines to power Infovista solutions across the entire network lifecycle. The platform extension builds on the successful deployment of the platform powering the Ativa Suite of applications for automated assurance and operation to now also include Planet AI-driven RF network planning and TEMS network testing solutions. This translates into efficiency and productivity gains by reducing the footprint of previously siloed architectures, streamlining operability, and reducing management overhead through a unified cloud-native platform common to all Infovista solutions, which can be deployed independently or in combination on the NLA Cloud Platform.
Wing Security Releases Free Application Discovery Engine
This week, Wing Security (Wing), an SaaS (software-as-a-service) security platform, announced its non-intrusive discovery engine is now completely free, without time limitations or hidden fees. In one simple step, organizations are seamlessly onboarded so that Wing can quickly identify their SaaS implementations. In addition, Wing Security provides companies with a detailed view of their SaaS layer, including security score, potential vulnerability insights, compliance information and detailed user data, for the first 100 SaaS applications. Paying Wing customers gain even greater detail into a wider variety of applications, automatic issue mitigation, and SaaS data security.
Salt Security API Platform Now Available on Google Cloud Marketplace
Salt Security, an API security company, announced that it has joined the Google Cloud Partner Advantage Program as a Build Partner. With the partnership, users can now access the Salt Security API Protection Platform directly from the Google Cloud Marketplace. This gives Google Cloud customers the ability to quickly and easily leverage the Salt Security API Protection Platform, gaining deep context for API discovery, attack detection and prevention, and shift-left capabilities.
Snyk Secures Strategic Investment from ServiceNow
Snyk, a DevSecOps solutions provider, this week announced that ServiceNow has made a strategic investment in the company, allowing enterprises worldwide to continue their pace of innovation. This latest development comes on the heels of Snyk's announcement of $196.5 million in Series G investment in late 2022. In addition to this latest funding, Snyk also announced a new integration with the ServiceNow Vulnerability Response solution. Currently available to joint customers, this new offering unites Snyk Open Source with the ServiceNow Platform.
Skyhawk Security Launches New Cloud Infrastructure Platform
Skyhawk Security, a leader in cloud threat detection recently spun off of Radware, announced the release of its Synthesis Security Platform. The platform provides unique Cloud Threat Detection and Response (CDR) capabilities, across multi-cloud environments. Skyhawk Security (formerly Cloud Native Protector) was launched by Radware, a provider of cybersecurity and application delivery solutions, in May of 2022 with a $35 million strategic investment by a Tiger Global Management affiliate. In a separate announcement, Skyhawk Security revealed the appointment of experienced cloud security entrepreneur Chen Burshan as CEO. Chen brings nearly a decade of cloud security experience to the role and played an instrumental part in the creation of CSPM during his time at Dome9, later acquired by Check Point Software.
Forward Networks Raises $50M in Series D Funding, Achieves 139 Percent Year-over-Year Growth
Forward Networks announced this week that it has secured $50M in Series D funding from top-tier venture capital firms. The company provides unique digital twin network modeling software that delivers security, reliability, and agility to large enterprise networks. The funding round, led by MSD Partners, L.P., includes new investors Section 32 and Omega Venture Partners as well as existing investors Goldman Sachs Asset Management (Goldman Sachs), Threshold Ventures, A. Capital and Andreessen Horowitz. Additionally, Victor Hwang, managing director and co-head of MSD Growth, joins the Forward Networks board of directors. Since its last round of funding in 2019, Forward Networks has quadrupled its customer base, opened new headquarters in Santa Clara, California and extended its development team with an office in Bangalore, India. The company achieved 139 percent ARR growth from FY2021 to FY2022 while experiencing exceptional customer loyalty demonstrated by a 96 percent retention rate.
---
Expert Insights Section
Watch this space each week as Solutions Review editors will use it to share new Expert Insights Series articles, Contributed Shorts videos, Expert Roundtable and event replays, and other curated content to help you gain a forward-thinking analysis and remain on-trend. All to meet the demand for what its editors do best: bring industry experts together to publish the web's leading insights for enterprise technology practitioners.
Enterprise Browsers: The New Face of Cybersecurity
Enterprise browsers are increasingly being used across a wide range of industries, giving IT and security teams the latitude and dexterity to design and implement controls that don't compromise the user experience. Companies are using enterprise browsers to simplify and streamline onboarding contractors and BYOD workers, who can now work freely on any device and access the data they need, safely. They are implementing policies in the browser across all SaaS and internal web apps to keep the data in them secure. Others are removing expensive and unwieldy desktop virtualization solutions entirely because the enterprise browser offers a superior way to access apps securely and a radically better user experience. The potential use cases are nearly infinite.
31 Data Privacy Week Comments from Industry Experts in 2023
As part of Data Privacy Week (January 22-28) we called for the industry's best and brightest to share their Identity Management, Endpoint Security, and Information Security comments. The experts featured represent some of the top Cybersecurity solution providers with experience in these marketplaces, and each projection has been vetted for relevance and ability to add business value.
---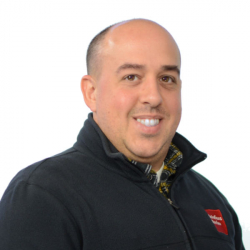 Latest posts by Mike Costello
(see all)