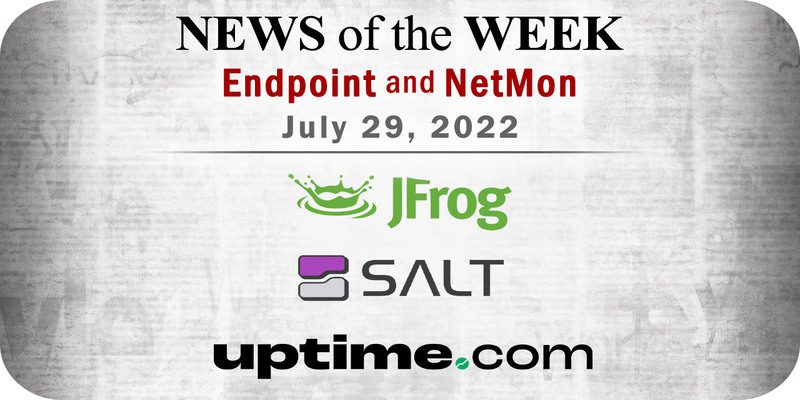 The editors at Solutions Review have curated this list of the most noteworthy endpoint security and network monitoring news items for the week of July 28. This curated list features endpoint security and network monitoring vendors such as JFrog, Salt Security, Uptime.com, and more.
Keeping tabs on all the most relevant endpoint security and network monitoring news can be a time-consuming task. As a result, our editorial team aims to provide a summary of the top headlines from the last month in this space. Solutions Review editors will curate vendor product news, mergers and acquisitions, venture capital funding, talent acquisition, and other noteworthy endpoint security and network monitoring news items.
Endpoint Security and Network Monitoring News for the Week of July 28
---
JFrog Streamlines Security Threat Detection and Response with AWS
Cybersecurity vendor JFrog announced its DevSecOps tool, JFrog Xray, now supports Amazon Web Services (AWS) Security Hub, a cloud security posture management service that performs best practice checks, aggregates alerts, and allows automated remediation. JFrog also revealed it is participating in the new AWS Marketplace Vendor Insights, which helps streamline the complex third-party software risk assessment process by enabling JFrog to make security and compliance information available to customers through AWS Marketplace. By using AWS Marketplace Vendor Insights, customers can reduce the vendor assessment cycle from months to a few hours by allowing them to access JFrog's validated security profile.
Senators Introduce Quantum Encryption Preparedness Law
A bill to help secure US government cryptographic systems against attack from quantum computers has passed the House and has now advanced to the Senate. The Quantum Computing Cybersecurity Preparedness Act introduces requirements for federal agencies to identify systems using cryptography and prioritize them for migration. Lawmakers introduced the bill because they're worried about the potential for quantum computers to easily crack current cryptographic algorithms.
Survey Reveals One in Three Organizations See Malicious Insiders as a Route for Ransomware
Gigamon, a deep observability provider, launched its first State of Ransomware 2022 and Beyond report to provide valuable insights on how the threatscape is evolving and the severity of the 'blame culture' in cybersecurity escalating. According to the global survey of IT and security leaders across the US, EMEA, and APAC, nearly one-third of organizations have suffered a ransomware attack enabled by a malicious insider, a threat seen as commonly as the accidental insider (35 percent). Furthermore, 59 percent of organizations believe ransomware has worsened in the last three months, with phishing (58 percent), malware/computer viruses (56 percent), and cloud applications (42 percent) cited as other common threat vectors.
Incode Expands Executive Team Amid Rapid Global Growth
Incode, an identity verification and authentication platform for global enterprises, announced two new strategic hires: Andre Stewart as Vice President, Europe, Middle East, and Africa (EMEA), and Shane Moore as Vice President, North America. The additions of Stewart and Moore to Incode's executive team underscore the company's commitment to building its global go-to-market operations, channel strategy, and massively accelerating worldwide growth as the next-generation leader in digital identity.
Salt Security Enhances API Security Platform
Salt Security, an API security company, has enhanced its next-generation Salt Security API Protection Platform, extending threat detection and pre-production API testing abilities. The latest features include deeper and earlier insights into attacker behaviors and attack patterns, visual depictions of API call sequences, and support for attack simulation ahead of releasing APIs into production. With these new capabilities, Salt enhances its runtime protection, providing organizations a more comprehensive view of API usage and the API attack surface to improve their business understanding and accelerate incident response time.
Perception Point Launches Advanced Browser Security
Perception Point, a provider of advanced threat prevention across digital channels, announced today the release of Perception Point Advanced Browser Security. This new web security solution adds enterprise-grade security to native Chrome and Edge browsers. Perception Point Advanced Browser Security fuses patented browser security technology powered by Hysolate, a next-gen web isolation platform acquired by Perception Point in March 2022, and Perception Point's multi-layer detection engines.
Infobip Completes Peerless Network Acquisition, Strengthening Its U.S. and Global Offer
Infobip, the global cloud communications platform, has completed the purchase of global Voice over Internet Protocol (VoIP) provider Peerless Network, having received federal and state-level regulatory approvals. The acquisition enhances Infobip's presence in the U.S. and enables the firm to expand its voice offering worldwide, creating a global one-stop shop for omnichannel communications.
Uptime.com Releases Group Checks for Customizable Downtime Alerting
Uptime.com, a website performance monitoring solution, announced the release of its newest feature, Group Checks. Group Checks nest interrelated checks with customizable alert conditions, allowing organizations to create endless monitoring possibilities that make tracking performance and downtime for complex systems more straightforward and more accessible. Group Checks are available for every Uptime.com user regardless of subscription level. Users can add checks individually, by tag, or using the Bulk Selection tool.
For consideration in future news round-ups, send your announcements to mcostello@solutionsreview.com.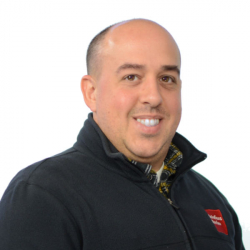 Latest posts by Mike Costello
(see all)