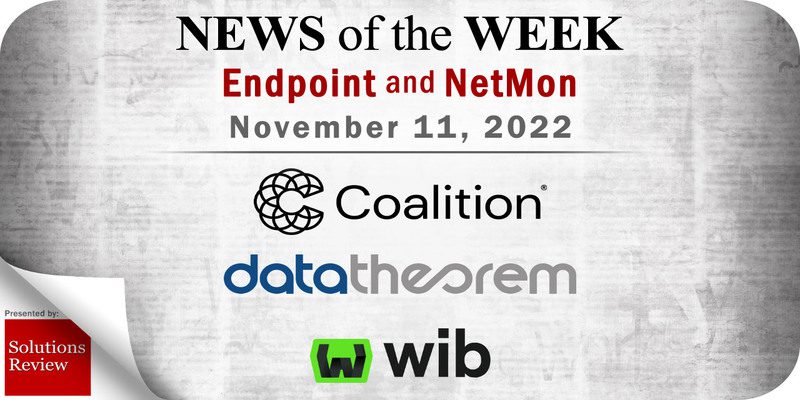 The editors at Solutions Review have curated this list of the most noteworthy endpoint security and network monitoring news for the week of November 10. This curated list features endpoint security and network monitoring vendors such as Coalition, Data Theorem, Wib, and more.
Keeping tabs on all the most relevant endpoint security and network monitoring news can be a time-consuming task. As a result, our editorial team aims to provide a summary of the top headlines from the last month in this space. Solutions Review editors will curate vendor product news, mergers and acquisitions, venture capital funding, talent acquisition, and other noteworthy endpoint security and network monitoring news items.
Endpoint Security and Network Monitoring News for the Week of November 10
---
Coalition Introduces New APIs to Power Executive Risks Insurance
Coalition, a cyber insurance platform, announced this week newly available application programming interfaces (APIs) for management liability through Executive Risks Insurance. These APIs will enable more agencies to embed Coalition into their platform of choice for more efficient quoting and an easier path to bind coverage. Coalition APIs are available today for Coalition's United States Directors & Officers (D&O) Insurance and Employment Practice Liability (EPL).
VIAVI and VMware Announce Testbed as a Service for RAN Intelligent Controller Testing
Viavi Solutions Inc. announced that it has signed a partnership agreement with VMware to drive standardized frameworks and metrics for RAN Intelligent Controller (RIC) testing. This testbed as a service will enable mobile operators to introduce programmability to the RAN and help accelerate the adoption of Open RAN. The RIC is a cloud-native central component of an open and virtualized RAN network, enabling the optimization of RAN resources through analytic processing and adaptation recommendations.
Gigamon ThreatINSIGHT Guided-SaaS NDR Now Available on AWS Marketplace
Gigamon, a deep observability company, announced this week the availability of Gigamon ThreatINSIGHT Guided-SaaS NDR on the AWS Marketplace. With a streamlined, one-click deployment process, AWS Marketplace users can now quickly leverage deep observability and advanced threat detection and response capabilities to mitigate exposure to adversaries. Upon deployment, enterprises gain full access to the ThreatINSIGHT Technical Success Management (TSM) team for guidance on NDR and ThreatINSIGHT best practices, along with 365-day metadata retention and fast omni-search powered triage and investigation capabilities.
Cybrary Impact Hub Partners With Leading Veterans Organizations
Cybrary, a training platform for cybersecurity professionals, announced this week The Cybrary Impact Hub and its inaugural partnerships with several changemaker organizations. Joining the Impact Hub are two US and European organizations deeply committed to opening pathways for veterans into technology careers, and several not-for-profit organizations focused on creating pathways and cybersecurity career opportunities for persons of color, marginalized genders and other historically marginalized populations.
More Than 30 Industry-Leading CISOs Personally Invest in Endor Labs
Endor Labs announced this week a strategic investment from members of the Silicon Valley CISO Investments (SVCI) group, an angel syndicate powered by GGV Capital, a $9.2B global multi-stage VC firm, and one of the most highly regarded investment collectives in tech security. The investment followed a rigorous review of startups in the supply chain and open source security space. Security executives from Robert Half, Ross Stores, Chime, Adobe, BlackHawk, ICE, HashiCorp, Flexport and more, have all chosen to take a personal stake in the new company.
Data Theorem and AlphaSOC Partner to Offer "Industry-First" Cloud Extended Detection and Response
Data Theorem, Inc., an modern application security provider, and AlphaSOC, Inc., the Security Analytics Company, announced their new partnership to deliver "industry-first" cloud extended detection and response (XDR) with cloud infrastructure entitlement management (CIEM) features to address customer challenges around attack surface management of their cloud-native applications. As a result of this partnership, Data Theorem's Cloud XDR Hacker Toolkit now has advanced network-based detection insights to uncover exploited cloud resources and highlight users, groups, and policies impacted by exfiltration breaches. Customers can now conduct network threat detection analysis of potential data exfiltration breaches and limit the impact on their users, groups, and overall cloud infrastructure.
Versa Networks Earns CRN 2022 Edge Computing 100 List Recognition
Versa Networks, a recognized leader of single-vendor Secure Access Service Edge (SASE), announced that CRN, a brand of The Channel Company, has named Versa to its coveted 2022 Edge Computing 100 list. CRN's annual Edge Computing 100 list honors the trailblazing vendors leading the channel with next-generation technology that is helping to build intelligent edge solutions for Edge Hardware, Software and Services; IoT and 5G Edge Services; and Security. According to CRN, the vendors highlighted on this year's Edge Computing 100 list encompass the dedication and commitment to constantly improving the technology to provide utmost security and precision technology to the channel.
ABB Helps Energize 5G Rollout with Small Cell Repeater Power Solution
ABB Power Conversion is helping to energize the rollout of 5G repeaters with solutions like its new RP450 power system. The all-in-one solution meets the power density, footprint, and availability needs of 5G repeaters, helping to extend network coverage. The pole-mounted RP450 power system is specifically designed for 5G repeater applications. It consists of an integrated CLP-series rectifier, six-position DC distribution, surge protection, and an AC input breaker within an IP65-rated, 6.2-inch wide by 5-inch deep by 18.5-inch tall NEMA 3R enclosure.
Acronis Announces New, Simplified EDR Solution
Acronis, a cybersecurity solutions vendor, introduced this week its new product, Acronis Advanced Security + EDR for Acronis Cyber Protect Cloud. This announcement follows a string of developments from the company starting with the reveal of their innovative, behavioral-based DLP product at RSAC 2022 in June and more recently, their earned Approved badge from AV-TEST for Corporate Endpoint Protection on macOS.
Solutions Review Secures Wayne Dorris, Kimberly Biddings, and Steve Benton for Panels
With the 4th Annual InfoSec Insight Jam just around the corner, Solutions Review is pleased to announce Wayne Dorris of Axis Communications, and Kimberly Biddings of BIO-key are scheduled to appear December 12th as part of an exclusive executive roundtable event.
Wib Raises $16 Million Investment
Wib, a cybersecurity startup, announced a $16 million investment led by Koch Disruptive Technologies (KDT), the growth and venture arm of Koch Industries, Inc, with participation from Kmehin Ventures, Venture Israel, Techstars and existing investors. The investment will be used to enhance Wib's pioneering holistic API security platform and accelerate international growth as it expands operations across the Americas, UK and EMEA.
---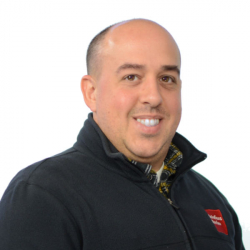 Latest posts by Mike Costello
(see all)