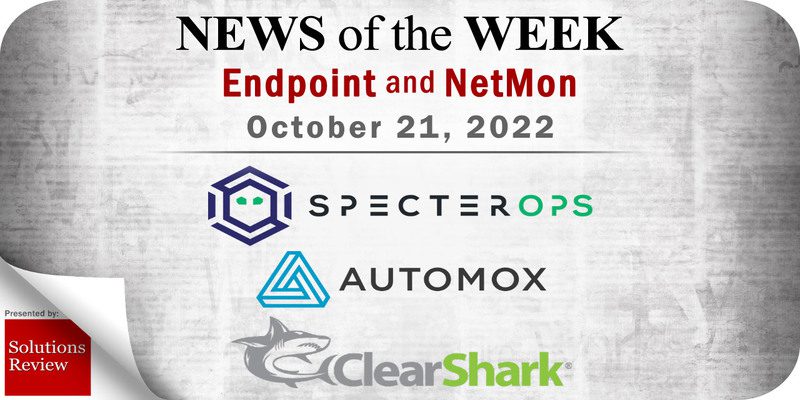 The editors at Solutions Review have curated this list of the most noteworthy endpoint security and network monitoring news for the week of October 21. This curated list features endpoint security and network monitoring vendors such as SpecterOps, ClearShark, Automox and more.
Keeping tabs on all the most relevant endpoint security and network monitoring news can be a time-consuming task. As a result, our editorial team aims to provide a summary of the top headlines from the last month in this space. Solutions Review editors will curate vendor product news, mergers and acquisitions, venture capital funding, talent acquisition, and other noteworthy endpoint security and network monitoring news items.
Endpoint Security and Network Monitoring News for the Week of October 21
---
SpecterOps SO-CON 2022: Oct 24 – 28, 2022
Next week, SpecterOps hosts SO-CON 2022, their third-annual training event taking place both in-person and online October 24th – 28th, 2022. In addition to hosting all five of their Adversary Tactics training courses, including newly expanded, three-day versions of the Mac Tradecraft and Vulnerability Research for Operators courses, SO-CON will wrap the week with a series of new training workshops developed by the Specters team.
Comcast Business Research Shows Cybersecurity Remains a Problem for SMBs
Comcast Business released its first annual Comcast Business Small Business Cybersecurity Report offering a window into the cybersecurity threats small and medium-sized business (SMB) customers face daily. The report found that up to 65 percent of Comcast Business SecurityEdge customers experienced blocked attacks from July 2021 to June 2022, with up to 55 percent experiencing a botnet attack and nearly 50 percent experiencing malware and phishing attacks.
RSA Announces New Mobile Security Platform
RSA, a global leader in identity and access management, announced the introduction of RSA Mobile Lock, a powerful new defense in the war for mobile security and an immediate resolution for one of the weakest points in every organization's security stance: their users. RSA Mobile Lock detects critical threats on mobile devices and can restrict users from authenticating into secured corporate systems, preventing a threat from expanding beyond one compromised device to other users, data, and systems.
ClearShark Named Agent on DoD ESI Cybersecurity Software Contract
ClearShark, an IT solutions provider and reseller to the Federal Government, was awarded a DoD Enterprise Software Initiative Blanket Purchase Agreement (ESI BPA) for Cybersecurity Software Products and Related Services for key cybersecurity vendors that address many of the challenges Government agencies face. The contract has a five-year base period with five one-year options and will allow the DoD to purchase critical cybersecurity software at a significant discount from GSA pricing. ClearShark was named an agent for the following key vendors and products available through the DoD ESI BPA: CyberArk, Fidelis Cybersecurity, Forcepoint, Fortinet, Illumio, LogRhythm, Okta, Ping Identity, RedSeal, SailPoint, and Tychon.
HYCU Secures New Strategic Investment from Okta Ventures
HYCU, Inc., a multi-cloud data protection as a service company, announced a strategic investment from Okta Ventures as part of its Series B extension. The investment follows on the company's $53M financing led by Acrew Capital that included Bain Capital Ventures (BCV) and new strategic investors Atlassian Ventures and Cisco Investments.
Orca Security Expands Coverage of Cloud Security Platform
Orca Security, an agentless cloud security platform, announced the "industry's first" agentless API Security solution to secure customers against more cloud risks with its unified Cloud Security Platform. The new capabilities provide full inventory of external APIs, API security posture, and API drift detection, allowing security teams to identify, prioritize, and address API-related risks and misconfigurations across cloud environments.
AutoRABIT Accelerates Release Management Processes with Automation and Key Integrations
AutoRABIT announced this week a new update to its Salesforce DevSecOps platform that includes strategic integrations with major communication applications Slack and Microsoft Teams, new automation functionality, and seamless operation with Salesforce's newest update API version 56. The expanded functionality also includes opening the 600+ rules of CodeScan — AutoRABIT's static code analysis solution—to Salesforce DX users, bringing code security to a new group of Salesforce power users.
Read on for more.
SolarWinds Announces Launch of SolarWinds Observability
SolarWinds, a provider of IT management software, announced the launch of SolarWinds Observability, a fully-integrated, cloud-native SaaS offering that provides unified and comprehensive visibility for distributed, hybrid, and multi-cloud IT environments. The new SaaS platform blends SolarWinds observability solutions across network, infrastructure, systems, application, database, digital experience, and log monitoring in one end-to-end solution across private and public clouds with single-pane-of-glass visibility.
JFrog Launches New Supply Chain Security Platform
JFrog Ltd., the "Liquid Software company" and creators of the JFrog DevOps Platform, released JFrog Advanced Security – the "world's first" binary-focused, DevSecOps solution providing holistic security coverage from any source to any destination. Natively integrated with JFrog's Artifactory binary repository and JFrog Xray's software composition analysis tool, JFrog Advanced Security capabilities offer users a full platform experience and coverage for software supply chain security at scale.
Solutions Review Announces 4th-Annual InfoSec Insight Jam 2022
The InfoSec Insight Jam is a community web event that shares expert insights and proven best practices for evaluating, deploying, and using Identity Management, Endpoint Security, and InfoSec solutions. The Solutions Review editors are bringing the best and brightest minds in the InfoSec industry together for a one-day social media gathering. Participants will include industry analysts, experts, influencers, practitioners, and software solution providers under the hashtag #InfoSecInsightJam.
Automox Named "Endpoint Security Solution Provider of the Year" in 2022
CyberSecurity Breakthrough, an independent market intelligence organization that recognizes the top companies, technologies, and products in the global information security market, announced that it has selected Automox, a cloud-native IT operations provider, as winner of the "Endpoint Security Solution Provider of the Year" award in the 6th annual CyberSecurity Breakthrough Awards program. The award announcement coincided with G2's release of its Fall 2022 Grid Report, in which Automox ranked as a Leader in Patch Management.
---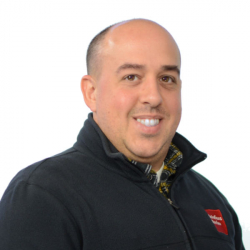 Latest posts by Mike Costello
(see all)