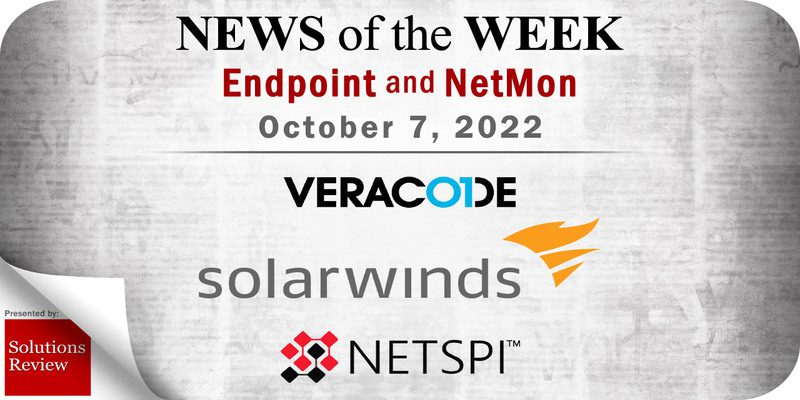 The editors at Solutions Review have curated this list of the most noteworthy endpoint security and network monitoring news for the week of October 7. This curated list features endpoint security and network monitoring vendors such as Veracode, SolarWinds, NetSPI, and more.
Keeping tabs on all the most relevant endpoint security and network monitoring news can be a time-consuming task. As a result, our editorial team aims to provide a summary of the top headlines from the last month in this space. Solutions Review editors will curate vendor product news, mergers and acquisitions, venture capital funding, talent acquisition, and other noteworthy endpoint security and network monitoring news items.
Endpoint Security and Network Monitoring News for the Week of October 7
---
Veracode Launches Container Security for Cloud-Native Application Development Security
Veracode, a provider of application security testing solutions, announced this week the enhancement of its Continuous Software Security Platform to include container security. This early access program for Veracode Container Security is now underway for existing customers. The new Veracode Container Security offering, designed to meet the needs of cloud-native software engineering teams, addresses vulnerability scanning, secure configuration, and secrets management requirements for container images.
Contrast Security Launches Expanded Security Testing Tools for JavaScript and Popular Frameworks
Contrast Security, a code security platform, announced this week the expansion of its Secure Code Platform's static application security testing (SAST) capabilities to include JavaScript language support along with support for Angular, React and jQuery frameworks, which will allow developers to quickly find and fix security defects in their client-side code. With this new Contrast Scan addition, application security and development teams leveraging the Contrast Secure Code Platform can scale security across the entire application stack, from client-side to server-side, with industry-leading speed and accuracy.
Fake Microsoft Exchange ProxyNotShell Exploits for Sale on GitHub
Scammers are impersonating security researchers to sell fake proof-of-concept ProxyNotShell exploits for newly discovered Microsoft Exchange zero-day vulnerabilities. Last week, Vietnamese cybersecurity firm GTSC disclosed that some of their customers had been attacked using two new zero-day vulnerabilities in Microsoft Exchange. Working with Trend Micro's Zero Day Initiative, the researchers disclosed the vulnerabilities privately to Microsoft, who confirmed that the bugs were being exploited in attacks and that they were working on an accelerated timeline to release security updates.
Australia's Telstra Hit by Data Breach, Two Weeks After Attack on Optus
Australia's largest telecoms firm Telstra Corp Ltd  said earlier this week it had suffered what it called a small data breach, a disclosure that comes two weeks after its main rival Optus was left reeling by a massive cyberattack. Telstra, which has 18.8 million customer accounts equivalent to three-quarters of Australia's population, said an intrusion of a third-party organization exposed some employee data dating back to 2017. According to local media, a Telstra internal staff email put the number of affected current and former employees at 30,000.
SolarWinds Launches New Global Transform Partner Program, Including Support for MSP
SolarWinds, a provider of  IT management software, announced this week the launch of the SolarWinds Transform Partner Program to support and drive growth for the company's valued global channel partners. The new channel program is designed to transform the way SolarWinds partners with industry-leading technology distributors, value-added resellers (VARs), global system integrators (GSIs), managed service providers (MSPs), and cloud partners around the world.
SITA partners with Versa Networks to Deliver Secure SD-WAN Solution for the Air Transport Industry
SITA recently announced a new partnership with Versa Networks, the recognized secure access service edge (SASE) leader, that will launch SITA Connect Go, a multi-tenant edge Secure SD-WAN (Software-Defined Wide Area Network) solution designed specifically for the air transport industry. The new partnership combines the best of both companies into a single solution. SITA has its roots in providing connectivity to the air transport industry and has for decades remained a leader in providing cutting-edge connectivity to airlines and airports. Versa Networks, a US-based enterprise, has rapidly emerged as a market leader in SASE and Secure SD-WAN, with Gartner rating the company as among the top three providers globally.
Illumio Joins AWS ISV Accelerate Program to Advance Zero Trust Segmentation Adoption
llumio, Inc., a Zero Trust Segmentation company, recently announced it has joined the Amazon Web Services (AWS) Independent Software Vendor (ISV) Accelerate program, a co-sell program for AWS partners who provide software solutions that run on or integrate with AWS. Now, AWS customers can implement the Illumio Zero Trust Segmentation (ZTS) Platform easier than ever to quickly visualize workload-to-workload traffic and leverage insights to reduce the hybrid attack surface.
CRA Study: Non-Traditional Endpoint Security Widely Unchecked, Contributing to Surge in Breaches
The widespread shift to work-at-home environments and the proliferation of non-traditional endpoints has had a moderate to high impact on the number of enterprise-related security breaches (41 percent) since 2020, according to a survey conducted by CRA Business Intelligence, the research and content arm of the cybersecurity data and insights company CyberRisk Alliance. Non-traditional endpoints, such as mobile devices, IoT (Internet of Things), OT (Operational Technology), and even critical infrastructure— all with varying operating systems, versions, and patch levels— have made managing the inherent security risks difficult and complex.
US Healthcare Giant CommonSpirit Hit by Possible Ransomware
One of the largest non-profit healthcare providers in the US has been hit by a suspected ransomware attack which has already impacted multiple locations around the country. CommonSpirit claims to run over 1000 sites and 140 hospitals in 21 states. One impacted hospital, MercyOne Des Moines Medical Center, reportedly took certain IT systems offline as a precaution, meaning it currently has no access to electronic health records. Omaha-based Lakeside Hospital, Creighton University Medical Center – Bergan Mercy, and Immanuel Medical Center are also said to be affected in a similar manner. There's no official confirmation yet on what caused the "IT security issue," although security experts on Twitter are blaming it on ransomware actors.
NetSPI Raises $410 Million in Growth Funding from KKR
NetSPI, an enterprise penetration testing and attack surface management platform, announced this week that global investment firm KKR is increasing its investment in the company with $410 million in new funding. The growth investment validates NetSPI's significant outperformance since KKR's initial investment in May 2021 and will support NetSPI's continued technology innovation, talent acquisition, and global expansion, as well as recapitalizing NetSPI's first institutional investor Sunstone Partners.
---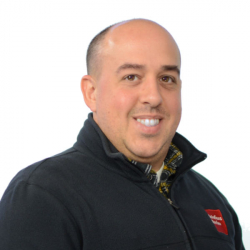 Latest posts by Mike Costello
(see all)