Endpoint Security and Network Monitoring News for the Week of September 8; SURF Security, GitLab, Foresite Cybersecurity, and More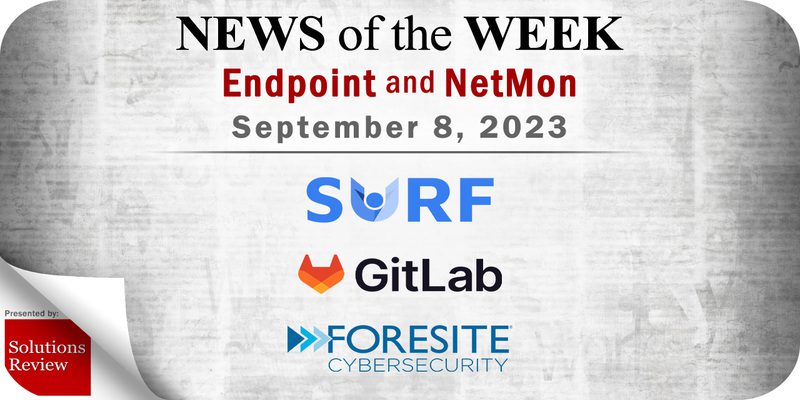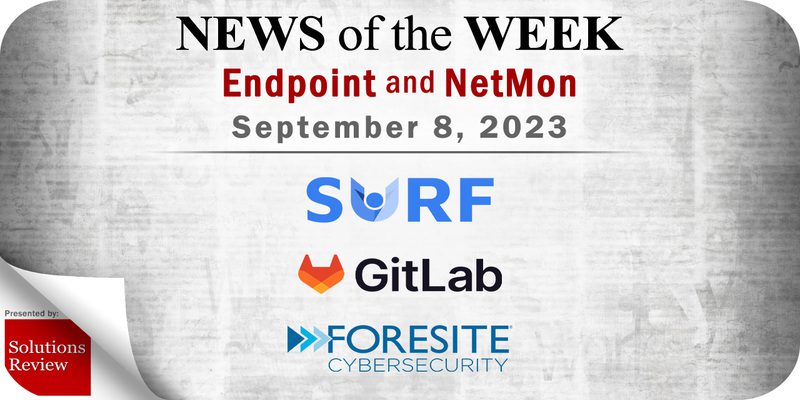 The editors at Solutions Review have curated this list of the most noteworthy endpoint security and network monitoring news for the week of September 8. This curated list features endpoint security and network monitoring vendors such as SURF Security, GitLab, Foresite Cybersecurity, and more.
Keeping tabs on all the most relevant endpoint security and network monitoring news can be a time-consuming task. As a result, our editorial team aims to provide a summary of the top headlines from the last month in this space. Solutions Review editors will curate vendor product news, mergers and acquisitions, venture capital funding, talent acquisition, and other noteworthy endpoint security and network monitoring news items.
Endpoint Security and Network Monitoring News for the Week of September 8
---
SURF Security Launches SURF Extension Platform
SURF Security, an enterprise browser and security solutions provider, expands the company's portfolio of solutions less than a year after the official launch. The company announced this week the new SURF Extension, an easily installable solution for any web browser. SURF Extension delivers a customized security standard with a "simple and seamless way to bring complete visibility and control, elevating workflows and enhancing productivity." SURF's extension can be integrated on any device, platform, or browser, allowing users to continue business as usual without worrying about potential data leakage within AI tools, such as ChatGPT, or third-party applications, thereby safeguarding against cyberattacks such as zero days, malware, phishing, malicious cyber activity, extensions and more.
AutoRABIT Announces FlowCenter Alongside New Product Updates
AutoRABIT has begun a limited release of a new product offering, FlowCenter, which provides visual pipelines to enhance visibility into every stage of Salesforce application delivery. This tool offers a complete picture of the pipeline by rolling ARM, CodeScan, and Vault into a singular interface that requires no coding. All new product capabilities will be on display at AutoRABIT's booths at Dreamforce 2023 in San Francisco from September 12–14.
SecurityBridge To Appear At ASUG September 13-15
SecurityBridge, a global provider of SAP security solutions, proudly announces its participation at the ASUG Best Practices: SAP for Oil, Gas, and Energy event, booth #15, Dallas, TX, from September 13-15, 2023. To further enhance the relevance of their participation, SecurityBridge's Technical Director of Americas, Bill Oliver, has been cordially invited to share his extensive SAP cybersecurity expertise via an informative presentation. In addition, SecurityBridge will give event attendees a sneak peek at the company's new Privileged Access Management (PAM) module, a new offering that "brings a streamlined approach to PAM and Superuser Tracking to simplify SAP security."
MITRE & CISA Release Open-Source MITRE Caldera Extension for Operational Technology
MITRE Caldera for OT is now publicly available as an extension to the open-source Caldera platform, allowing security teams to run automated adversary emulation exercises that are specifically focused on threats to operational technology (OT). The first Caldera for OT extensions were developed in partnership between the Homeland Security Systems Engineering and Development Institute (HSSEDI), a federally funded research and development center that is managed and operated by MITRE for the Department of Homeland Security (DHS), and the Cybersecurity and Infrastructure Security Agency (CISA) to increase the resiliency of critical infrastructure.
GitLab Report: "Cybersecurity and Privacy Concerns Slow Down Adoption of AI"
GitLab Inc., a DevSecOps platform, this week announced its ninth Global DevSecOps Report: The State of AI in Software Development. GitLab surveyed more than 1,000 global senior technology executives, developers, and security and operations professionals on their successes, challenges, and priorities for AI adoption. Thirty-two percent of respondents were "very" or "extremely" concerned about introducing AI into the software development lifecycle. Of that percentile, 39 percent cited they are concerned that AI-generated code may introduce security vulnerabilities and 48 percent said they are concerned that AI-generated code may not be subject to the same copyright protection as human-generated code
NETSCOUT Introduces RAN Analytics for Carrier Aggregation
NETSCOUT SYSTEMS, INC., a leading provider of performance management, cybersecurity, and DDoS protection solutions, this week introduced RAN Analytics for Carrier Aggregation, a new solution that offers unique insights into carrier aggregation patterns to help mobile operators" achieve superior performance and a better subscriber experience" with high-speed LTE and 5G deployments. RAN Analytics for Carrier Aggregation is vendor agnostic, 3GPP compliant, and uses NETSCOUT's Smart Data, making it highly scalable and suitable for networks of any size and at any stage in the 5G lifecycle. Additionally, the data is available for export to Open RAN automation systems, data lakes, and other third parties using a robust, industry-standard interface.
Foresite Cybersecurity Adds Horizon3.ai's NodeZero to Their ProVision Platform
This week, Foresite, a cybersecurity solutions provider, announced a new partnership with Horizon3.ai to integrate its NodeZero autonomous penetration testing technology with Foresite's ProVision platform. This new offering will further enable Foresite customers to "simplify risk reduction, improve security operations, streamline security compliance, prioritize security tasks, and reduce the complexity of cybersecurity overall."
Expert Insights Section
Watch this space each week as Solutions Review editors will use it to share new Contributed Content Series articles, Contributed Shorts videos, Expert Roundtable and event replays, and other curated content to help you gain a forward-thinking analysis and remain on-trend. All to meet the demand for what its editors do best: bring industry thought leaders together to publish the web's leading insights for enterprise technology practitioners.
Solution Review's Spotlight Series to Feature Cloudflare September 19
In today's hyper-connected digital landscape, enterprises face a persistent threat from DDoS attacks. These attacks disrupt critical services, impair customer experiences, and inflict significant financial losses, making DDoS protection an indispensable aspect of modern cybersecurity strategies. Join this webinar to understand the profound impact DDoS attacks can have on an organization's bottom line and how investing in proactive defenses can yield substantial returns.
Latest posts by Mike Costello
(see all)