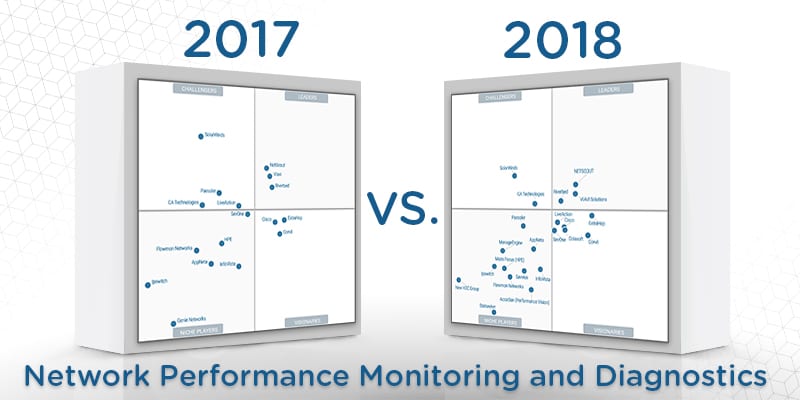 Gartner's Magic Quadrant series has been a prime resource for solution providers, customers, and market researchers. The quadrants are divided into four sections, Leaders, Challengers, Visionaries, and Niche Players. I recently covered the 2018 Network Performance Monitoring and Diagnostics Magic Quadrant, and it can be tough to fully understand what each quadrant means.
We recently covered the Leaders of the NPMD space, but what are the differences between the other groups? This is how Gartner divides every Magic Quadrant, so understanding how each works is important to getting the most out of Gartner's research. Although the sections are the same visually, defining each one is different depending on the market. So, what makes a Challenger a Challenger for NPMD?
Difficult market to execute
The Challengers section is the least populated in the NPMD market. This coincides with only 5/22 vendors being on the top side of the Magic Quadrant. This is due to most vendors being on the lower half of "Ability to Execute."
The main reason "Ability to Execute" is a difficult accomplishment for these vendors is due to market changes. Gartner notes that over the past year the NPMD vendor market has become slightly divided. There are vendors focused on polling-based infrastructure monitoring with basic flow and packet monitoring, and there are vendors focusing on hardware-based deep packet analysis with basic infrastructure monitoring.
Gartner had originally expected these two camps to converge, but that hasn't been the case. Networks are constantly changing and there are several shifts in environments that make monitoring more difficult. For example, cloud migration, virtualization, containers, IoT, etc. Thus, ability to execute is difficult to define.
Defining Challenger
As Challengers are on the lower half of "Completeness of Vision," their main strengths revolve around their market reach, viability, and large deployments. Gartner calls them "stalwarts" in the NPMD market. These are larger vendors with great outreach and name recognition. The two that made the quadrant were CA Technologies and SolarWinds.
CA Technologies has been in the network performance monitoring space for 24 years. They recently rebranded their NPMD solution to be within a NetOps platform, along with various other tools that CA Technologies has developed throughout the years. Considering the demand for modernization in the network space, this approach is smart. DevOps has changed the development process and NetOps should do the same.
SolarWinds is one of the top names for the small to medium enterprise market. Their offerings are affordable for these businesses. They even offer a free tool called Traceroute NG. As with CA Technologies, SolarWinds released a more encompassing platform called Network Operations Manager. This includes previously unincluded add-ons for their NPMD.
What's next?
Considering the market is changing with new enterprise technologies, it's difficult to define what's next in this market. Thus, it's important to look at adjacent markets to see if there's any indication of what to expect going forward.
Monitoring is a much bigger space than the simple NPMD market. We recently covered the Application Performance Monitoring (APM) Magic Quadrant, which has overlapping vendors and general ideologies. APM focuses on end-user experience via applications, rather than network performance. Is it possible that these two fields could eventually converge? Absolutely, many vendors offer both solutions as a package.
Monitoring is crucial for any modern business. It's possible to lose millions of dollars in an hour of downtime for many companies. Correcting this downtime as quickly as possible isn't optional anymore. NPMD solutions are bound to keep up as the digital space increases in complexity. Perhaps there will be a consolidation of monitoring solutions, but right now, having as many as possible is an important step towards a secure and reliable IT space.
Latest posts by Doug Atkinson
(see all)