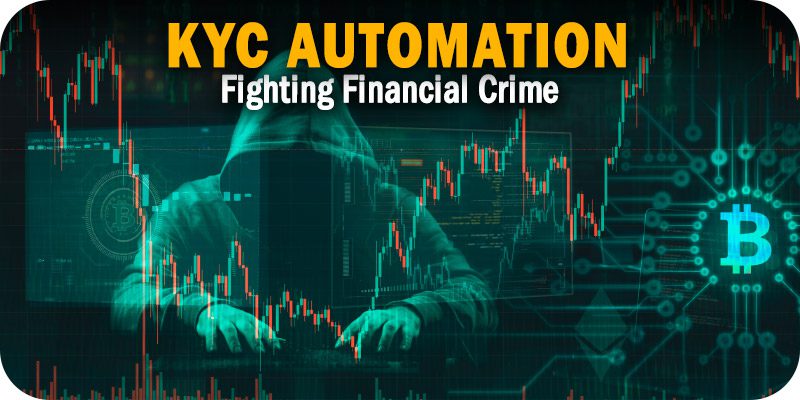 Solutions Review's Expert Insights Series is a collection of contributed articles written by industry experts in enterprise software categories. Sandeep Kumar of Hexaware walks us through the importance of KYC automation in the fight against financial crime.
Client outreach is one of the most critical and challenging undertakings for banks and other financial institutions as they strive to ensure Know-Your-Customer (KYC) compliance. With the constantly evolving regulatory landscape in Anti-Money Laundering (AML), ensuring compliance with AML and KYC norms is becoming increasingly complex.
Regulatory oversight has increased significantly as governments globally work to combat financial crime and protect the integrity of the financial system. Increased focus on sanctions compliance post Russia-Ukraine war has led to an additional emphasis by regulators on organizations who are expected to have robust AML and KYC programs in place to comply with these regulations. The process involves obtaining KYC data and documents directly from the customer, which may not be available externally. Traditional KYC methods are cumbersome and time-consuming and, as a process, continue to be bogged down by inefficient systems done by hand.
In this article, we'll focus on how financial firms can leverage technology solutions to simplify customer outreach while achieving a more effective and streamlined approach to regulatory compliance.
KYC Automation: Fighting Financial Crime
---
Financial Crime Detectives in Action
KYC compliance is an intricate undertaking that involves collecting documents and information to verify a customer's identity, and screening the information against political exposure, sanction lists, criminal lists, and a wide range of customer lists. Banks and financial institutions must understand a customer's profile and how they will be using their accounts. It's up to financial institutions to assess risks and monitor transactions. It can be a delicate balancing act – preventing financial crimes, while not offending valued customers who happen to operate in countries or industries where the risk of money laundering is more prevalent.
In 2021 alone, financial institutions were fined $2.7 billion for lack of compliance and due diligence. That's why more data and Fintech platforms providers are looking to automate the data collection process using technologies such as artificial intelligence (AI), workflow integration and robotics process automation (RPA). In spite of so many advancements in technology, we still see many firms struggling to implement a data management and data governance structure. They're stuck with inefficient legacy platforms and archaic operating models.
Old School Protocol Pain Points
Most KYC outreach with customers is done through a mountain of emails that are sifted through by hand. Assessment reports and the creation of necessary forms for clients are also done by hand. This communication bottleneck leads to errors and produces shallow guidance to customers on requirements and standards. Follow-up on these correspondences is also cumbersome and time-consuming. Compliance officers have to manually flag cases that need escalation. On top of that, most firms still use simple spreadsheets to collect data, where the onus is typically on the customer to filter relevant information. Collecting data on inefficient spreadsheets, verifying documentation manually, and following up with customers on missing information – all add up to clunky customer outreach. And it's costly. Globally, it's estimated that the overall KYC processes cost the average bank $60 million a year.
How Automation is Revolutionizing KYC Compliance
Banks and financial institutions can accelerate KYC outreach by embracing a standardized, automated approach. By using a centralized platform, firms can manage end-to-end client outreach functions within a secured and automated environment. It's important for an institution to manage all messaging in a more controlled way that is traceable and transparent. Data-collection forms and outgoing responses to clients can be automated. All those confusing email threads go away because a digital portal can track and tag incoming emails using AI. Event based monitoring automation also enables automated triggers, such as automatic reminders and escalations for unresponsive clients. A centralized platform also effectively tracks responses – auto-indexing incoming correspondences to individual KYC cases and providing a real-time matrix of documents. This could significantly improve the processing timeline, cut down on tasks done by hand, and drive standardization. Automating these processes also frees up in-house resources.
Strong Governance
What financial institutions want most is a complete audit trail of the entire process. Still, most KYC analysts are stuck maintaining multiple spreadsheets as a way of tracking and updating the status of the outreach process. For example, one large U.S. bank has its analysts manually input a comment on every interaction and follow-up with a client. This information is then distributed to management and front-office team members on a weekly basis. In addition, there is a separate governance report to make sure the analyst is tracking the client. This is not the best use of resources. A centralized platform can track and send automated reminders to customers. It also provides an automated management information system (MIS), dashboards, and reports that enable real-time visibility on the progress of a case.
Better Client Experience
In every business, you need to know your customer, but this type of client outreach offers unique challenges for the financial industry. Automating the KYC compliance function can boost the customer experience. Valuable insights give institutions a better understanding of how to support customers and provide them with the best services proportionated to their needs. Self-service is another way to streamline the process and improve the customer experience. A digital channel allows customers to manage their data. They can fill out a simple questionnaire on a self-service portal at their convenience and submit documents electronically. Integrated workflow in a centralized platform is a necessary safety valve to protect banks and financial institutions when it comes to compliance and performing their due diligence. This way, KYC outreach can be accelerated, while alleviating pain points for customers.
Latest posts by Sandeep Kumar
(see all)