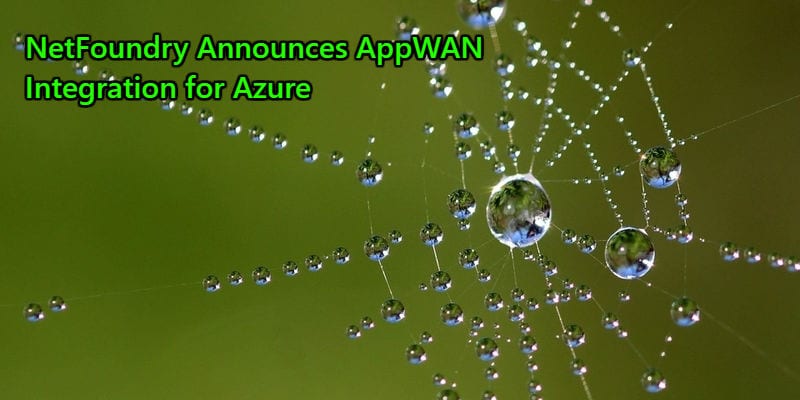 NetFoundry today announced that NetFoundry AppWANs will be available as an integrated on-ramp to Microsoft Azure. The news was announced at Microsoft Ignite in Orlando. NetFoundry AppWAN increases simplicity, security, and cost-effectiveness to connect to Azure. Enabling businesses to connect with an all-software solution in minutes.
NetFoundry worked directly with Microsoft to ensure simple, integrated provisioning between Azure Virtual WAN and NetFoundry AppWANs. Thus, AppWANs provide enterprise-grade security, improved performance, and simple network management.
Organizations can run AppWAN endpoints directly on user devices, whether in offices or a private data center. The endpoints connect as a global overlay network by using existing Internet connections."The Azure Virtual WAN service provides optimized branch and VNET networking.  NetFoundry enables customers to realize the Azure Virtual WAN benefits, automating the on-premises connectivity to Azure with secure, software-only NetFoundry AppWANs," said NetFoundry Vice President of Alliances, Mike Kochanik.
NetFoundry now offers Azure cloud-native agility, instant connectivity, and simple deployment and scalability through its Application Specific Networking (ASN) approach. It allows enterprises to reach modernization goals with dynamic networks that erase problems of legacy technologies. Outmoded and complex network models like VPN and MPLS no longer support secure and distributed cloud-based applications. NetFoundry enables ASNs by allowing customers to use its global network control platform to spin up connectivity instantly. This results in instant and secure connections for IoT, virtual WANs, and customer secure application connectivity.
"We're pleased that customers looking to simplify branch connectivity and extend application workloads on Microsoft Azure now have access to the Netfoundry AppWAN integrated Azure WAN solution," said Reshmi Yandapalli, principal program manager, Azure networking, Microsoft. "The seamless integration between Azure Virtual WAN and NetFoundry AppWANs provide ease of use and simplification of connectivity and configuration management hence providing optimized and automated branch-to-branch connectivity through Azure."
To learn more about Azure optimization, be sure to check out our free Azure Managed Service Provider Buyer's guide. 
Latest posts by Doug Atkinson
(see all)