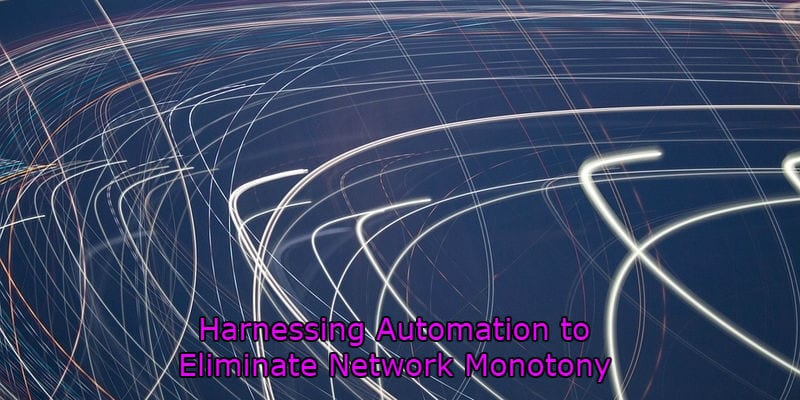 Automating repetitive processes helps network monitoring solutions thrive. It frees up time for network teams to work on important changes. It also eliminates a lot of human error.
As amazing as automation is right now, it's only going to get better. There seems to be a new tool or buzzword every month. Where does the future truly lie for automation? What can enterprises expect?
Eliminate Monotony
Automation is a key component of network monitoring. The primary drivers of automation today are machine learning and artificial intelligence. Machine learning tools can keep track and find trends in data. They allow you to figure out what changes need to be made without doing extensive manual research. This gives your networkers more opportunities to focus on crucial tasks.
Time-consuming tasks prevent network teams from being prepared. Many vendors offer automated root cause analysis. This tool gives your team the ability to fix problems without searching for them. Finding the root cause of a problem is monotonous and shouldn't be a task worth focusing on.
There are some automation solutions, such as chaos-as-a-service, that allow you to automate failure. You'll be able to simulate outages to better prepare your network and cloud for specific attacks. This kind of insight allows your company to prepare efficiently.
Scalability
Networks are an intrinsic component for modern business success. This is exacerbated by the BYOD (bring your own device) culture, as employees have more ways to connect. How enterprises deal with this increase in network devices is dependent on their ability to scale. The influx introduces the need for scalability in monitoring tools as well.
Many network monitoring solutions come with scalability options. They can provide scalability in areas like data centers, network environments, or remote locations. Managing your growing network shouldn't require you to change network monitoring vendors. Vendors recognize this and have automated scalability as an included tool or as an add-on for their solution.
The Future of Automation
Poor leadership decisions can lead to the downfall of any business, IT team, or even nation. Look at Blockbuster, they almost bought failing Circuit City and they denied a $50million offer to buy Netflix. Those bets were failures. Perhaps automating bets would have taken care of this error.
This is obviously irrelevant to IT, but the point still stands. People will always make mistakes. Automated tools that can predict future outcomes is invaluable. Blockbuster would have recognized the numerous flaws in their business plans.
Technology making decisions for you might be far away, but there are tools that display its effectiveness. It's like chaos-as-a-service being able to catch errors in the IT environment. It almost predicts the future.
Latest posts by Doug Atkinson
(see all)