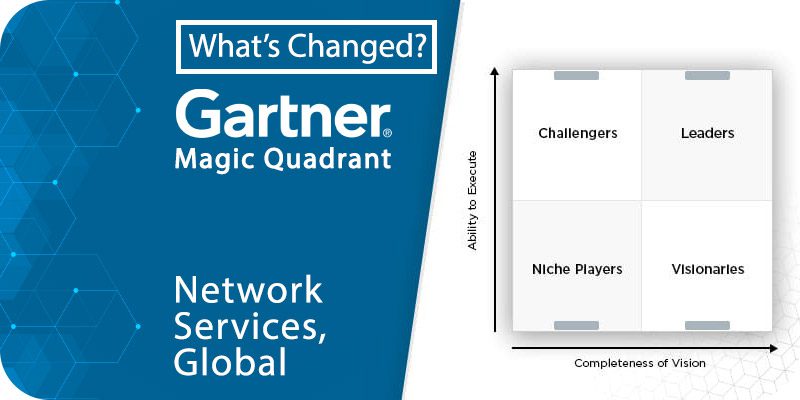 The editors at Solutions Review highlight what's changed in Gartner's 2022 Magic Quadrant for Network Services, Global and provide an analysis of the new report.
Gartner's 2022 Magic Quadrant for Network Services, Global has arrived. Gartner defines the global network services market as the provision of fixed corporate networking services with worldwide coverage. Gartner reports that the user market for Global Network Services is primarily represented by enterprises and Infrastructure and Operations (I&O) organizations and teams.
The COVID-19 pandemic has set a precedence of agility to adapt for enterprises. When choosing a provider, Gartner points to the importance of flexible network options such NOD, and rapid deployment by supporting "bring your own access" capabilities. SD-WAN continues its growth amongst providers. Ultimately, flexibility from providers will reflect a combination of deployment and support for adaptability in an ever-changing digital world.
Gartner highlights the following providers in the application performance monitoring market: NTT, Orange Business Services, Vodafone, Tata Communications, Verizon, BT, AT&T, Lumen, Deutsche Telekom, Colt Technology Services, Singtel, Telstra, Arelion, PCCW Global, Riedel Networks, GTT, and Sparkle.
In this Magic Quadrant, Gartner evaluates the strengths and weaknesses of 18 providers that it considers most significant in the marketplace and provides readers with a graph (the Magic Quadrant) plotting the vendors based on their ability to execute and completeness of vision. The graph is divided into four quadrants: niche players, challengers, visionaries, and leaders. At Solutions Review, we read the report, available here, and pulled out the key takeaways. This is not an in-depth analysis, only an observation of notable changes since the 2021 report.
The Leaders quadrant saw AT&T and Vodafone trade paint and swap positions, with Vodafone going up and AT&T going down. Most likely, this relates to Vodafone's more extensive MPLS network coverage, particularly in the Europe, Asia/Pacific, and Africa markets. NTT and Orange Business Services maintain their positions at the top of the quadrant, while Tata Communications, Verizon, and BT hold firm in the middle of the pack. Louisiana-based Lumen sees itself climb up a little in the rankings, thanks to their strong NOD capability and improvements to their integrated SD-WAN SLA.
In the Challengers quadrant we see Telefonica step out, and 2021 Niche Player Deutsche Telekom rise up. The German-based vendor is considered a significant player in the Europe market, providing solid coverage in Europe (especially in Central Europe) while still offering global network services. Their Software Defined Everything (SD-X) platform provides a real-time NOD, with ordering, configurations, and changes made through an online portal for Ethernet, internet, and MPLS services.
Masergy feels some misery as Colt Technology Services giddies up and effectively trades positions in the Visionaries quadrant. This could be tied to Colt's more considerable MPLS network coverage and Masergy's pricing often higher than other service providers, even ones with more extensive networks. This could change as Masergy begins several initiatives to address this.
Telia and China Telecom Global both bowed out of the Niche Player quadrant, while PCCW Global remains relatively in the same position. Riedel Networks and Telstra each see a slight boost, whereas GTT took a notable drop. The lower-than-average customer experience reported by Gartner clients can be identified as the big push. The end of 2021 saw the Virginian company successfully file for Chapter 11 bankruptcy, with operational and customer experience improvements at the top of the list of the restructure.
New to the 2022 Niche Player quadrant are Arelion and Sparkle.
Arelion formerly belonged to Telia (as Telia Carrier) but found themselves acquired and rebranded by the Swedish investment company Polhem Infra in 2021. Arelion's bread and butter is global connectivity services, with one of the most extensive high-capacity global internet backbones. As of this writing, Arelion does not offer a NOD service, although they are expected to sometime this year.
Newcomer Sparkle shines through with above-average internet service coverage in the Middle East, Africa, and Latin American markets. Their cloud connectivity services leave a bit to be desired, with limited providers, but a glisten of hope beams from plans to grow coverage sometime this year.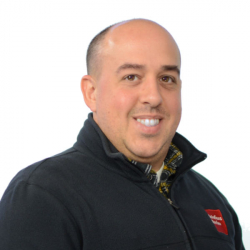 Latest posts by Mike Costello
(see all)