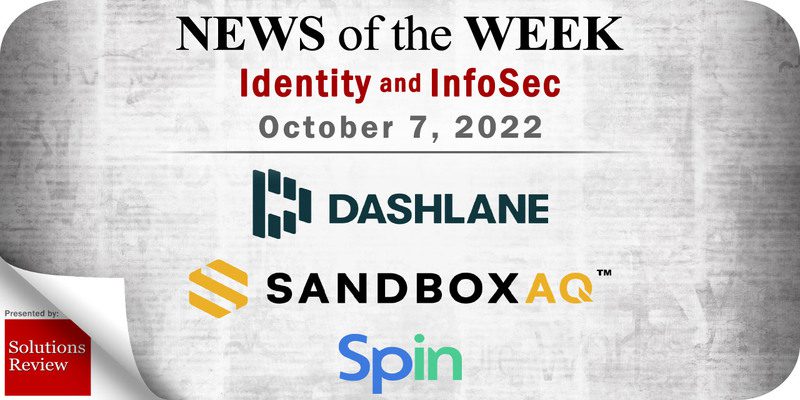 The editors at Solutions Review have curated this list of the most noteworthy identity management and information security news for the week of October 7. This curated list features identity management and information security vendors such as Dashlane, SandboxAQ, Spin.ai, and more.
Keeping tabs on all the most relevant identity management and information security news can be a time-consuming task. As a result, our editorial team aims to provide a summary of the top headlines from the last month, in this space. Solutions Review editors will curate vendor product news, mergers and acquisitions, venture capital funding, talent acquisition, and other noteworthy identity management and information security news items.
Identity Management and Information Security News for the Week of October 7
---
SailPoint Identity Security Receives Major Overhaul
SailPoint Technologies Holdings, Inc., a leader in enterprise identity security, announced new innovations infused into the SailPoint Identity Security Cloud, during its annual Navigate conference earlier this week. With these updates, SailPoint is helping enterprises move beyond the traditional identity governance approach of looking at access after-the-fact, replacing it with a forward-looking approach to managing access. The platform leverages artificial intelligence (AI) technologies that speed and standardize the measurement of access risks across the organization, automating complex identity security processes, reducing both business cost and risk while improving productivity.
Dashlane Expands Enterprise Offering, Adds Starter Plan for Businesses and Entrepreneurs
This week, Dashlane, a password manager platform, announced updates to its suite of enterprise plans to provide stronger security tools for admins, and the launch of Dashlane Starter for teams of up to ten individuals. Simple to deploy and manage through a flexible, no-commitment monthly plan, Starter takes the friction out of getting started by packing the power of Dashlane's access tools into an affordable, $20-per-month offering.
Ferrari Hit by Ransomware; Hackers Leak 7 GB of Data
Data from Ferrari's website was posted on a dark web leak site owned by ransomware group RansomEXX. Hackers claim they have obtained internal documents, datasheets, repair manuals, and other information. The stolen data set consists of almost 7 GB of data. A screenshot of the stolen data shows a document marked 'confidential.' It looks like a purchase agreement for a specific model of a Ferrari brand car. The leak marks the second time Ferrari had the company's documents stolen by hackers in less than a year.
Quantum Tech Group, SandboxAQ, Launches as Standalone Company
Quantum tech group, SandboxAQ, broke off from parent company, Alphabet, and launched as a standalone company earlier this week. Jack Hidary, who was formerly the director of AI and quantum at Sandbox and is a longtime X Prize board member, will continue to lead the 55-person, Mountain View, California, outfit, which describes itself as an enterprise SaaS company that's developing commercial products for telecom, financial services, healthcare, government, computer security and other sectors.
ManageEngine ADSelfService Plus Adds MFA for UAC To Protect Privileged Accounts
ManageEngine, the enterprise IT management division of Zoho Corporation, recently announced that ADSelfService Plus, an identity security solution with MFA, SSO and self-service password management capabilities, has released MFA for Windows User Account Control (UAC) prompts that require credentials for added security. This feature is available as part of the product's Endpoint MFA add-on.
Paravision Debuts Latest Developments in Vision AI at Converge 2022
Paravision,  a Trusted Vision AI platform, announced new and updated products for its suite of leading Vision AI solutions at its annual product event, Converge. The event addresses leaders in sectors including identity verification, financial services, government, automotive and physical security as well as technology partners in Vision AI, chipset developers and camera manufacturers, showing the latest Paravision technology from cloud to mobile to the extreme network edge. At Converge 2022, Paravision gave partners a look into its product strategy, which includes Face Recognition, Identity+, and broader Vision AI. For Face Recognition, the company announced a new enterprise-grade image search engine, Paravision Search. In Identity+, Paravision announced new products in advanced image attribute analysis and streaming video processing and privacy protection, and focused in particular on "authentic identity," with new and improved liveness capabilities and a discussion of deepfake detection, currently under development.
Tenable Launches "Industry-First" Exposure Management Platform
Tenable, an Exposure Management company, announced the release of Tenable One, the "industry-first" Exposure Management platform that unifies discovery and visibility into ​​all assets and assesses their exposures and vulnerabilities across the entire attack surface for proactive risk management. Tenable One delivers context-driven risk analytics so security teams can move from reactive fire fighting to prevention. Cybersecurity teams can anticipate and block threats before they can cause damage. The cloud-based platform identifies and assesses assets across the enterprise attack surface to gain a unified view of cyber risk.
Saviynt Launches Enterprise Identity Cloud Platform
Saviynt, a leading provider of intelligent identity and access governance solutions, today announced the general availability of new features for the Saviynt Enterprise Identity Cloud (EIC). The new capabilities build on key areas of identity governance, cloud privileged access management (CPAM) and identity analytics to help organizations embrace Zero Trust principles. New functionalities help customers overcome the complex onboarding and deployment of applications. Features including Application Onboarding and Management, Duplicate Identity Management and Bring-Your-Own-Vault are purpose-built to mitigate the time-consuming, error-prone and costly efforts associated with new deployments. These enhancements will also help customers better manage multiple identities created when organizations are merged or identity roles change.
One Identity Enhances Unified Identity Security Platform to Strengthen Customer Support and Improve UI
One Identity announced this week the availability of Safeguard for Privileged Passwords 7.0 LTS and Identity Manager 9.0 LTS to further bolster its unified identity security platform. With expanded capabilities and the integration of OneLogin features, One Identity is capitalizing on the strategic acquisition to bolster the unified identity security platform. Enhancements to One Identity Safeguard for Privileged Passwords 7.0 LTS includes the addition of a full-featured web user interface (UI) and remote desktop protocol (RDP) application auto-login. These features simplify admin's user experience by allowing them to access the platform, request workflows and inject credentials through a web browser to streamline the management of privileged users. Identity Manager 9.0 LTS now offers long-term support for customers to remain on a version for 3 years without having to upgrade to keep their product support. It also offers integrations for OneLogin access management, which gives customers greater security and compliance by joining together the information and functionality of our solutions.
Spin.ai Expands Leadership Team to Support Rapid Growth
Spin Technology, Inc., developer of the all-in-one SaaS data protection platform SpinOne, for mission-critical SaaS apps, recently announced the appointment of three industry veterans to fill newly created sales and customer support positions. Mark Eaton joined the company as Vice President of Enterprise Sales, Nick Harrahill was appointed to Director of Enterprise Customer Support, and Arman Agaronyan was promoted to Director of SMB Sales.
---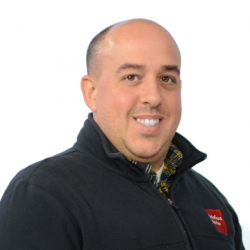 Latest posts by Mike Costello
(see all)